updo and bun hairstyles
How to Create a Tucked Braided Updo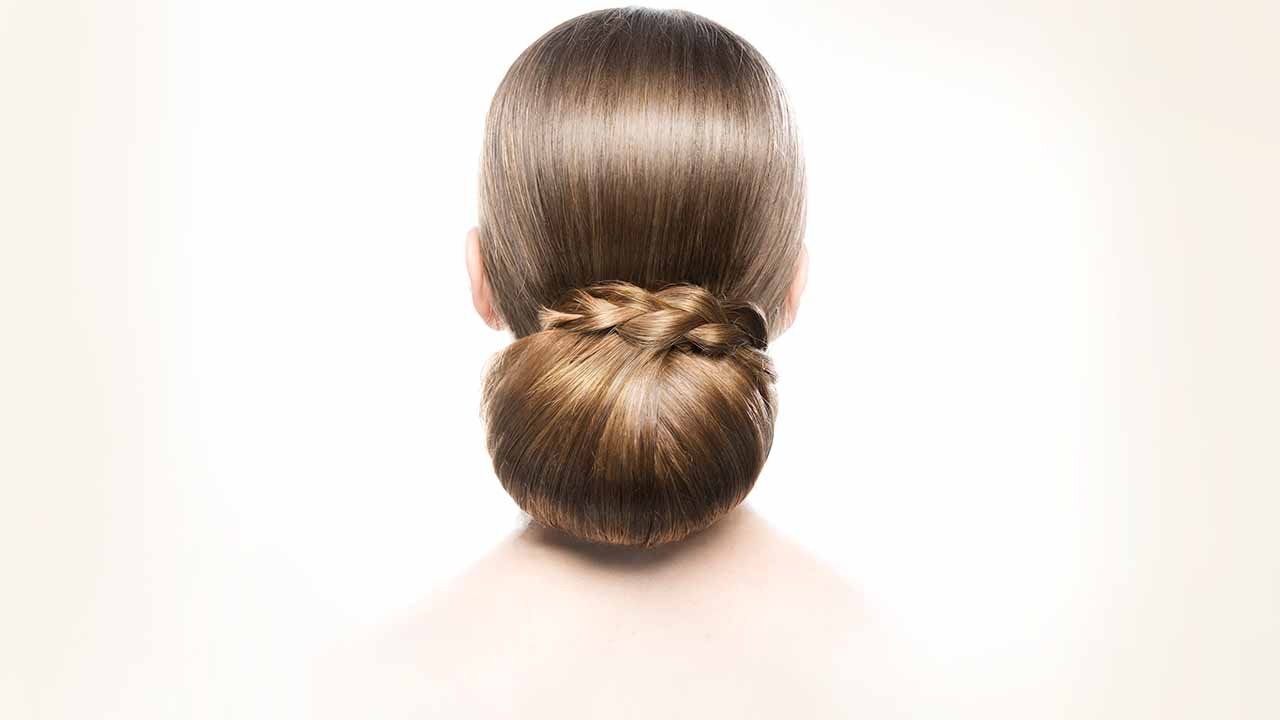 If you're like us, you love a good updo. But why does it always seem like the latest and greatest hairstyle trends take a whole lot of skill to create? Luckily for us, there's a new trendy look walking both the runways and the streets that's equally as stylish as it is simple to create. Ready to rock a new look to the office, out with friends, and on that date you've been looking forward to for over a week? Read on to find out which hairstyling products you need to stock up on, as well as the steps to bring your tucked braided hairstyle to life.
What You Need to Create a Tucked Braided Updo
Before following our tutorial, stock up on these hair styling products and tools.
Rat tail comb
Clear elastics
Bobby pins
L'Oréal Paris Elnett Precious Oil Satin Hairspray
How to Create a Tucked Braided Updo
Have all your products at the ready? Good! Now it's time to get to work on creating a tucked braided updo.
Step 1: Split Your Hair into Three Vertical Sections
Start on the top by using the tail end of your rat tail comb to separate your first layer of hair. Tie it off with an elastic. Do the same the for your middle and bottom section.
Step 2: French Braid Your Hair
Start on your topmost ponytail and begin weaving a three-strand braid. Turn it into a French braid by incorporating hair from each ponytail as you work your way down your head. Once you reach the ends of your hair, tie your hair off with a clear elastic.
Step 3: Pancake Your Braid
The bigger the braid, the more beautiful the end look. To get the voluminous plait of your dreams, gently tug on each section of your braid to fluff it up.
Step 4: Pin Your Braid into Place
When using your bobby pins be sure that the slightly angled end of your pin is pointing downwards towards your scalp—yep, this is the correct way to wear these hair accessories. Who knew? When pinning your braid down, the goal is to completely obscure the elastics from view so that it just looks like one beautifully bold braid, as opposed to three separate sections.
Step 5: Roll Your Braid Up
Starting at the ends of your hair, roll your braid up and under towards the nape of your neck. Pin it in place.
Step 6: Finish with Hair Spray
Whenever you're working with braids, it's best to give them a little extra assistance in the longevity department. If you want your tucked braid updo to last from dawn to dusk, be sure to give it an allover spritz of a shine-boosting hair spray. Voila!
How to Take Your Tucked Braided Updo Up a Notch
While you can rock this tucked braided updo as is, it can look especially pretty when paired with ribbons, too. And, with festival season right around the corner, why not add the hairstyle idea to your beauty arsenal? To get the look, when you tie each of the three sections off with an elastic, add a silk ribbon to each. Colors are totally up to you, but we're especially fond of the way three different shades pair together in the end look. From there, just incorporate the braids the same way you would hair, braiding them on as you go. Instead of braiding them all the way to the end, once you reach the nape of your neck, leave the ribbons out so that when you roll your braid back up into a little bun, you can tie the ribbons around the base of your bun for a little added allure.
There's no doubt that you'll love rocking this trendy hairstyle that looks a lot harder than it actually is. One of our favorite things about this look is that it can stretch beyond just the immediate hairstyle. If you want to use it to your advantage, try sleeping in it overnight—and when you unpin and unbraid your hair the next morning, you'll have the base of another trendy hairstyle: the lived-in 'do. To perk it up to debut some serious fashion-forward style, be sure to have a bottle of the L'Oréal Paris Elvive Extraordinary Clay Dry Shampoo on hand. A few quick spritzes will help efresh your roots without taking away from your day two 'do.
Loved learning about this super-simple look? To dust up on your hair styling skills, check out our article, 7 Half-Bun Hairstyles for Every Hair Type.
Discover more tips & tricks
Keep your skin happy
See all articles
Shop Featured Hair Style products
Discover More