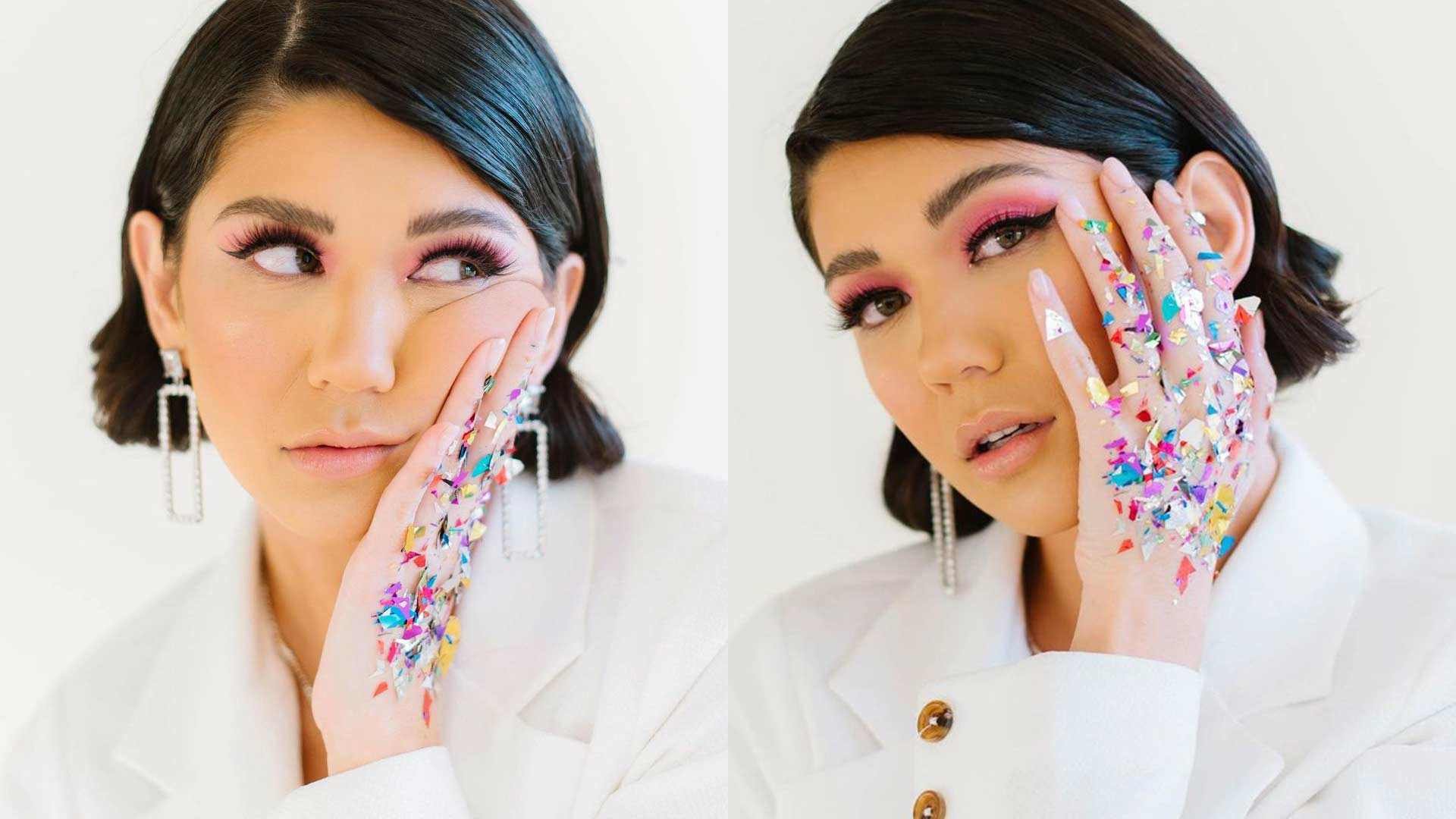 short hairstyles
15 Chic Haircuts That'll Make You Want Short Hair
There's no denying that short haircuts can naturally spice up your overall beauty look. And if you're working with short strands, you may think that your styling options are limited, but that couldn't be further from the truth. There are tons of cute short hairstyles that can deliver the oomph you're looking for. You can rock your natural texture, try out something really edgy, or opt for a sleek look without missing a beat. If you're ready to explore the world of short, trendy haircuts, then keep reading. Below, we're sharing 15 chic, short haircuts that can revamp your basic hair, and the best drugstore products you can use for styling your new swanky tresses.
1. Pompadour
This unisex haircut is all about playing with height and angles. You'll be able to flaunt a bit of length at the top and keep the sides short for a 'do that's easy to manage. To style, just run a dime-size amount of hair pomade, like the L'Oréal Paris Studio Line Overworked Hair Putty, evenly through your strands to add some texture and hold.
2. Feathered Layers
Feathered layers leave you with dimension and movement for an eye-catching haircut. Reach for a hair pomade or paste, and work it throughout your mane to define and add texture to your feathered layers.
3. Classic Bob
It's a timeless style that keeps your strands short while adding a bit of personality to your look. To keep your locks sleek and smooth, you may need to use a hot tool. But before doing so, make sure to spritz your hair with the L'Oréal Paris Elvive Dream Lengths Heat Slayer Pre-Iron Spray Leave-In to protect it from any heat damage.
4. Long Pixie
Long pixie cuts are a fabulous way to show off a bit of length without stepping into long hair territory. This haircut also allows you to play with different hair textures. To get this look, just rub a small amount of the L'Oréal Paris Dream Lengths Frizz Killer Serum through your lengths to keep away any frizz or flyaways.
5. Natural Curly Pixie
Short natural curls make it oh-so-easy to flaunt your beloved texture if you're a curly girl. Plus, you don't have to worry about spending too much time styling your strands, thanks to the low-cut tapered sides. You can also enhance the look even more by asking your stylist to shave a few designs into the sides for a fun twist. To keep your curls moisturized and bouncy, apply a generous amount of the L'Oréal Paris Elvive Dream Lengths Super Curls Leave-In.
6. Asymmetrical Bob
It's the perfect short hairstyle for anyone who loves to go against the grain with strands short on one side and slightly longer on the other. We recommend seeking out a professional who can help you achieve the right balance on both sides for this hair cut.
7. Natural TWA (Teenie Weenie Afro)
You can flaunt your natural texture without having to worry about any dryness. It's one of the most popular short haircuts to rock after a big chop, and you can try adding some color to it for an extra pop. Style it by working the L'Oréal Paris Elvive Dream Lengths Super Curls Leave-In through your curls to help keep your curls nourished and moisturized. You can also apply a few pumps of the L'Oréal Paris Elvive Extraordinary Oil Treatment Serum to add some shine to the ends of the hair.
8. Blunt Cut
The blunt cut trend gives your locks an even cut that's simple yet seriously stylish. We also dig that it's a chic way to go for anyone looking to take a break from layered short haircuts. Book an appointment with your hairdresser to get your desired length and shape.
9. Choppy Crop Cut
Short choppy haircuts add amazing texture that will take your style up a notch. Plus, they are versatile haircuts that can vary based on your preference. Ask your stylist to give you a cut that's more rocker-like and edgy if you want, or opt for a more soft and feminine chop.
10. Short Curly Layers
There's no better way to serve up retro flair than with short curly layers. The haircut provides your mane with a messy yet fashionable look that will turn heads. Spritz your strands with the L'Oréal Paris Advanced Hairstyle BOOST It Volume Inject Mousse to liven up your texture.
11. Buzz Cut
Buzz cuts are a minimalist's dream since they keep things simple on the hair-styling front. They're super low-maintenance, so you can bring down your beauty routine with ease. You can also play up this style by adding in some color. Reach for the L'Oréal Paris Colorista Hair Makeup Temporary 1-Day Hair Color Spray to experiment with different colors that will wash out after one shampoo.
12. Flat-Top
The classic flat top haircut is a great choice for those who want to spend less time styling their hair. It's quite easy to maintain with just some hairspray and moisturizer. The key to keeping this hairstyle with tapered sides intact is by creating a rectangular shape on top of your head without any hairs sticking out. Try using the L'Oréal Paris Elnett Satin Hairspray Extra Strong Hold Volume to keep the hair in place.
13. Piecey Cropped Cut
A cropped piecey pixie is incredibly liberating, and it's a haircut that will help you stand out from the crowd. Depending on the style, you can add short layers or waves to add volume and body to the look. To style, grab the L'Oréal Paris Studio Line Overworked Hair Putty and rub a dime-sized amount through your hair to create a messy and piecey look.
14. Finger Waves
Finger waves create an elegant and glamorous throwback hairstyle to sport when you have super short hair. To achieve this look, you'll need to start on damp hair and use a generous amount of a hairstyling product like moose or gel. Reach for The L'Oréal Paris Advanced Hairstyle Curve It Elastic Curl Mousse to help mold and shape your waves. Check out some online tutorials as well to help you achieve the best results.
15. Mohawk
You can channel your inner rockstar with this edgy and dramatic look. It flaunts shaved sides with a longer length at the center. Start by applying a dime-sized amount of hair gel like the L'Oréal Paris Advanced Hairstyle LOCK IT Extreme Style Gel to the sides of your head and use a brush to slick down your strands. Next, use the product to shape your strands upward to create hair that stands up from your hairline to the nape of your neck.
Photo: Sabrina Wright / @ sabsblabs
Discover more tips & tricks
Keep your skin happy
See all articles
Shop Featured Hair Style products
Discover More