medium hairstyles
Best Medium-Length Hairstyles for Summer 2018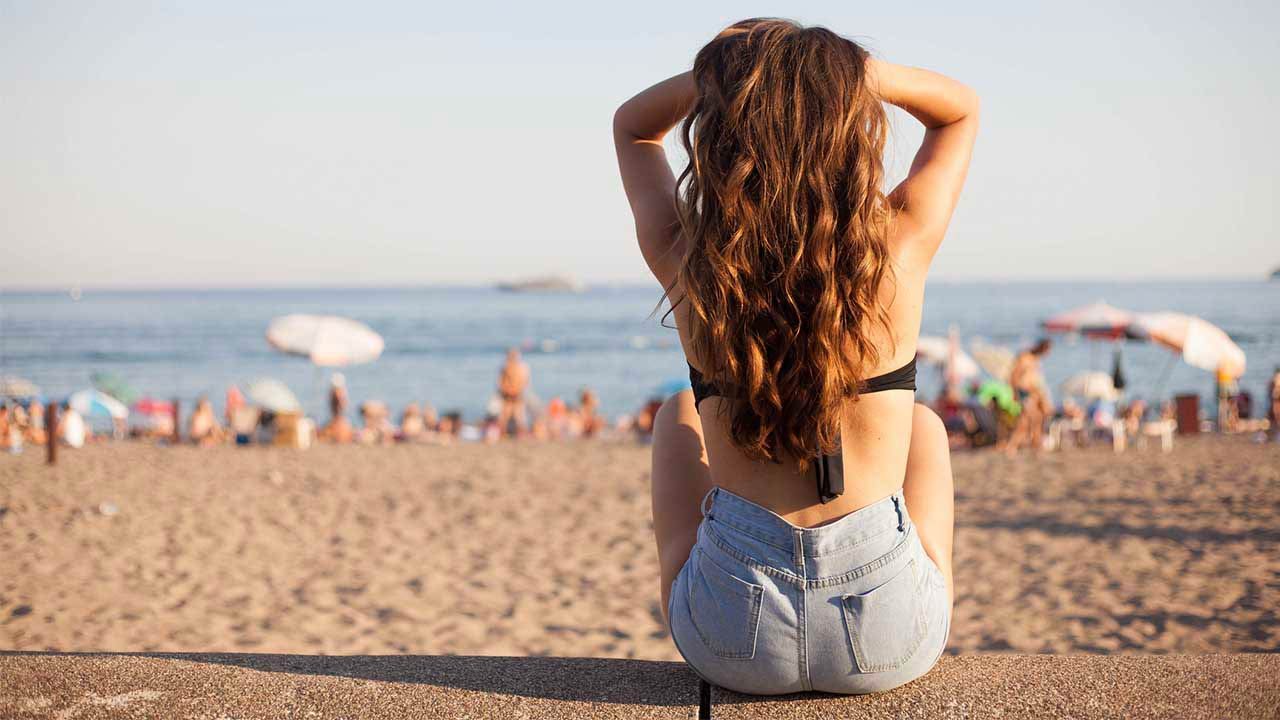 The hottest season of the year is officially here—which means it's time to think up a few new hairstyles that'll help you make it through the sweaty, humid months. With temperatures rising, chances are the last thing you'll want is to let your hair drape all over your neck, right? And if you have medium-length hair, that could happen pretty easily. So, we've rounded up the best medium-length hairstyles to help upgrade your summer style. You'll look—and feel!—a whole lot cooler when you wear one of these medium-length hairstyle ideas, including updos and braids.
MEDIUM-LENGTH HAIRSTYLE IDEA #1: TEXTURED TOP KNOT
Forget about a super-smooth ballerina bun—this year it's all about a perfectly imperfect textured top knot. Nowadays, the inclusion of wispy flyaways and frizzy hair makes for an of-the-moment look that's nothing short of trendy. To pull off this medium-length hairstyle, all you have to do is pull your hair into a high ponytail, tease your ponytail, and loosely wrap it around itself. Once it looks just right, pin it in place with a few bobby pins and give it a little extra staying power with a spritz of the L'Oréal Paris Elnett Extra Strong Hold Hairspray.
MEDIUM-LENGTH HAIRSTYLE IDEA #2: TWISTED-BACK BUN
We're suckers for disheveled buns—but instead of throwing your medium-length hair into your go-to messy hairstyle, why not try something new? This twisted-back bun is super-simple and can add a whole lot of style. To create this hairstyle for medium hair, part your hair to the side or down the middle and twist hair back from your hairline, adding more hair as you go towards the back of your head. Once you reach the back, combine the two twists together, twist your hair into a bun, and secure it with a hair tie. Next, fluff up your bun and pin the sides in place with bobby pins to give the appearance of a more voluminous head of hair. Talk about an update!
MEDIUM-LENGTH HAIRSTYLE IDEA #3: SIDE FISHTAIL BRAID
Ah, a forever favorite. There's just something about fishtail braids that have us swooning each and every summer—and if we're being honest, all year long. The best way to achieve a sturdy fishtail braid is to start with day-old hair. Before getting started on this medium-length hairstyle, spray on a little bit of texturizer, brushing it through to your ends. Then, pull all of your hair to one side and weave it down to the ends. Once you reach the ends, secure your fishtail braid with a miniature elastic and wrap a small section of hair around it for a more natural-looking finish.
MEDIUM-LENGTH HAIRSTYLE IDEA #4: UNDONE UPDO
In the realm of perfectly imperfect hairstyles, few look as effortlessly stunning as the undone updo. The trick to creating this hairstyle for medium hair is to start with a hair mousse, such as the L'Oréal Paris Advanced Hairstyle BOOST IT Volume Inject Mousse. Once your hair air dries, gather it into a messy clump and pin it into place with a bunch of bobby pins at the back of your head. Be sure to leave a few face-framing strands out to add an ethereal touch to your messy hairstyle. If you want to add a bit more elegance to this medium-length hairstyle—say, if you're wearing it to a formal event—wrap your face-framing strands around a curling wand for a touch more romantic feminine flair. Getting married this summer? Try one of these gorgeous medium-length wedding hairstyles.
MEDIUM-LENGTH HAIRSTYLE IDEA #5: BEACHY WAVES
This medium-length hairstyle is a summer classic for a reason! While beachy waves can be created in a number of ways, the easiest involves using a wave-enhancing hair spray. To get the look, spray damp hair with the L'Oréal Paris Advanced Hairstyle AIR DRY IT Wave Swept Spray and top it off with a stretchy headband. Next, divide your hair into four twisted sections before wrapping each around the bottom of the headband one-by-one. At this point you can let your hair stay in this style—it's perfect for a beach day, btw—and after a few hours it'll be ready for the big reveal. Simply unwrap and untwist each section before taking the headband off for gorgeous ocean-inspired waves.
For more summer hair inspo, here are 5 Tips to Help Keep Hair Looking Healthy This Summer.
Discover more tips & tricks
Keep your skin happy
See all articles
Shop Featured Hair Style products
Discover More