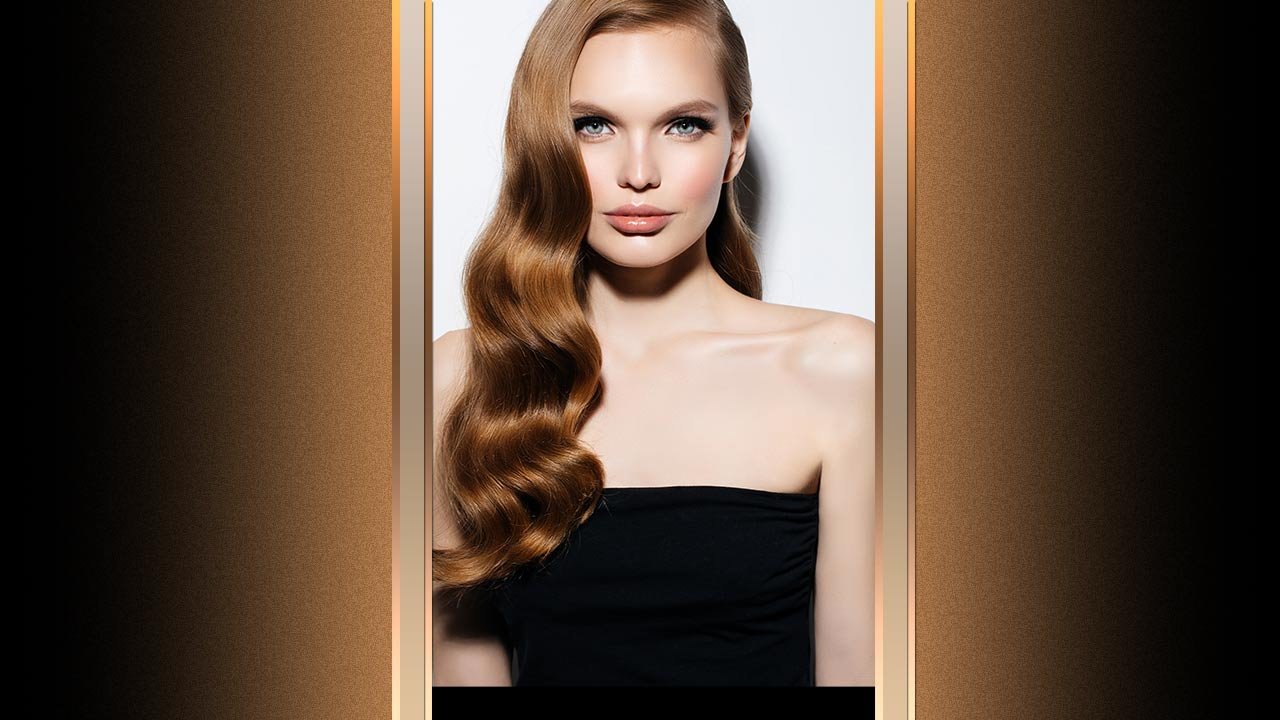 If you've been paying attention to your favorite Hollywood A-listers, then you know that side-swept hair is having a major moment right now. Gorgeous over-the-shoulder looks are not only flattering on all hair types, but they can also upgrade your overall beauty look. From everyday 'dos to first date looks, side-swept hairstyles are oh-so-versatile, and you can count on this hairstyle trend to make quite the impression. Ready to add some new looks to your must-try list? Below we're sharing 15 side-swept styles that you simply must try.
SIDE SWEPT HAIRSTYLE #1: SIDE STACKED BRAID
Side braids offer the best of both worlds in the ways they allow you to show off your enviable length while getting it all off your neck for a cooler-feeling (and looking) 'do. When you pair that with a detailed stacked technique, the end look is even more stunning—especially when cascading over your shoulder.
STEP #1: DETANGLE YOUR HAIR
Gently comb out any tangles in your hair because there's nothing like nearly finishing a braid only for it all to unravel due to a knot.
STEP #2: CREATE YOUR BRAID
Pull all of your hair around to one side of your head, clip a small section of hair off to the side, and pull about a quarter of your hair out from the underside of your mane. Fishtail this section to the ends. Tie it off with a clear elastic before fluffing it up to add volume to your look. With the rest of your hair, you can choose to weave a traditional three-strand braid or another fishtail.
STEP #3: PIN YOUR HAIR IN PLACE
Wind the smaller braid up and over the bigger braid and lay it flat along the braid's top side, tying both together at the ends. Next, pop a few bobby pins through the underside of the braids to pin them together, and your pretty plait is complete! Just give it a final spritz of a luminous hairspray like the L'Oréal Paris Elnett Precious Oil Satin Hairspray, and you're ready to slay the day.
SIDE SWEPT HAIRSTYLE #2: SIDE PONYTAIL
Ponytails are one of the most versatile hairstyles you can rock. Timeless and classic in every way, this style looks fantastic on all hair types. Best of all, it takes only seconds to pull the look together. Simply create a side part and brush your strands over to one side for a swooped shape. Then gather all of your hair at the nape of the neck and secure with a hair elastic. And there you have it, the perfect no-fuss style.
SIDE SWEPT HAIRSTYLE #3: SLEEK & SOFT WAVES
Nothing says sophistication like a sleek style. For those with medium and long lengths, this style is the ultimate A-list look, and it's easy to see why. Start with freshly washed and conditioned hair and apply a hair mousse like the L'Oréal Paris Advanced Hairstyle BOOST IT Volume Inject Mousse to your strands before letting them air dry. Once complete, create a deep side part, apply a bit of hair gel (try the L'Oréal Paris Advanced Hairstyle LOCK IT Clean Style Gel) at the roots, and brush through for a sleek finish.
SIDE SWEPT HAIRSTYLE #4: GLAM VOLUME
Ever wonder how movie stars and models rock such stunning styles that seem to be so casually flipped across one shoulder, creating extra camera appeal? Well, believe it or not, you can rock a red carpet-worthy look, too. It's all about pumping up the volume!
STEP #1: START WITH FRESHLY WASHED HAIR
Starting with your hair care is one of the best ways to ensure you achieve the volume you want. To get the look, lather your locks with a volumizing shampoo and conditioner. Hop out of the shower and towel-dry your hair, making sure to gently squeeze (not rub) to remove excess water.
STEP #2: GIVE YOUR LIFT AN ASSIST
Once your hair has dried about 85-90 percent, apply hair mousse. After evenly distributing the hair mousse through your hair, massage your roots to help promote lift.
STEP #3: BLOW DRY YOUR HAIR
Using a boar bristle brush, completely dry your hair, the same way you would when doing a DIY blowout. When your hair is completely dry, form a deep side part.
STEP #4: CURL YOUR HAIR
Heat your curling iron to the lowest possible setting that will successfully curl your hair and begin wrapping your hair around the barrel, making sure to curl it away from your face. Spray your curls with hair spray to help set them.
STEP #5: GENTLY COMB YOUR CURLS
After you've let your curls cool, gently run a fine-tooth comb through them to loosen things up for a more Hollywood glam look.
STEP #6: ADD VOLUME AT THE ROOT
Divide your hair into two layers, with a smaller top section. Clip the top section out of the way, and use a teasing comb to tease your roots beneath that layer.
STEP #7: SMOOTH YOUR TOP LAYER OF HAIR
After you've teased to build volume, smooth the top layer of hair that you sectioned off back over the rest of your hair. Gently run your boar bristle brush over the top of your head to smooth the outer surface without disrupting the volume underneath.
STEP #8: SWOOP AND SPRAY
Pull all of your hair over the shoulder corresponding with the deeper side of your part and give your glam look a final spritz of hair spray for long-lasting elegance that's sure to bring in the likes on social media.
SIDE SWEPT HAIRSTYLE #5: FRENCH TWIST
The side-swept French twist is where elegance and edge meet. The super pretty style features pinned hair and a stylish twist that's a real crowd-pleaser. Bring this look to life by brushing your locks to one side and creating a horizontal part in the middle of your head. Next, twist the top section for a rolled effect and pin it in place. Then create a three-strand braid right below your pin and secure it with a hair elastic. With your remaining hair, wrap your strands around the ponytail, and once you reach the ends, secure with another hair elastic.
SIDE SWEPT HAIRSTYLE #6: SHAVED SIDE WITH CURLS
Looking to step outside of the box? This style, which features one shaved side and curls, may be your perfect match. It takes commitment to shave one side of your head, but it makes for a chic side-swept look. Since this style requires quite the change in length, we recommend visiting your hairstylist to get the look.
SIDE SWEPT HAIRSTYLE #7: FISHTAIL BRAID
Fishtail braids are a staple hairstyle for a reason. Equal parts chic and playful, this look offers a boho feel that everyone can't seem to get enough of—we know we can't. And with the addition of the side-swept detail, this style instantly takes your look to the next level. Follow our step-by-step guide below to try it for yourself.
STEP #1: BRUSH YOUR HAIR
Start by brushing your hair to the side. Be sure to brush thoroughly to smooth out any tangles. Easy peasy!
STEP #2: CREATE YOUR FISHTAIL BRAID
Split your hair into two sections. Starting with one section, take a medium-sized piece of hair from the outer edge and cross it over into the inner edge of the opposite section. Repeat while switching back and forth until you reach the bottom of your hair. Secure the ends with a hair tie.
STEP #3: TUG YOUR STRANDS
Loosen up your strands a bit by gently tugging at your braid to achieve the lived-in look. Top off the braid with a spritz of hairspray and voila!
SIDE SWEPT HAIRSTYLE #8: TWISTED PONYTAIL
Ready to take your traditional ponytail style to new heights? A side-swept twisted ponytail will surely get the job done. While this look sounds a bit intricate, you can actually pull this style together in a few minutes. Promise! Simply pull all of your hair to one side, divide it into two sections and lightly twist until you reach halfway down. Secure it with a hair tie and allow the rest of your length to fall seamlessly.
SIDE SWEPT HAIRSTYLE #9: BOUFFANT
Bouffants have quickly climbed up the style meter again, and we totally get it. This look offers a glamorous finish that can easily complement your black-tie attire. To get the look, create a horizontal part in the center of your head, making sure that the top half is significantly smaller than the back. Clip the bottom half out of the way. Tease the top layer, smooth the hair back, and secure with bobby pins. Then release the bottom half, apply a bit of hair gel, and brush your hair toward the side. Comb through, mist with hairspray, and you're all set.
SIDE SWEPT HAIRSTYLE #10: DUTCH BRAID
Dutch braids are beautiful, stylish, and pretty easy to pull together. This side-swept look works to frame your face and highlight your features. Pretty much, it's a win-win! Here's how to get the look.
STEP #1: BRUSH YOUR STRANDS
With any braided look, you want to make sure that your locks are smooth and tangle-free. Be sure to brush your hair and while you're at it, smooth the hair to the side of your choosing to create the foundation for this style.
STEP #2: CREATE YOUR BRAID
On the side of your head where you've brushed over your hair, split your strands into three sections and start to weave your hair. As you work your way down, link new pieces of hair into the braid, and cross your strands under instead of over to create your Dutch braid. Continue until you reach the nape of the neck, and once complete, secure with a hair elastic.
STEP #3: FINISH WITH HAIRSPRAY
Spritz hairspray evenly over your mane to seal the deal.
SIDE SWEPT HAIRSTYLE #11: SHORT SIDE SWEEP
Who says medium and long hair lengths corner the market on side-swept hairstyles? Give your short locks a side-swept look with the help of a few bobby pins. Brush one side of your hair over and secure with pins where needed to get the look.
SIDE SWEPT HAIRSTYLE #12: LOOSE BUN AND SWOOP BANGS
Buns will never go out of style, and this side-swept look certainly reminds us of that fact. The perfect way to combine an updo with this popular trend, this look will become your go-to pick in no time. Start the style off by first pulling your hair to the side. Brush your side-swept bangs as you usually would, and gather the rest of your hair at the side of your neck and pull into a low ponytail. Wrap the length around the base to form a bun and secure with a hair elastic.
SIDE SWEPT HAIRSTYLE #13: CHIGNON
Speaking of buns, the chignon is a stylish variation that easily makes a statement. Perfect for almost any occasion you have on your agenda, this look is definitely worth a try. Keeping the side-swept detail in mind, all you need to create the look is to smooth your hair toward the side and follow our article, How to Master a Chignon Hairstyle in 5 Easy Steps.
SIDE SWEPT HAIRSTYLE #14: ZIPPER BRAID
For those who prefer a whimsical look, the side-swept zipper braid will suit your needs. The beautiful style features a unique braiding technique that pulls all of your hair off of your face for a glorious updo. To get the look, simply brush your hair toward either side of your choice, grab a section of hair that's around two inches wide, divide it into three equally-sized strands and begin your weaving.
While this style can be a bit tricky to master, we recommend checking out our article, How to Create a Zipper Braid, for a step-by-step guide. A little practice and you'll have it down in no time!
SIDE SWEPT HAIRSTYLE #15: SLICK BACKED
For those who love a sleek style with a touch of volume, slicked-back waves are the way to go. The hairstyle serves up the right amount of edginess with a feminine touch. Here's how to bring this look to life.
STEP #1: PREP YOUR STRANDS
For this look, you want to start with clean locks. We recommend using the L'Oréal Paris EverPure Frizz-Defy Shampoo and the L'Oréal Paris EverPure Frizz-Defy Conditioner to keep your tresses smooth and soft.
STEP #2: PROTECT AND STRAIGHTEN YOUR STRANDS
Before you reach for your flat iron, be sure to apply a heat protectant to your damp hair. After all, you want to protect your mane from heat damage. We like the L'Oréal Paris Advanced Hairstyle SLEEK IT Iron Straight Heatspray. Once dry, it's time to straighten your strands.
STEP #3: SLICK YOUR MANE
Grab a hair gel like the L'Oréal Paris Studio Line Clean Gel and apply a small amount to your roots. Be sure to brush your hair toward the side to lock your strands in place. A few spritzes of hairspray and you're ready to rock this look!
Next up: Think your side-swept hair could use more oomph? In that case, you may want to learn How to Clip in and Style Hair Extensions.
Discover more tips & tricks
Keep your skin happy
See all articles
Shop Featured Hair Style products
Discover More