hairstyle trends
How to Cut and Style the Perfect Mid-Length Bangs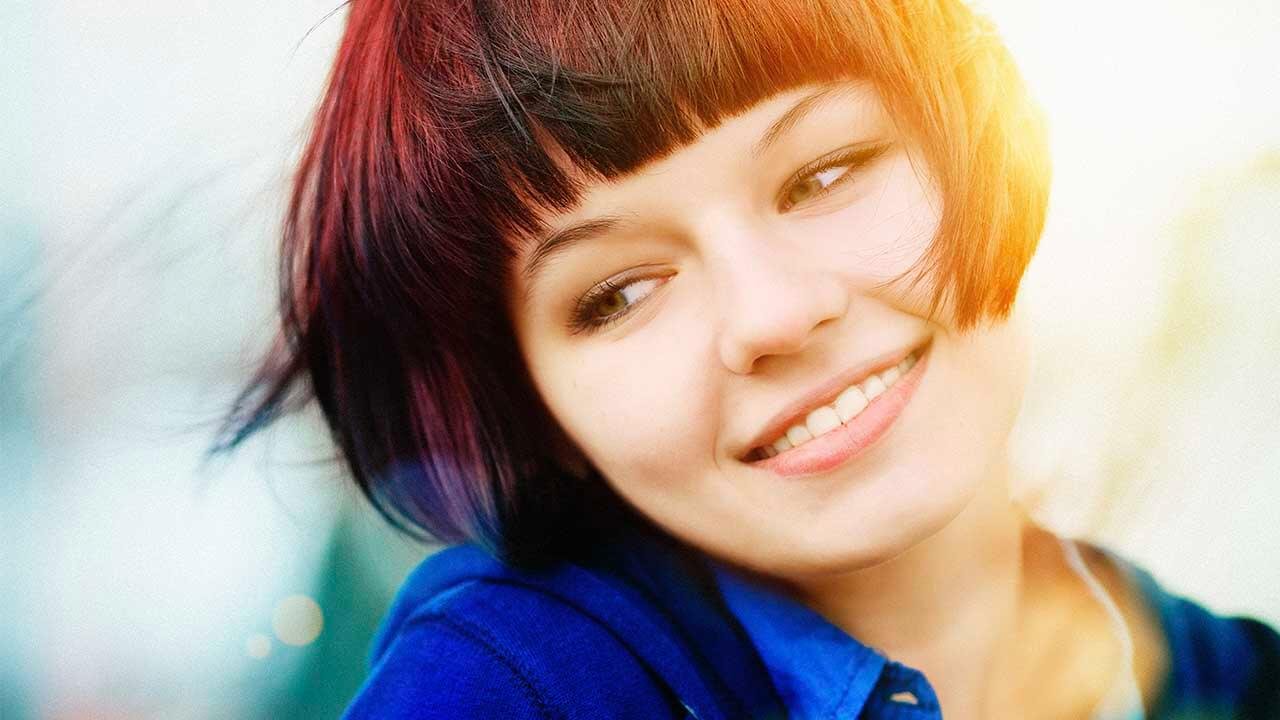 Whether you choose curtain bangs or a side-swept fringe, mid-length bangs are a flattering choice for anyone wanting to switch up their hair style without losing length. While mid-length bangs have long been thought of as "in-between" bangs—not quite freshly cut nor fully grown out—the comeback of 70s-era curtain bangs has brought mid-length fringe back into the spotlight. Below, discover the perfect mid-length bangs for you and learn how to style them—with the help of hair cream and hair spray—the right way each and every time!
The Best Mid-Length Bangs For Your Face Shape
Depending on your face shape, you can opt to cut face-framing curtain bangs, a sexy side-swept bang, or a messier eye-grazing fringe.
Have a heart or round-shaped face? Sweep those bangs to the side. Have your hairdresser cut mid-length bangs on an angle to help elongate and slim your face.
Styling side-swept bangs is very simple. Determine your part and distribute a small (no more than a dime-sized) amount of a frizz-taming cream, like the L'Oréal Paris Advanced Hairstyle BLOW DRY IT Thermal Smoother Cream. Using a round brush, blow dry your bangs in the opposite direction as you'd like them to fall—this ensures that they will lay flat to your forehead. Once they're 95% dry, blow them dry to the side you want them to lay on, but instead of placing your hair on top of the round brush, brush your hair underneath to give your bangs a subtle flip.
Have a square-shaped face? Lucky you, curtain bangs are back and they look amazing on you! By parting your bangs in the center and letting them fall to either side, you accentuate your eyes and cheekbones while softening your jawline.
To style curtain bangs, you'll first want to create a sharp middle part using a long-tail comb—this will ensure your bangs are framing your face in order to soften your strong jawline. Then, use a small amount of hair serum for frizzy hair before blow drying your bangs to one direction and pulling them to the opposite direction. Once 99% dry, smooth them with a boar-bristle round brush, first rolling the hair forward and under the brush and then going in the opposite direction, away from your face. To keep your bangs in place, lightly spray them with L'Oréal Paris Elnett Satin Strong Hold Hairspray.
Have an oval-shaped face? Try a mid-length bang that just grazes the tops of your eyes and is angled on either side. These bangs can be worn in a more blunt-cut style or messy and carefree for a very Parisian vibe. (Love that look? Here are 7 French Girl Beauty Rules to Follow.)
To style, distribute a small amount of frizz-fighting cream through your hair and roughly dry your bangs using your fingers and your blow dryer, which should be on a medium setting. Once your bangs are almost dry use a ½-inch round brush and blow dry them in both directions to make sure they won't sweep to either side. Finally, put your blow dryer on its cool setting and hold it so that it's pointing down at your bangs, then quickly move it back and forth to give your bangs a wispy effect.
The Best Mid-Length Bangs for Curly Hair
Regardless of your face shape, mid-length bangs are often the best choice for girls with curly hair who want to give fringe a try. Curly bangs give your hair beautiful shape and dimension and really draw attention to your eyes. Let your hairdresser know you want to wear your bangs naturally curly and have her cut them dry. This way you can see how they will fall immediately—you can always trim more off if you need to!
To style, reach for a curl-defining cream like L'Oréal Paris Advanced Hairstyle CURVE IT Elastic Curl Mousse and distribute it through damp hair, gently scrunching your curls up as you go to define them. Twist your curls and allow them to air dry or use a diffuser attachment on your blow dryer if you're in a hurry. Once dry, untwist each coil and you're done!
Have you ever considered how bangs can impact your skin? Well, they can! In fact, you should probably make a few tweaks to your skin care routine if you're ready to rock mid-length bangs. Here's The Skin Care Routine to Follow When You Have Bangs.
Discover more tips & tricks
Keep your skin happy
See all articles
Shop Featured Hair Style products
Discover More