hairstyle trends
How To Create Curls Using Flexi Rods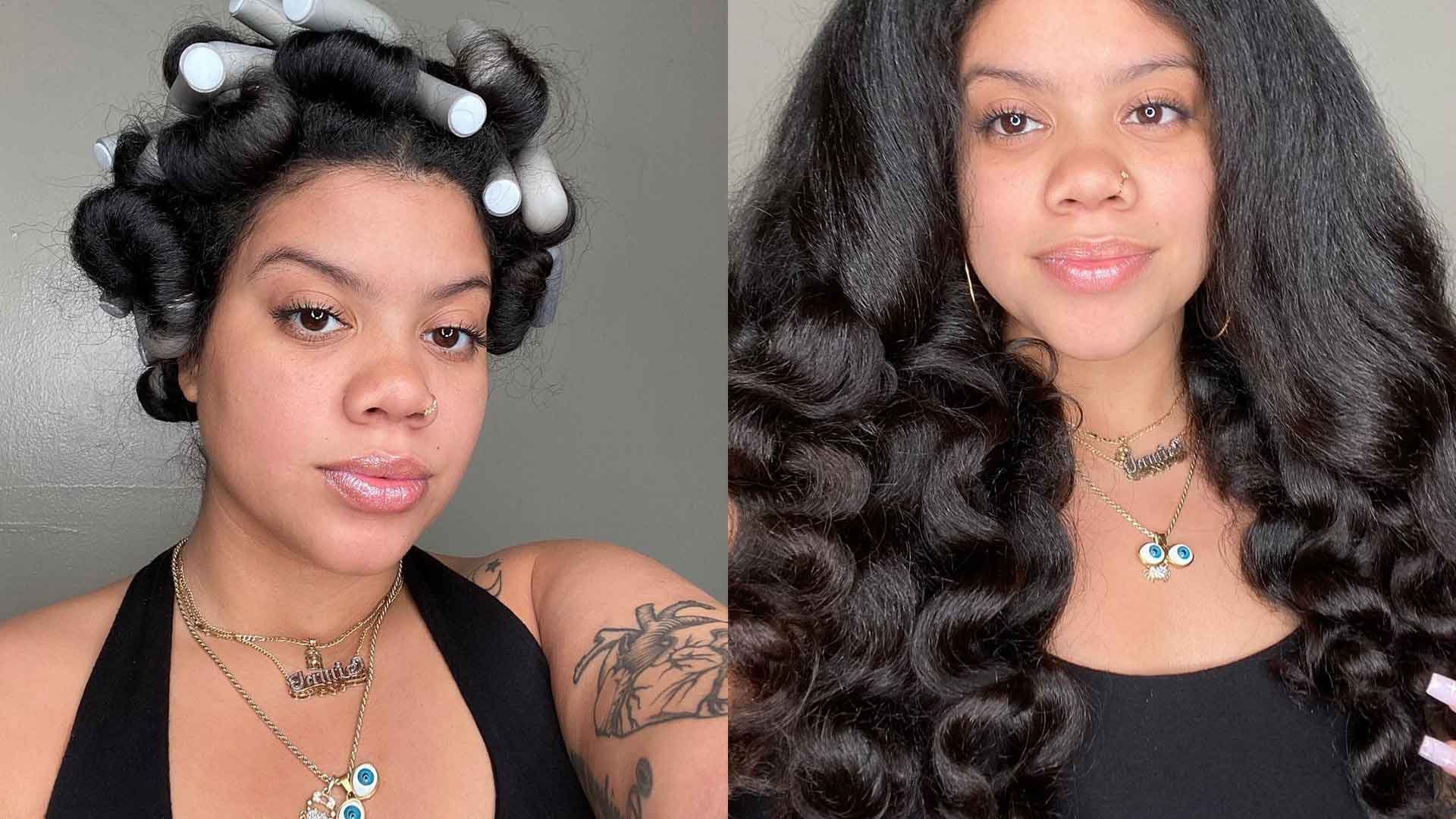 When it comes to creating heatless curls there are many different methods you can use, including twists outs, traditional hard rollers, and one of our favorites—flexi rods. Flexi rods can create a gorgeous set of voluminous curls that can last for days when wrapped up properly at night. Whether you've attempted a flexi rod set before with no success or you want to give them a try for the first time, you've come to the right place. Read on for a tutorial on how to use flexi rods, complete with tips and product picks that will keep your curls looking shiny and bouncy.
How To Create Curls Using Flexi Rods
Flexi rods come in various sizes and lengths, which will allow you to customize the curls you want to create. You should opt for a size based on the length of your hair and the size of the curls you want (big and bouncy or tight coils). There are also two different ways to style a flexi rod set, the heat-free method where you'll work with wet hair or you can blow-dry your hair, which will help give your curls some length. No matter which style you choose, both can give you beautiful results. So read on for a step-by-step tutorial on creating flexi rod curls.
What You'll Need:
Before you start working on your hair it's important to gather all the items you'll need beforehand to make the entire process easier. For this hairstyle, you'll need a hairbrush, clips, a curl cream, flexi rods, mousse or hair gel, oil, and a silk headscarf.
Step #1: Start Off With Freshly Washed Hair
First things first, to achieve beautiful bouncy curls, you'll need to start off with clean hair. Working on hair that hasn't been washed may cause your curls to drop and look stiff due to product build-up. Reach for a cleansing system, using the L'Oréal Paris EverPure Sulfate-Free Scalp Care Detox Scrub, L'Oréal Paris Everpure Sulfate Free Scalp Care + Detox Shampoo, and the L'Oréal Paris Everpure Sulfate Free Scalp Care + Detox Conditioner. This system is formulated to deeply purify and cleanse your strands by removing excess dirt, product build-up, and oil. Its formula also includes menthol and neem leaf extract, which will leave the scalp feeling fresh for up to 24 hours. Start off by applying the detox scrub to wet hair, gently massage it into your scalp and rinse out. Follow up with the shampoo and conditioner.
Editor's Tip: Be sure to use a wide-tooth comb or detangler to gently remove any knots or tangles, which can happen easily in the shower.
Step #2: Apply A Leave-In Product
After washing your hair, follow up with a leave-in conditioner like the L'Oréal Paris Elvive Dream Lengths Super Curls Cream Leave-In, a deeply nourishing hair cream formulated to create soft and bouncy curls. It includes sunflower seed oil to help lock in moisture in the hair. Then, section your mane into four large quadrants by creating a part straight down the middle of your scalp and then another part going across the scalp horizontally. Create buns in each section (you should have four in total) and secure them with a clip to keep them in place.
Step #3: Apply Flexi Rods To Your Hair
Now for the fun part! Take down a section of hair and split it into smaller two-inch sections. Grab one section and apply a generous amount of hair gel or mousse, like the L'Oréal Paris CURVE IT Elastic Curl Mousse throughout the section. Use a brush to distribute the product evenly, then grab a flexi rod and hold it at the tip of your hair. Wrap the tip around the flexi rod once, and then roll the rod up towards your roots. Bend both ends of the rod into a circular shape to secure the hair and keep it in place. Repeat this step all over your entire mane.
Editor's Tip: If your ends won't stay in place, add a tiny amount of gel to them while on the rod. The gel will help the ends stick to the rod and keep them from looking frizzy after removing the rods.
Step #4: Let Your Hair Dry
Styling with flexi rods definitely requires a bit of patience. It doesn't matter if you're doing a full-on wet set or the blow-dry version, it's super important to let your hair dry completely before removing the flexi rods. Taking them out too early will cause your curls to lose their shape and create frizz. And the length of your hair and porosity will play a huge role in how long you need to keep the flexi rods in your hair. Some people may find that the hair has fully dried within a few hours, while others may have to leave them on overnight to dry fully. However, sleeping on flexi rods may not be comfortable, as it can be hard to find a position to lay on your pillow. If you're looking to cut down the dry time, you can use a blow dryer or sit under a hooded dryer using a low setting (remember, we're going for little to no heat).
Editor's Tip: Don't just feel the outer strands on the flexi rods to determine if your hair is dry. Unravel a rod to test it out and feel around the inside of the hair. If it's damp, roll it right back up and leave it on until it's fully dried.
Step #5: Carefully Remove The Flexi Rods
Once your hair is completely dry, you can begin unraveling each rod one at a time. Apply a small amount of the L'Oréal Paris Elvive Extraordinary Oil Treatment to your fingertips and rub it on the ends of the rod where the tip of your hair is. This will make it easier for the hair to unravel from the rod. Once all the rods are removed, use your fingers to gently separate the curls. Finish up by using a hair pick to lift the roots and add volume.
Like any protective hairstyle, how long your flexi rod curls will last really depends on how you care for them, particularly at night. Generally, flexi rod styles can last for about a week. To get the most out of your curls, use the pineapple method and a silk headscarf to help preserve and protect the style while you sleep. Gather all your curls to the top of your head like you would to create a high pony (it should sort of look like a pineapple), then bring all the hair forward and secure it in place by wrapping it with a headscarf.
Photo Credit: Photo: Jamie Lee, @jamiefrombklyn
Discover more tips & tricks
Keep your skin happy
See all articles
Shop Featured products
Discover More