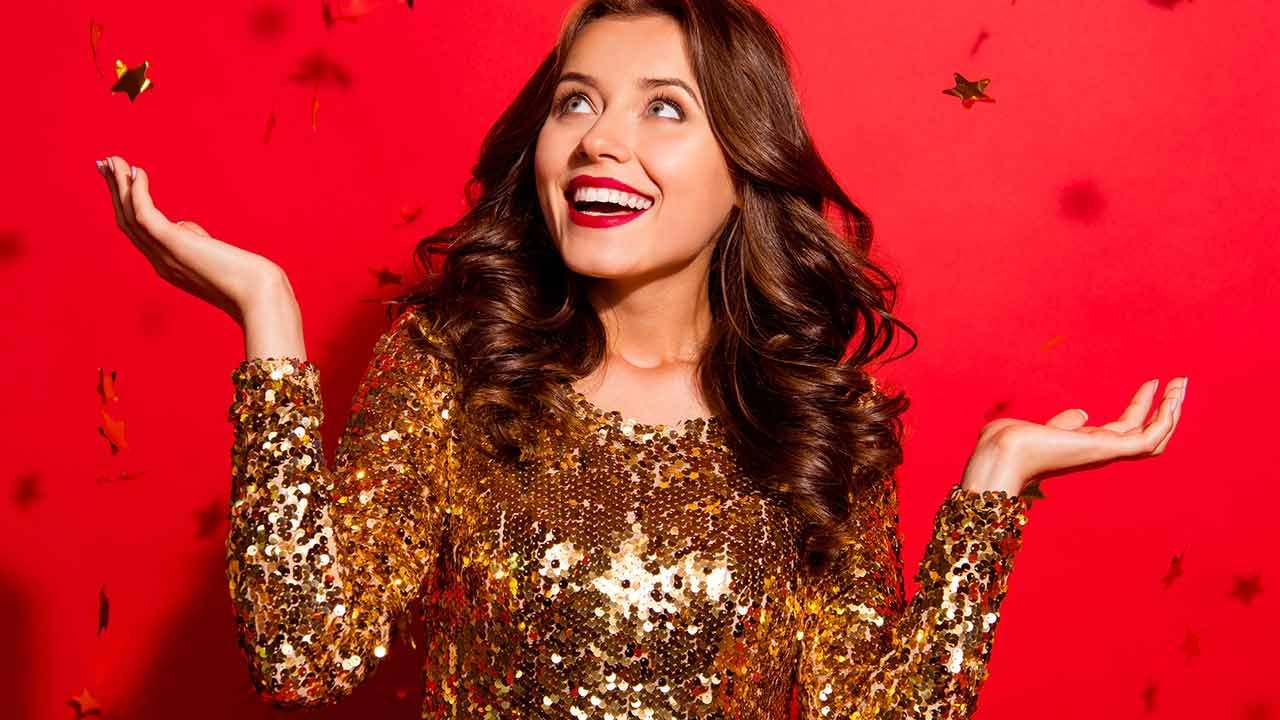 hairstyle trends
Holiday Hair Forecast: 16 Hairstyles That Are On-Trend for Christmas 2019
With the temperatures cooling off and Christmas music making its seasonal debut, it's officially appropriate to start focusing on the holidays. To help get you in the holiday spirits—and prepare you for all the craziness that is to come—we're sharing Christmas hair ideas that will complement your holiday style. From Christmas tree hair to classic voluminous curls, your options are far from limited. Below, find 16 holiday hair ideas—plenty for all the festive events getting penned into your planner as we speak!
1. BRAIDED CROWN
Looking for a classy and sophisticated style for Christmas? Look no further than the braided crown. This chic hairstyle pulls hair off of your face in a gorgeous French braid weave that sits right on your hairline. Perfect for holiday work parties and beyond, prepare to dance the night away without fear that your hairstyle will fall.
To get the look, start with a dime-sized amount of a hair texturizer like the L'Oréal Paris Studio Line Overworked Hair Putty and distribute it on your hair evenly. Part your hair down the middle, and pick one side to start on. Split that side into three parts and start weaving it into a Dutch braid that goes up and around your head. Once you read your ends, secure with a small clear elastic and pin. Repeat this on the other side of your head to create a complete crown and hide the ends beneath your first braid. Add extra bobby pins for staying powder and you're all set.
2. CHRISTMAS TREE HAIR
It simply doesn't get more festive than Christmas tree hair. While you may not want to wear this look every day, it's perfect for an ugly sweater party or a crazy hair day at school. How can you turn your hair into an Xmas tree? Create a tall beehive, then top things off with a green hair color spray and adorn your "tree" with barrettes that will act as your ornaments.
3. SIDE-SWEPT FISHTAIL BRAID
If you're looking for a whimsical and romantic holiday look, a side-swept fishtail braid will surely meet your standards. To create this hairstyle, you want to add texture and grip to your hair with a touch of hair putty. Pull your hair around one side of your head and divide it into two even sections. Start with one half of your hair to create the first weave of your fishtail braid. Grab a small section of hair from the outside of that section and cross it over to the other section of hair. Repeat until you reach your ends, switching sides as you go, and secure with a clear elastic. Mist your hair evenly with the L'Oréal Paris Elnett Precious Oil Satin Hairspray for instant shine.
4. WATERFALL BRAID
In the braiding mood? Step your braid game all the way up with a waterfall braid. Perfect for medium hair or long hair, this unique weaving technique offers a stylish change of pace for your mane. To create this type of braid, you'll start by putting your French braid skills to use. Begin weaving your braid in that style, but after each link of the braid, release the left strand and grab a new piece of hair to replace it. Keep braiding and releasing until you've created a cascading waterfall effect around your head. Once finished, secure the end of the braid with an elastic and hide it under a layer of your hair.
5. CHIGNON WITH GLITZY HEADBAND
Speaking of classic styles, the chignon will also add a romantic touch to your holiday hair look. A gorgeous variation of the traditional bun style, this hairstyle sits at the nape of the neck for a sleek and stylish look. Topping it off with a glitzy headband, this 'do will take your Christmas style to the next level. Check out our article, How to Master a Chignon in 5 Easy Steps, for a step-by-step tutorial that will help you bring this look to life.
6. SLEEK LOW BUN
If you're a minimalist that loves a quick and easy style, it's time to get acquainted with the sleek low bun. This neatly pulled together look requires little to no products and can be created in a matter of minutes. To get the look, start with a hair gel like the L'Oréal Paris Studio Line Clean Gel and apply it evenly to your damp roots. Brush your hair toward the back of your head and secure it with a hair tie. Gather your hair as if you were creating a ponytail and start to twist, rolling your hair around the base of your ponytail. Finish with pins to hold your hair in place. Voila!
7. LOW PIECE-Y BUN
You can never go wrong with an updo, and this low piece-y bun is a great style to try. This hairstyle provides the elegance of a bun style but has a bonus playful touch thanks to curly front pieces that frame your face. Start by parting your hair down the center, from your hairline to the middle of your head. Apply hair gel to all of your hair except the pieces you want to leave loose in the front, and brush everything else toward the back of your head. Style into a bun and secure with pins. Apply the L'Oréal Paris Advanced Hairstyle Curve It Curling Mousse to the front pieces, scrunch gently, and air dry.
8. TWISTED UPDO
Got updo styles on the brain? Make your hair the center of attention this Christmas season with a twisted updo. The height no-fuss styles, all you need to create this look are bobby pins, a hair elastic, and hairspray. Start by dividing your hair into three sections, keeping the two front sections small while the back should consist of most of your hair. Roll the back section of your hair into a bun and secure with pins. Twist the two small sections in one direction, then twist them together in the opposite direction to create a rope braid. Wrap each twisted rope braid around your bun and pin it into place. Ta-da, totally twisted!
9. SLEEK PONYTAIL
Ready to highlight your texture? A sleek ponytail is where it's at. It's incredibly easy to create and flatters all hair textures for the ultimate universal style. To get the look, grab a dime-sized amount of hair pomade and work evenly through your hair. Brush your hair toward the middle of your head and secure with a hair elastic. Finish up with a mist of hairspray to seal the deal.
10. PINEAPPLE PONYTAIL
Natural hair girls, this one is for you! Pull your curls off of your face with a chic pineapple style. Get the look by applying four to five drops of a hair oil, like the L'Oréal Paris Elvive Extraordinary Oil Treatment, then brush all of your hair up toward the middle of your head, and secure with a hair elastic. This should leave your curls falling over your head in the most flattering way. For a bit more style and elegance, add a metallic French pin on either side of your head.
11. HALF-UP HALF DOWN WAVY PONYTAIL
When you think of wavy hair, beachy, summer hairstyles may come to mind, but this style will score major trend points even in the depths of winter. Fun, flirty, and easy to create, this look saves you quite a bit of time in the hairstyling department. Simply work an egg-sized amount of hair mousse evenly through your hair, scrunching as you go, and air dry to highlight your texture. Once your hair is dry, part your strands from ear to ear, secure the top section with a clear hair elastic, and fluff the bottom half.
12. HIGH BRAIDED PONYTAIL
Looking for a fun and stylish 'do? It may be worth giving a high braided ponytail a try. This look only takes a few minutes to create and two products to style—all the makings of a great no-fuss style. To get the look, simply brush your hair toward the center of your head and secure with a hair elastic. Grab a dime-sized amount of hair gel and apply it to the length of your ponytail, then split the pony into three sections and braid until you reach the ends. Secure with a clear elastic, and you're all set.
13. SOFT CURLS
Embrace your girly side with a mane full of soft curls. Sweet and playful, this hairstyle will give your mane tons of volume and movement. The key to nailing this style is to start with freshly washed and conditioned hair. We recommend using the L'Oréal Paris EverPure Moisture Shampoo and the L'Oréal Paris EverPure Moisture Conditioner. Once your hair is clean, apply a curl cream from root to tip, scrunch, and air dry. You can also use a diffuser to speed up the drying process.
14. SIDE SWEPT CURLY HAIR
Speaking of curls, why not take inspiration from old Hollywood glam? This hairstyle looks super pretty as your strands fall down your shoulders for a picture-perfect finish. To get the look, apply a hair cream to your strands and air dry most of the way. Once your hair is almost dry, grab a blow-dryer and a boar bristle brush to smooth your strands. Separate your hair into two-inch sections and curl with a curling iron. Be sure to curl your hair in the same direction for a uniform finish.
Once you've finished creating your curls, lightly brush through your hair, pull your curls to the side, and secure with a few pins. Spritz your hair with a strong-hold hairspray like the L'Oréal Paris Elnett Satin Hairspray Extra Strong Hold Volume to seal your style in place.
15. NATURAL CURLS
With a to-list full of Christmas parties, family functions, and tons of shopping to do, your hair should be the last thing you need to worry about. While you may think you need to go above and beyond with styling, you can never go wrong with natural curls. After all, there is nothing better than highlighting your natural texture. Simply apply a curling mousse to damp strands, scrunch, and go. For a long-lasting style, use the L'Oréal Paris Ever Curl Sculpt & Hold Cream-Gel as an alternative to keep your curls smooth, hydrated, and locked in place all day long.
16. BLOW OUT
Who can resist the luscious look of just blown out hair? This glamorous style is great for those who love voluminous, flowy hair. Even better, you can achieve this hairstyle without using any heat styling tools. To get the look, you want to start with freshly washed hair. Apply a volumizing hair mousse like the L'Oréal Paris Advanced Hairstyle Boost It Volume Inject Mousse evenly through your hair, then tease your roots. Follow up with a few drops of hair serum to tame flyaways, and you're ready for whatever festive occasions come your way.
Discover more tips & tricks
Keep your skin happy
See all articles