hairstyle trends
15 Hairstyles That Are On Trend For Christmas
Deck the halls and your hairstyle.
November 08, 2019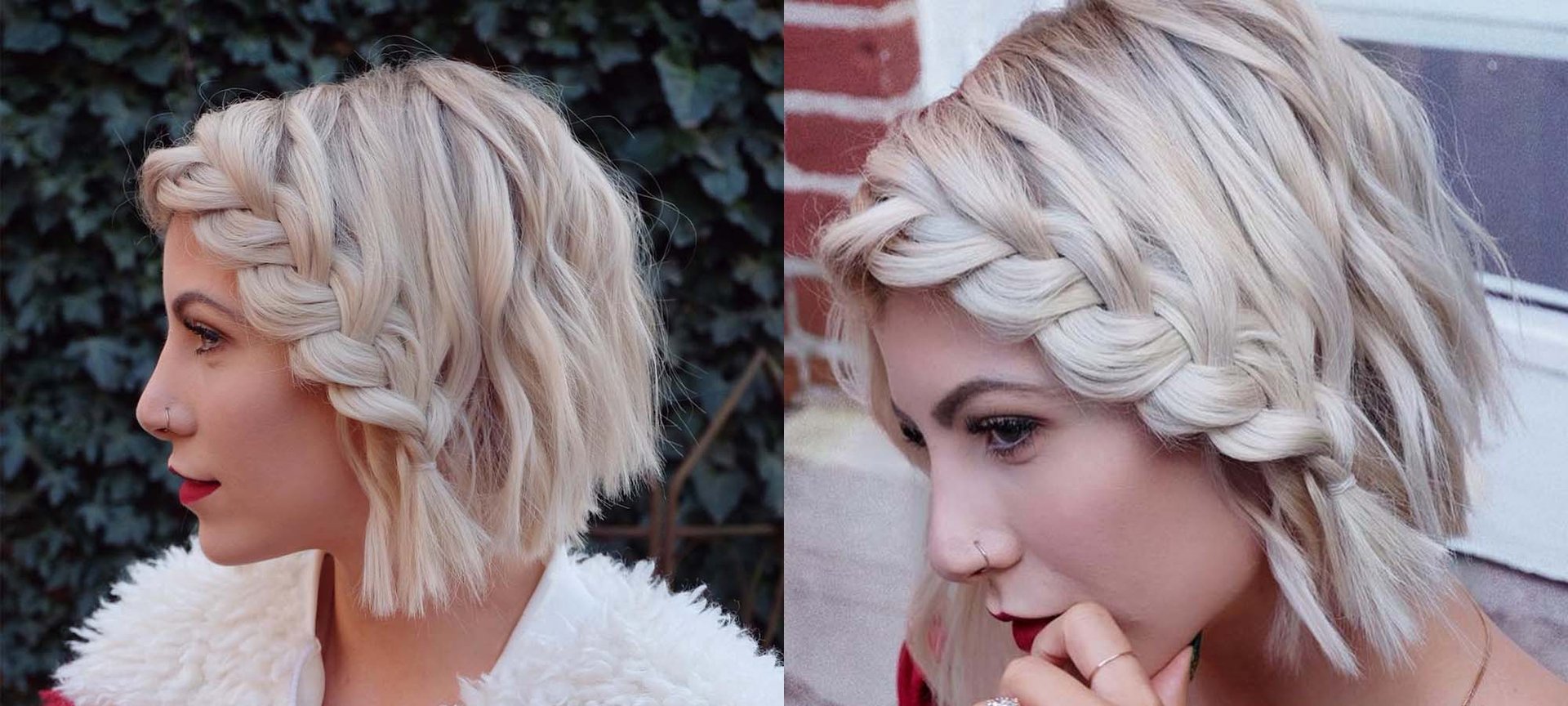 With a to-do list full of holiday parties, family functions, and tons of shopping, your hair may be the last thing you're thinking about. But when it's time to celebrate you'll want to look your best, and that includes having a fabulous hairstyle to match your fabulous mood. Whether you're looking for a style that's quick but stunning or something super festive for your fringe, there are plenty of holiday hairstyles that are perfect for your seasonal debut. From Christmas tree hair to classic voluminous curls, we're sharing 15 festive hairstyles to try that are sure to bring a bit of joy to your holiday world.

1. Christmas Tree Hair
Nothing says the holidays like a full head of Christmas tree hair. While you may not want to wear this look every day, it's perfect for any of your more exciting seasonal festivities, like an ugly sweater party. To get this tinseled look, use your hair to create a tall beehive, then top things off with a green hair color spray like the L'Oréal Paris Colorista Hair Makeup Temporary 1-Day Hair Color Spray in Pastel Mint and adorn then your hair "tree" with colorful barrettes and other hair accessories to resemble decorative ornaments and lights.
2. Side-Swept Fishtail Braid
If you're looking for a whimsical and romantic holiday look, a side-swept fishtail braid will surely meet your standards. To create this hairstyle, you want to add texture and grip to your hair with a touch of hair putty-like the L'Oréal Paris Studio Line Overworked Hair Putty then pull your hair around one side of your head and divide it into two even sections. Start with one-half of your hair to create the first weave of your fishtail braid. Grab a small section of hair from the outside of that section and cross it over to the other section of hair. Repeat until you reach your ends, switching sides as you go, and secure with a clear elastic. Mist your hair with the L'Oréal Paris Elnett Precious Oil Satin Hairspray for instant shine.


3. Pineapple Ponytail
This chic pineapple style is the perfect face-framing holiday look for your naturally curly strands. Get the look by applying four to five drops of hair oil, like the L'Oréal Paris Elvive Extraordinary Oil Treatment to your hair, then brush all of your hair up toward the crown of your head, and secure with a hair elastic. This should leave your ends falling over your head in the most flattering way. To enhance the style, add a metallic clip on either side of your head.
4. Braided Crown
A braided crown makes for a classy and sophisticated holiday hairstyle that's perfect for dinners, parties, and beyond. This chic hairstyle pulls hair off of your face in a gorgeous French braid that will allow you to dance the night away without fear that your crown will fall. To get the look, start with a dime-sized amount of a hair texturizer and distribute it through your hair evenly. Part your hair down the middle, and pick one side to start on. Split that side into three parts and start weaving it into a Dutch braid that goes up and around your head. Once you reach your ends, secure them with a small clear elastic and pin. Repeat this on the other side of your head to create a complete crown and hide the ends beneath your first braid. Add extra bobby pins for staying power and your royal look is ready.
5. Waterfall Braid
This year, try stepping up your Christmas hair game with a creative waterfall braid. Perfect for medium or long hair, this unique weaving technique offers a stylish change of pace for your mane. To create this type of braid, start by putting your French braid skills to use. Begin weaving your braid in that style, but after each link of the braid, release the left strand and grab a new piece of hair to replace it. Keep braiding and releasing until you've created a cascading waterfall effect around your head. Once finished, secure the end of the braid with an elastic and hide it under a layer of your hair.
6. Tousled Side Swept Curls
Blurring the lines between a playful and flirty vibe, this side-swept look can easily go from day to night. Start by using hair rollers or a curling iron to create large curls, then lightly tease the roots or apply volume spray for extra lift. Flip your hair over to one side, enforcing a side part, and pull the front section over one eye. The trick is to make everything look artfully mussed yet totally effortless, so don't be afraid to leave a few strands flying in random directions.
7. Chignon With Glitzy Headband
The classic chignon will always add a romantic touch to your holiday look. A gorgeous variation of the traditional bun, this hairstyle sits at the nape of the neck for a sleek and stylish look. Topping it off with a glitzy headband will take your Christmas style to the next level. Check out our article, How to Master a Chignon in 5 Easy Steps, for a step-by-step tutorial that will help you bring this look to life. Then add your favorite blinged-out headband and you're all set.

8. Dutch Yarn Braids
Dutch yarn braids are a timeless style that also gives you the option to play with color for the holidays. To get this style, split your hair down the middle, and clip one side out of the way. Apply a small amount of hair gel onto your roots. Divide your hair into three pieces and build your braid. After a few braided links, add braiding yarn and work your way down, just as you would with the feed-in braid technique. Once you reach the ends, secure your Dutch braid with a hair elastic and repeat on the other side.

9. Natural Curls
While you may think you need to go above and beyond with your holiday styling, you can never go wrong during any season with gorgeous natural curls. This look highlights the simplicity of the season and your natural texture. The key to nailing this style is to start with freshly washed and conditioned hair. We recommend using the L'Oréal Paris Elvive Extraordinary Oil Curls Shampoo and the L'Oréal Paris Elvive Extraordinary Oil Curls Conditioner. Once your hair is clean, apply a curling mousse to damp strands, scrunch, and go. For a long-lasting style, use the L'Oréal Paris Elvive Dream Lengths Super Curls Cream Leave-In to keep your curls smooth, hydrated, and locked in place all day long.

10. Sleek Ponytail
For a holiday look that looks polished even when done on the fly, a sleek ponytail is what you need. It's incredibly easy to create and flatters all hair textures for the ultimate universal style. To get the look, grab a dime-sized amount of hair pomade and work it evenly through your hair. Brush your hair toward the middle of your head and secure with a hair elastic. Finish up with a mist of hairspray to seal the deal.

11. Twisted Updo
Make your hair the center of attention this Christmas season with a twisted updo. All you need to create this look are bobby pins, a hair elastic, and hairspray. Start by dividing your hair into three sections, keeping the two front sections small while the back should consist of most of your hair. Roll the back section of your hair into a bun and secure it with pins. Twist the two small sections in one direction, then twist them together to create a rope braid. Wrap each twisted rope braid around your bun and pin it into place.

12. Blow Out
A simple but glamorous blowout is a perfect holiday style for those who love voluminous, flowy hair. What's more, you can achieve this hairstyle without using any heat styling tools. To get the look, you want to start with freshly washed hair. Apply a volumizing hair mousse like the L'Oréal Paris Advanced Hairstyle BOOST IT Volume Inject Mousse evenly throughout your hair, then tease your roots. Follow up with a few drops of hair serum to tame flyaways, and you're ready for whatever festive occasions come your way.

13. Finger Waves
No matter your hair length, this vintage style is the ultimate A-list holiday look. Also known as finger curls, finger waves are a method of setting the hair into curls that sit closely on top of the head and look as if they're coiled. With a few styling products and bobby pins, this glamorous look is easy to sweep to the side. Learn how to get the perfect waves with our guide, How to Get a 1920s Hairstyle.

14. Braided Bubble Ponytail
One of the reasons why we love ponytail hairstyles so much is that they're so easy to create — a ponytail is the perfect go-to for when you want to look put together but don't have much time to spare. For a tousled, voluminous style, give a bubble braid ponytail a try. To get the look, start by putting your strands in a high ponytail. Then, to add more texture, coat your hair in some of the L'Oréal Paris Advanced Hairstyle BOOST IT Volume Inject Mousse. Then, begin to braid the length into a traditional three-strand braid. Secure with hair ties after every inch or so of braiding to create your "bubbles." Gently tug at the braid to add more volume and body as you go.

15. Soft Textured Waves
Nothing says sophistication like soft, sleek waves for the holidays. This classic hairstyle works on all lengths and textures for a timelessly elegant look. Start by spraying your dry hair with the L'Oréal Paris Elvive Dream Lengths Heat Slayer Pre-Iron Spray Leave-In. Section your hair with clips and use a one-inch curling iron to create curls across your head. Then, use a hair pick or wide-tooth comb to separate the curls lightly. To keep your waves from falling throughout the day, spritz with the L'Oréal Paris Elnett Extra Strong Hold immediately after styling.
Next: Your Winter Hair Care Survival Guide
Written by: Lauren Paige Richeson, Photo Credit: Alex Pelerossi, IG/@alex_haircraft
Discover more tips & tricks
Keep your skin happy
See all articles
Shop Featured Hair Style products
Discover More