hairstyle trends
5 Hairstyles That Are Perfect for Rainy Days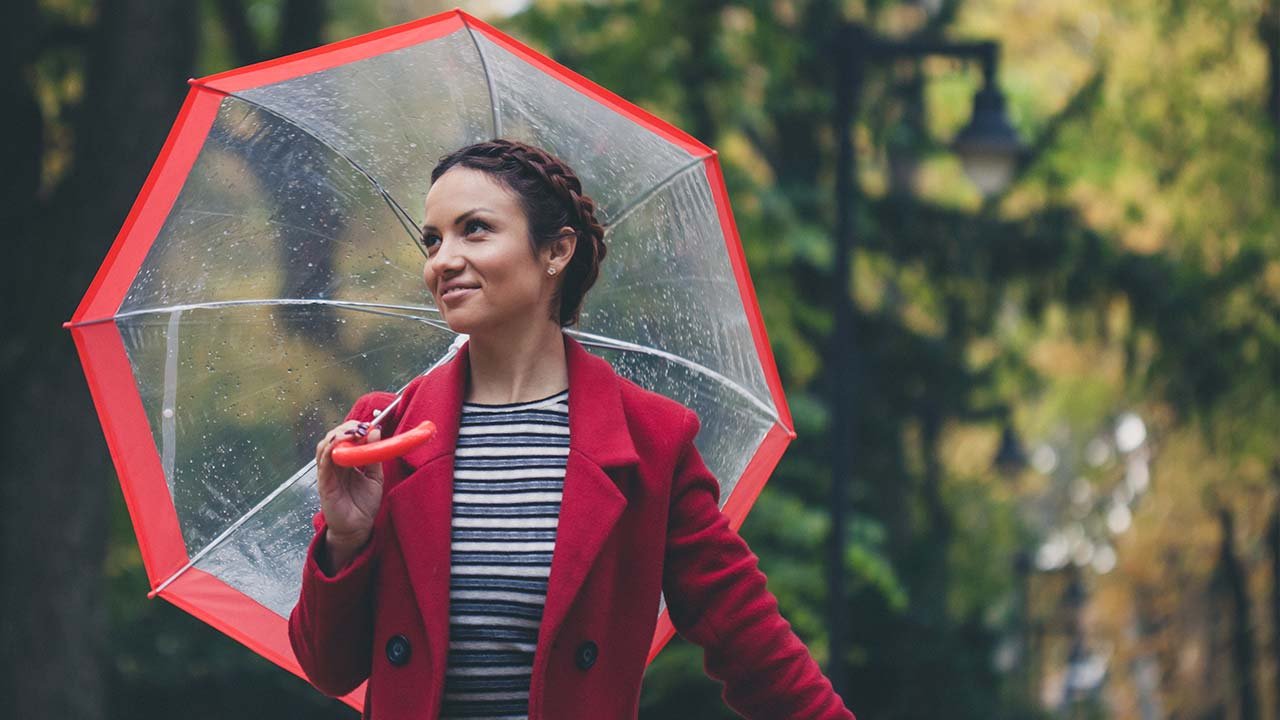 When it's raining out, the last thing you probably want to do is style your hair. After all, what's the point if you're just going to be left with frizzy hair once you're done anyway, right? Well, just because the weather is bad outside doesn't mean you have to sacrifice your hair's style. There are plenty of hairstyles that are suited to the rain—including messy buns and fishtail braids. Below, we share our favorite rainy-day hairstyles.
Rainy-Day Hairstyle #1: Messy Bun
A slicked-back chignon may not be the best option on rainy days, but a messy bun is perfectly suited to the weather—plus, it's really easy to create. Start by puling all of your hair into a loose ponytail—high or low, it's up to you. Next, tease your ponytail, then separate it into two sections. Take both sections and wrap them in opposite directions. Secure each section with a bobby pin. Leave a little bit of your ends hanging out to create a messy effect. Finish with a quick spritz of the L'Oréal Paris Elnett Precious Oil Satin Hairspray and you're good to go.
Rainy-Day Hairstyle #2: Side Fishtail Braid
One of the best types of braids to pair with your hair's natural texture on rainy days is the fishtail braid. While this hairstyle might look complicated at first glance, it's a no-brainer once you learn how to braid this way. First, secure your hair into a side ponytail with an elastic, then divide your ponytail into two even sections. Now it's time to braid. Take a small part of the left ponytail (about half an inch in size) and cross it over to the right ponytail. Repeat this process on the other side, then keep repeating this same process until you reach the ends of your hair. Secure your braid with another elastic. The messier your fishtail braid looks, the better!
Rainy-Day Hairstyle #3: Crown Braid
ICYMI, we're definitely obsessed with braids—and the crown braid is a great hairstyle for masking frizzy hair that might make its presence known on rainy days. If you didn't have a chance to wash your hair, that's OK—just spray it with some dry shampoo, like the L'Oréal Paris Elvive Extraordinary Clay Dry Shampoo, before beginning. Once you've done that, part your hair down the middle and weave a Dutch braid on each side of your part. To do a Dutch braid, you'll weave over, not under. Secure each Dutch braid with a clear elastic, then tug at them so that they look a little more voluminous. Finish by pinning your braids up and over your head, and gently pull out a few face-framing strands.
Rainy-Day Hairstyle #4: Beachy Waves
If updos are not your style and you'd rather wear your hair down, we've got the right hairstyle for you: beachy waves. On rainy days, play up your beautiful natural texture instead of trying to smooth your hair with a blow-dryer or flat iron. Start in the shower by washing your hair with the L'Oréal Paris EverPure Moisturie Shampoo and L'Oréal Paris EverPure Moisture Conditioner. Once you hop out of the shower, gently blot your hair dry with a cotton T-shirt. When your hair is damp, apply the L'Oréal Paris Advanced Hairstyle AIR DRY IT Wave Swept Spray all over and let your hair air dry. That's it!
Rainy-Day Hairstyle #5: Classic Ponytail
Sometimes, you can't go wrong with the basics—and that's certainly the case when it's pouring outside. A ponytail will always be in style, and it looks great no matter your hair type or texture. Simply slick back your hair with the L'Oréal Paris Advanced Hairstyle LOCK IT Clean Style Gel, then secure your hair in a high ponytail with an elastic. It's OK if your hair doesn't look perfectly smooth—these days, messy hair is on-trend.
The next time it rains, you'll be ready to expertly do your hair with one of these five hairstyles. For more easy hairstyle ideas, here are 7 Half-Bun Hairstyles for Every Hair Type.
Discover more tips & tricks
Keep your skin happy
See all articles
Shop Featured Hair Style products
Discover More