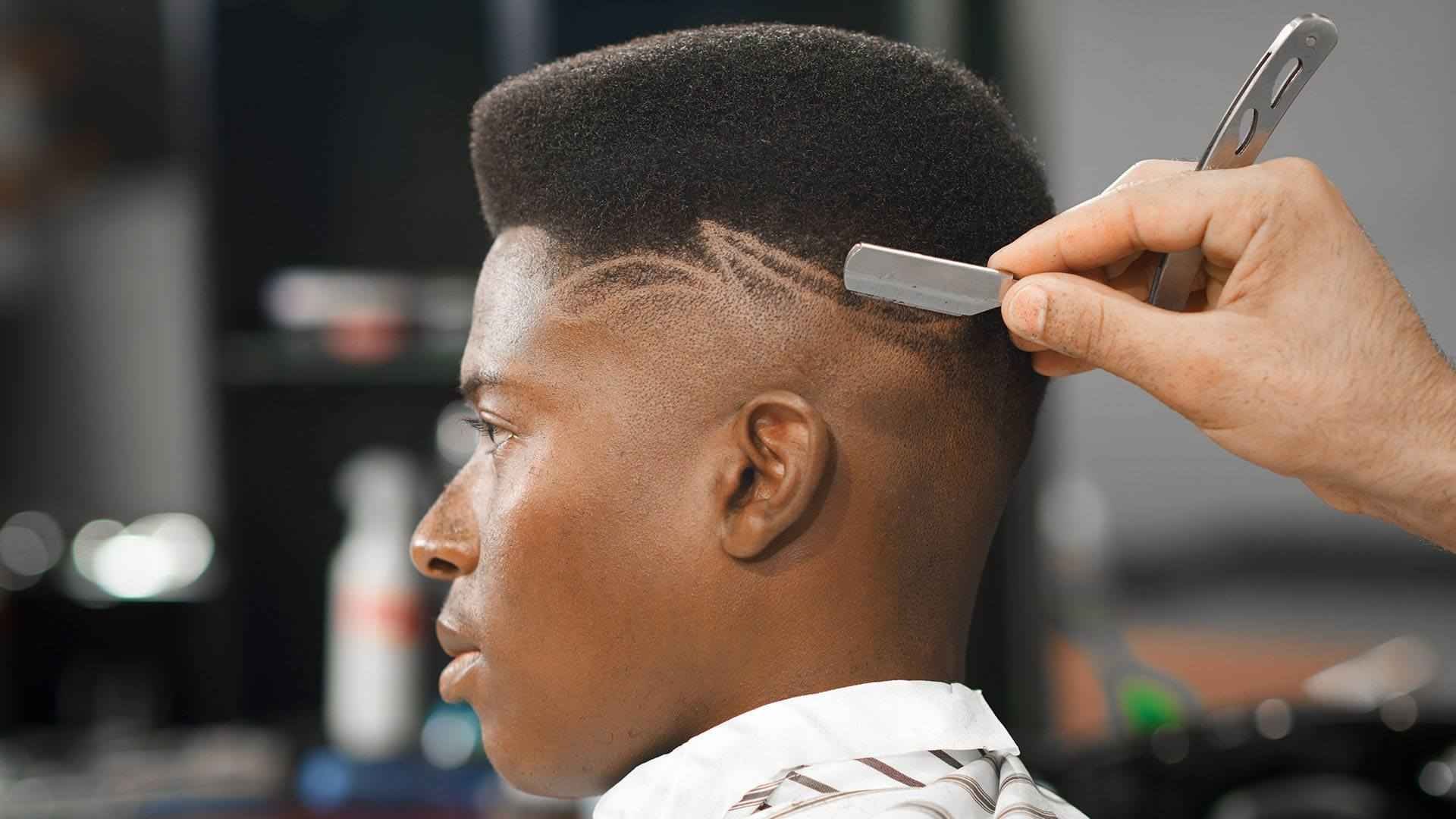 hairstyle trends
26 Cool Hair Designs for Men to Rock in 2020
When you think of the perfect hair designs for men, three words likely come to mind: edgy, fresh, and stylish. And when it comes to this statement-making hairstyle trend, featuring designs shaved around the head, there is no shortage of cool options. If you want to make your hair really stand out, allow us to suggest heading to the salon for a creative hair design. Since we know that finding the haircut that best suits your style can be a struggle, we've compiled a list of cool hair designs to rock in 2020. That's right—you can click out of your Google search on hair cutting designs! Read on for 26 shaved hair designs for men.
1. CURLY MOHAWK WITH SHAVED SIDES
Looking to take a walk on the bold side? It's time to give the curly mohawk—complete with shaved sides—a try. The perfect style for textured strands, this hair design for boys (or men!) highlights your natural texture and puts a creative twist on your look thanks to the shaved designs on the sides of your head. From deep lines to stars, the possibilities are truly endless.
2. SPIKY FAUX HAWK WITH A SKIN FADE
If you're a man that can't resist a spiky 'do, a spiky faux hawk with a skin fade may be your perfect match. Thanks to its barely-there sides, this look lets your spiky strands be the center of attention. This style is not for those who'd prefer to slip under the radar—you can count on making quite the impression!
3. LONG SLICKED BACK WITH A TAPERED FADE
Blur the lines between a classic style and the cool-guy aesthetic by combining long, slicked-back strands with a tapered fade. This hair design is ideal for the man that's always on the go. To style, simply add a touch of hair gel, like the L'Oréal Paris Studio Line Clean Gel, to your mane, brushing your length backward. Paired with faded sides, it adds an edgy twist to a clean-cut look.
4. SLEEK CENTER PART WITH A LOW FADE
Are sleek styles your forte? Then it's only right to consider a sleek center part with a low fade. Featuring a bold middle part and sleek strands that transition into a fade on the sides, this hair design is perfect for those who love a polished appearance.
5. SHORT TWISTS WITH AN UNDERCUT
For anyone working with a thick hair texture, why not spice up your strands with the help of short twists and an undercut? Equal parts bold and understated, this hair design allows you to flaunt your length at the top while keeping the back and sides of your head cut low for a play on angles. Part your hair into an inch-wide section, add a touch of hair gel, and split into two equally-sized strands. Criss-cross both strands until you reach the ends and secure with a hair elastic.
6. SLICKED BACK UNDERCUT WITH A FADE
Consider yourself a minimalist? Then it's time we turn your attention to a slicked back undercut with a fade. Undercuts have always been on-trend, and adding slicked-back strands into the mix instantly updates this hair cutting design. Best of all, you can ask your barber to add shaved detailing along the sides for a look that's all your own.
7. UNDERCUT WITH DREADLOCKS
Who says you can't get creative with your dreadlocks? Combining an undercut with dreadlocks is the perfect way to do so. This look allows your dreads to be the star of the show while keeping your hair manageable for easy styling. Simply pull your dreadlocks into a ponytail or top knot to show off your trendy undercut.
8. DISCONNECTED UNDERCUT
You know what they say: go big or go home. If you're prepared to do just that with your haircut, the disconnected undercut should be at the top of your list. This medium-length haircut focuses on the length at the top of your head, drawing extra attention with a hard part that fades down the sides. Mist a touch of strong-hold hairspray, like the L'Oréal Paris Elnett Satin Hairspray Extra Strong Hold, over your strands to lock your look in place.
9. TOP KNOT WITH AN UNDERCUT
Top knots continue to reign supreme in the hairstyling world. Not only are they super easy to style, but they also convey seriously cool vibes. Paired with an undercut that's on full display, you can show off an unexpected shaved hair design and easily take your look up a few notches.
10. QUILTED UNDERCUT WITH WAVY HAIR
As you can see, we have a thing for undercuts. And if you're looking to embrace your inner rock star, look no further than the quilted undercut paired with wavy strands. Just as the name suggests, your stylist will cut the back and sides of your hair into a quilted design, leaving your wavy mane layered and voluminous at the top.
11. MIDNIGHT BLUE BOWL CUT
What's better than a new haircut? A fresh cut and color! It's time to put the midnight blue bowl cut on your radar. This look is all about keeping your strands nice and neat, complete with a burst of color that demands attention. Top off the look with shaved designs on both sides of your head for an Instagram-worthy look. Now, that's what we call a hairstyle win!
12. POMPADOUR WITH SHAVED SIDES
Pompadours may just be the definition of chic. Featuring a heightened top with shorter sides, this haircut effortlessly shows off your personal style. And of course, when you add a little shaving action at the sides, you'll only be amping up the personality.
13. TEXTURED POMPADOUR WITH A NAPE DESIGN
Speaking of pompadours, perhaps you'd like to put a twist on the above. This 'do will surely turn heads thanks to more definition and intricate detailing. Ask your barber to add a shaved star design right above the nape of the neck for a head-turning look. To style, work a small amount of the L'Oréal Paris Studio Line Overworked Hair Putty through your strands and shape.
14. TEXTURED QUIFF WITH A SIDE PART AND LOW FADE
One of our favorite creative hair designs for men? The textured quiff with a side part and a low fade. A great way to combine multiple trendy looks into one, this style is meant for the trendsetter. Designed with textured hair in mind, the look features a tapered cut with messy texture up top. Simply add a touch of hair pomade or paste to your mane to amp up the definition.
15. HI-TOP AFRO
Want to take you afro hairstyle to the next level? The hi-top afro may be just what you're looking for. Perfect for keeping your growing length looking polished and put together, this hairstyle adds character to your look with deep shaved parts at the start of your hairline.
16. CREW CUT WITH A HIGH FADE
For days when time is not on your side, you need a hairstyle that makes a statement without having to spend extra time in the mirror. This is where the crew cut with a high fade comes in! This haircut pairs your short length at the top with faded sides for a sharp, no-fuss 'do. Simply spritz a high shine hairspray like the L'Oréal Paris Elnett Precious Oil Satin Hairspray over your strands, and you'll be ready to take on the day.
17. HIGH BALD TAPER FADE WITH CURLY HAIR
Love to take risks in the hair department? A high bald taper fade with curly hair definitely fits the bill. This look tames your curls while the faded sides add structure. Apply a dollop of curl mousse to your strands, scrunch, and you're ready to head out the door.
18. WAVES WITH A LOW FADE
A popular hairstyle for African-American men, this hair design is in a league of its own. The look features low cut hair with a wavy pattern, giving you the option to play with texture without having long hair. It's particularly flattering on men with round faces. Since these waves take time to create, we recommend visiting your barber to make your hair visions a reality.
19. SPONGE TWISTS WITH A LOW SKIN FADE
Speaking of hairstyles for African-American men, sponge twists with a low skin fade are an excellent alternative for thicker textures. Keeping the length short at the front with mini twists, it's both manageable and trendsetting.
20. HI-LO FADE WITH A WAVING LINE
Can't get enough of tall hairstyles? The hi-low fade, paired with a waving line, will step your hairstyling game up a few notches. Designed with a low skin fade and a deep waved line that extends from the side of your head to the back, this statement haircut accentuates volume at the top for a super cool and modern look.
21. CURVED FLAT TOP
Serve up nostalgia by trying a '70s take on the hair designs trend. This curved flat-top haircut features a deep side part and textured strands cut in a curved shape, showcasing your features and flattering your face shape. What's not to love?
22. FLAT TOP WITH A STAIR STEP CUT
Speaking of retro styles, consider pairing a flat top haircut with stair-step detailing. The ideal style for a man that loves attention, this look keeps your hair standing tall with a small cut at the top that emulates a step.
23. PLATINUM BLONDE BUZZ CUT WITH A HIGH FADE
What's better than a traditional buzz cut? Coloring your buzzed strands with a statement color. This platinum blonde buzz cut with a high fade combines cut and color for a trendsetting 'do. With a short length all around and faded sides, it's perfect for a fresh, on-trend look.
24. MID-FADE WITH A DEEP SHAVED PART
If you can't decide between a low fade and a high fade, the mid-fade with a deep shaved part will be your saving grace. A nice change of pace from traditional fade cuts, the transition starts right above the ear to give the illusion of longer strands. This haircut falls right in line for those who want to maintain their length yet keep a clean look.
25. CAESAR CUT WITH A FRINGE AND LOW FADE
For guys looking for a low-maintenance style, pairing a Caesar cut with a fringe and a low fade is a foolproof choice. This style keeps your hair short with just a bit of length and texture. Bring it to life by having your stylist cut your mane low.
26. COMBED WITH A HARD PART
Last but certainly not least, try a combed style with a hard part. An excellent option for men with thin or wavy hair, this look perfectly combines simplicity and trendiness. Part your hair down the middle and comb over on each side for a symmetrical masterpiece.
Discover more tips & tricks
Keep your skin happy
See all articles
Shop Featured Hair Style products
Discover More