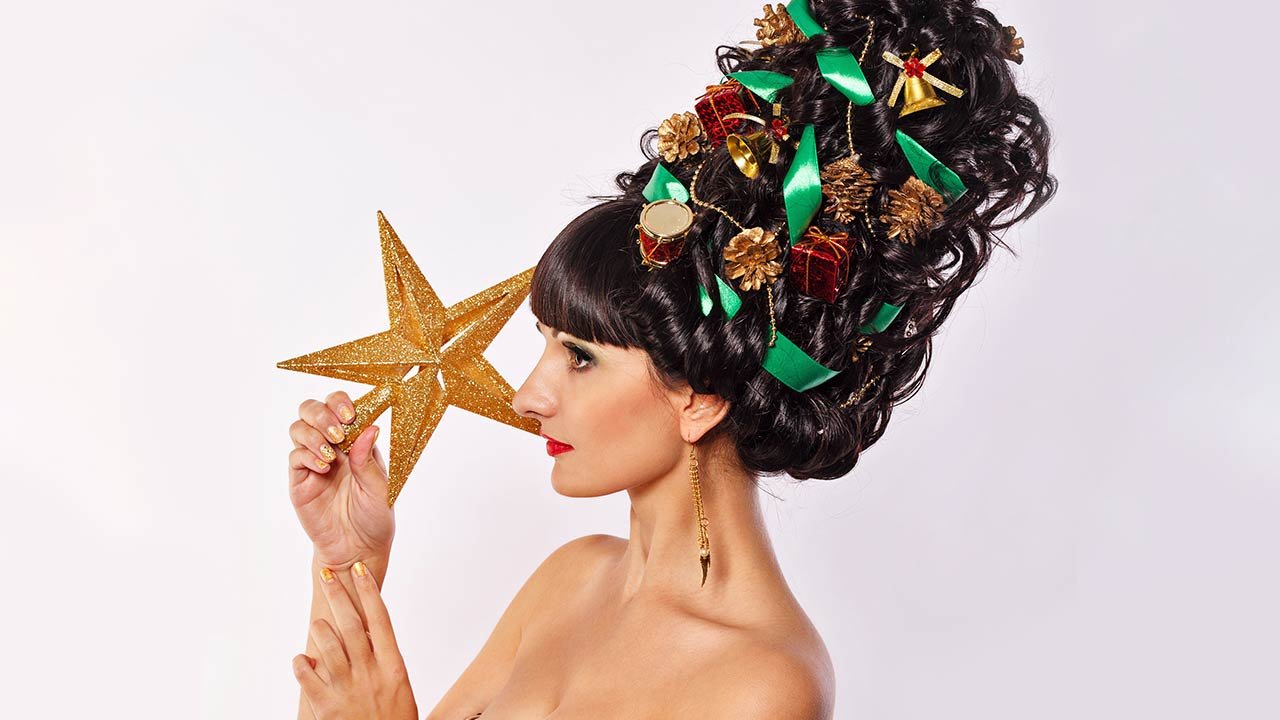 hairstyle trends
'Tis The Season For Christmas Tree Hair
Oh, Christmas tree, oh, Christmas tree hair—isn't that how it goes? In case you didn't already know, Christmas tree hair is the latest hairstyle trend that's sure to be the next big thing for the 2020 holiday season. And while we love embracing our holiday cheer through festive makeup looks, twisting your strands into a Christmas tree hairstyle just may be our new favorite way to get in the holiday spirit. If you're wondering what exactly this trend entails and how you can create the seasonal hairstyle for yourself, we have you covered. Read on for everything you need to know about this holly jolly updo!
WHAT IS CHRISTMAS TREE HAIR?
Before we dive into our tutorial, you're probably curious as to what Christmas tree hair is. This hairstyle trend involves twisting your mane into a voluminous, sky-high beehive—then decorating it just like you would a Christmas tree! The hairstyle is totally customizable based on your decorations of choice (more on that later), meaning you can make it as eye-catching or understated as you'd like.
HOW TO GET A CHRISTMAS TREE HAIRSTYLE
If you're ready to show your holiday spirit with Christmas tree hair, here's how!
STEP #1: PULL YOUR HAIR INTO A BEEHIVE
First thing's first, you'll want to smooth your locks into a beehive updo. Follow the steps below to do just that.
Step #1. Section your hair. Split your hair into three sections—a front, middle, and back. The front section of hair should be about one to two inches thick at the front of your head. The back section should also be one to two inches thick, at the back or base of your head. Clip those two sections out of the way, leaving you with the middle section down and ready to be worked on.
Step #2. Backcomb and tease. Take small sections of hair from your middle section and gently backcomb from root to tip. The goal is to create as much volume as possible! Tease the entire section of hair. If you feel as though you want more volume, don't want to tease your hair, or don't have enough hair to create the amount of volume you want, consider attaching a hair piece instead to add bulk.
Step #3. Create your beehive. Now it's time to bring your beehive to life! Unclip your remaining sections and start by wrapping the bottom section of hair around the backcombed nest you just created. This will help smooth its outward appearance. Bobby pin along the way, then incorporate the front section using the same wrapping motion. When you're happy with the appearance of your hive, spritz on the L'Oréal Paris Advanced Hairstyle LOCK IT Bold Control Hairspray to seal everything into place.
STEP #2: DECORATE YOUR TREE
Bring out the hair accessories and styling products—it's time to decorate your tree. Take your pick from a few of our favorite decoration ideas below. Use one, a few, all of them, or get creative with your own!
Decoration Idea #1: Get colorful. Chances are, you don't already have green hair (though if you do, more power to you!). If you want to embrace this hairstyle in true Christmas tree fashion, consider coloring your beehive in a temporary green hue with the L'Oréal Paris Colorista Hair Makeup Temporary 1-Day Hair Color in Green. Don't worry, the hair color will wash out in just one shampoo!
To take things up a notch, you can also add some other festive hues into the mix with the help of the L'Oréal Paris Colorista Hair Makeup Temporary 1-Day Hair Color Spray in Red, Gold, and Silver.
Decoration Idea #2: Put a bow on it. Pick up a bag of bows—but not for your presents. Instead, "wrap" your Christmas hair by bobby pinning different sizes and colors of bows and ribbons all over. So cute!
Decoration Idea #3: Bring out the mistletoe. If you think you may want to meet someone under the mistletoe this holiday season, take matters into your own hands by incorporating some mistletoe into your Christmas tree hair! You know what to do—reach for a bobby pin or two and secure it into place.
Decoration Idea #4: Grab the tinsel garland. We can't imagine a Christmas tree without some tinsel garland, and Christmas tree hair is no different. Wrap a festive hue around your mane and pin into place as you go.
Decoration Idea #5: Hang some ornaments. Maybe you shouldn't hang actual ornaments throughout your mane (ouch!), but you can invest in some festive, ornament-inspired hair accessories. Look for holiday-themed clips, barrettes, and bobby pins to adorn your 'do with.
Next up: Let's focus on your makeup. Here are 13 Christmas Makeup Looks To Put You in The Festive Spirit.
Discover more tips & tricks
Keep your skin happy
See all articles
Shop Featured Hair Style products
Discover More