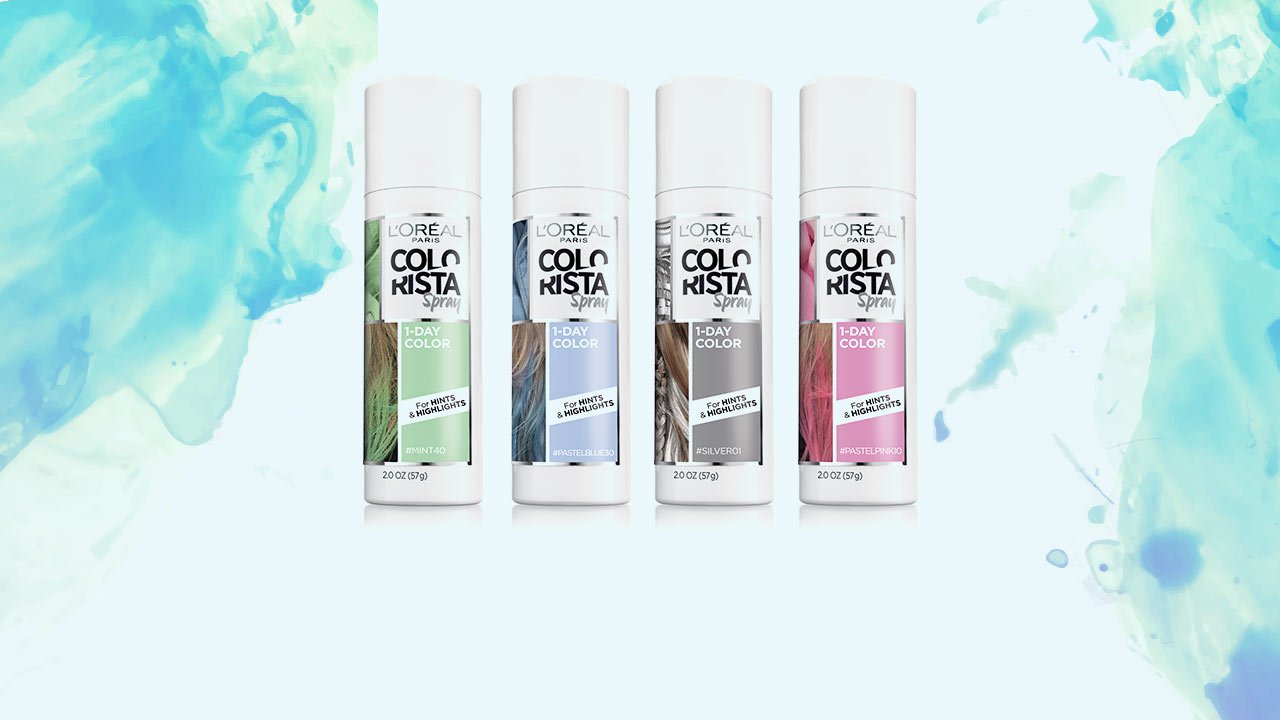 hair color trends
How to Get Rainbow Grunge Hair
Good news for all the rainbow hair lovers out there: Rainbow hair is one popular hair color that isn't going anywhere. Rather, it's being updated in new and interesting ways. One such way is rainbow grunge hair. You may have seen this of-the-moment look on your social media feeds already but if not, let us fill you in. Rainbow grunge hair refers to a viral dye job that features a gray base with rainbow shades blended throughout. The gray color is focused around the roots and the nape of the neck, while the rainbow shades are placed throughout. Think you might want to try this hair color trend for yourself? Read on to find out how to get rainbow grunge hair, plus, a few recommendations for hair care products and hairstyling products as well as tips for your rainbow grunge hair.
How to Get Rainbow Grunge Hair
Rainbow grunge hair may seem like a style that's best achieved at the salon, but with the right products, you can actually get the look at home. First, if you have dark hair, you may need to bleach your hair so that your rainbow shades will show up. After bleaching, use a boxed dye to get a gray base. Then, for your rainbow sections, use the L'Oréal Paris Colorista Semi-Permanent Hair Color. This semi-permanent hair color is available in pinks, blues, greens, and more, so go ahead and pick the shades that best suit your style and skin tone. No matter which shades you settle on, be sure to follow the directions included with your chosen hair colors.
How to Get Rainbow Grunge Hair for One Day
Maybe you aren't ready to commit completely to having rainbow grunge hair, or you know the trendy hair color wouldn't go over so well at your corporate job. Either way, that's no reason to miss out on the trend. Instead of using semi-permanent hair colors, which typically last a few weeks, you can opt to create a similar look with temporary hair color sprays that will wash out with your next shampoo. Start by using a light hand to spray the L'Oréal Paris Colorista 1-Day Spray in Silver onto the sections of hair that should be gray. Then, follow with other shades of the spray (it comes in 10 total) to create the rainbow aspect of the look.
How to Take Care of Rainbow Grunge Hair
Caring for your rainbow grunge hair in the same manner you cared for your previous hair color may not cut it. Follow these four tips to keep your updated hair color in tip-top shape.
1. Switch Your Shampoo and Conditioner
Once you've made the leap from your natural hair color to rainbow grunge hair, it's time to say goodbye to your regular old shampoo and conditioner. Instead, you'll want to start using products meant specifically for color-treated hair. Try the L'Oréal Paris EverPure Repair & Defend Shampoo and L'Oréal Paris EverPure Repair & Defend Conditioner. To use, massage the shampoo into wet hair when you're in the shower, then rinse. Follow up by applying the conditioner, leaving it on for 1-3 minutes, then rinse out thoroughly with lukewarm water. And yes, lukewarm water is key! You may love a nice, steamy shower but super-hot water can strip your strands of essential oils, leaving it feeling drier and looking duller. A lukewarm shower may not feel quite as relaxing, but trust us, your hair (and even your skin) will thank you for turning down the dial!
2. Introduce a Hair Mask to Your Routine
Sometimes, color-treated hair needs a little extra TLC, and you'll likely find that to be true with rainbow grunge hair. If that's the case, once or twice a week, swap out the above conditioner for the L'Oréal Paris EverPure Repair Remedy Balm. After shampooing, apply the hair mask and leave it on for 3-5 minutes, then rinse out thoroughly with lukewarm water.
Alternatively, if you prefer a trendier hair masking option, try using a hair sheet mask. Pick from the L'Oréal Paris EverPure Intense Repair Hair Sheet Mask, which is for damaged hair, and the L'Oréal Paris EverPure Deep Moisture Hair Sheet Mask, which is for dry hair.
3. Keep Dry Shampoo on Hand
In our humble opinions, it's never a bad idea to use dry shampoo. A few sprays and you can refresh your hair without dulling the look of your rainbow hair color. Reach for the L'Oréal Paris Elvive Extraordinary Clay Dry Shampoo—which leaves behind no visible residue—and spray directly onto your roots, then lightly through the rest of your hair.
4. Use Heat Protectant When Heat Styling
You may think your new 'do would look its absolute best paired with perfectly straight strands or coiffed curls, and you just might be right. However, if you decide to heat style with your updated hue, it's a must to use a heat protectant product before you get to work with a heat tool. This can help protect your hair against damage caused by excessive heat style. Try the L'Oréal Paris Advanced Hairstyle SLEEK IT Iron Straight Heatspray, which offers 450 degree heat protection ideal and is ideal for a sleek look.
5. Embrace Air Dried Hair Styles
Instead of using heat tools every day, give your hair a break from blow-drying and flat ironing and allow your hair to air dry instead. Don't worry, you don't have to settle for mediocre-looking hair. You can create beautiful beachy waves without any heat. All you'll need is the L'Oréal Paris Advanced Hairstyle AIR DRY IT Wave Swept Spray. Spritz your hair with the wave spray, then scrunch to give your strands shape. For an extra wavy style, braid your hair and wait to remove the braid(s) until your hair has finished drying.
Think you may want another rainbow hair color for your next look? We've got you covered, check out our article on How to Get Unicorn Hair and allow it to inspire your next hue.
Discover more tips & tricks
Keep your skin happy
See all articles
Shop Featured Hair Color products
Discover More