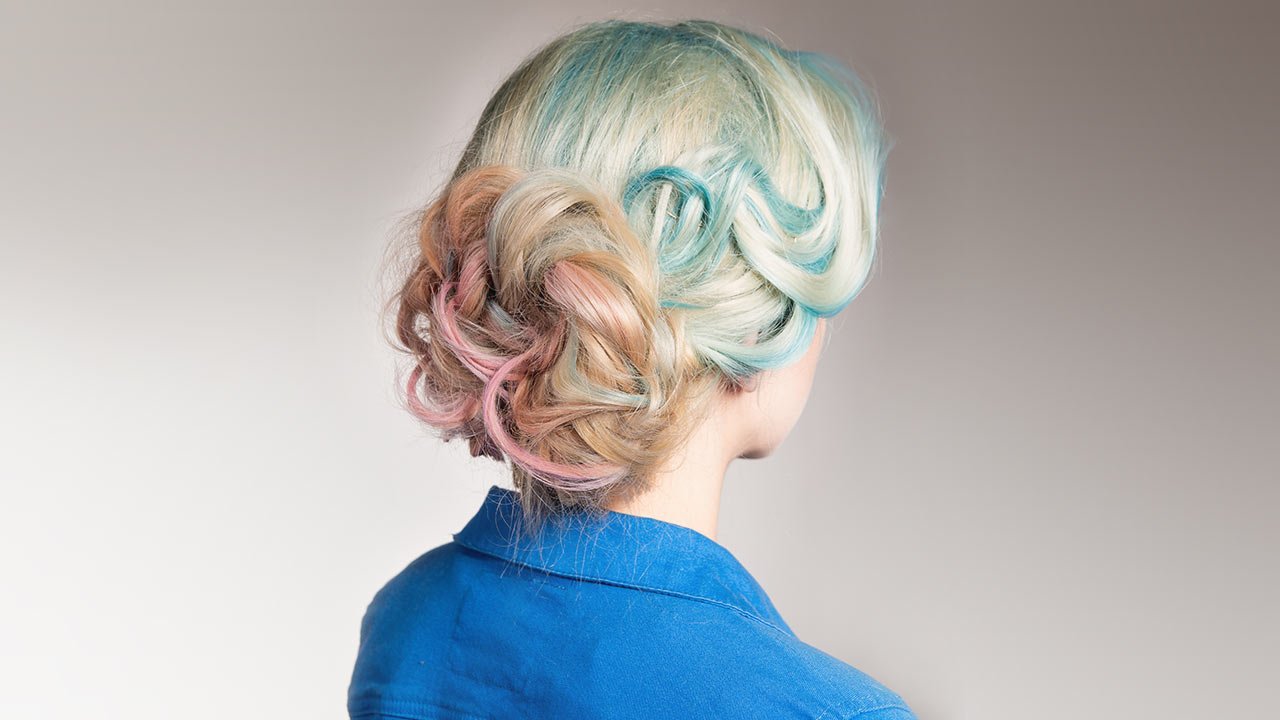 hair color trends
How to Get an Easter Egg-Inspired Hair Color
Easter has come to be associated with baskets overflowing with miniature chocolate eggs and sugar-coated marshmallows, not to mention a slew of other sweet treats. But what if you don't have a sweet tooth? If you're an avid beauty lover like us, perhaps you'd be interested in embracing another aspect of Easter—the pretty pastel shades that are everywhere during the holiday. Beyond wearing a pastel outfit or decorating your home accordingly, you can let your locks get in on the oh-so-sweet pastel action. Alas, we have Easter egg-inspired hair color ideas. Yep, these hair colors are really a thing! You can skip this year's Easter egg hunt and give a coordinating hair color trend a shot instead. Below, learn how to get Easter egg hair and how to style your hair and makeup to match.
HOW TO GET AN EASTER EGG-INSPIRED HAIR COLOR
Love the idea of pairing your Sunday best with a not-so-natural-looking Easter egg-inspired hair color? We like the way you think. Much like the rainbow hair color trend, when it comes to creating an Easter egg-inspired hair, there are so many hair color ideas to consider. Basically, you can mix and match any pastel hues you like and you'll end up with Easter egg hair—it's pretty foolproof. We recommend using temporary, wash out hair color to achieve your new 'do since we have a feeling you may not want to sport this look for more than a few days. This way, you can rock an Easter egg-inspired hair color with no commitment!
Here, we're breaking down two temporary hair color options that come in a number of pastel shades.
L'Oréal Paris Colorista 1-Day Sprays: This line of hair color sprays includes a variety of pastel shades, such as pastel blue, lavender, mint, and pink. Lay a towel over your shoulders to protect your clothes, then spray the colors on wherever you'd like—it's up to you! Hold the can about four to six inches away from your hair and make sure you're spraying onto dry hair. Work in small sections, using one color at a time, and remember that a little goes a long way—it takes a few seconds before you'll really see the full intensity of the colors.
L'Oréal Paris Hair Makeup 1-Day Color: This hair makeup comes in 13 pretty shades, including Easter-esque hues such as pink violet and lilac. You can also mix different shades together to create custom pastel colors! To use it, all you have to do is apply a bit of product onto your strands, section by section, using your fingers—no gloves required! Because this application method allows you to be precise, hair makeup is a great choice if you want a colorful look that involves very small sections of alternating colors.
Editor's note: Once Easter is over, all you have to do is shampoo your hair and you'll be back to your starting shade.
HOW TO STYLE EASTER EGG-INSPIRED HAIR
When it comes to styling Easter egg hair, we recommend rocking your natural texture! Spritz some of the L'Oréal Paris Advanced Hairstyle AIR DRY IT Wave Swept Spray onto damp hair, then let your hair air dry, scrunching it to help create beachy waves. For added definition, braid your hair after scrunching, then undo the braid once your hair has dried. Create multiple braids for tighter waves or a single braid for looser waves.
If you prefer something a little more styled, be sure to use a heat protectant, like the L'Oréal Paris SLEEK IT Iron Straight Heatspray before picking up any of your heat tools (like a flat iron, curling wand, or blow-dryer). From there, you have endless options on how to create a truly eye-catching mane, whether you blow-dry your hair smooth and sleek or curl it for a voluminous look. One of the best hairstyles to showcase your Easter egg-inspired hair hues is a braid—we love pairing blended hair hues with fishtail braids.
HOW TO PAIR MAKEUP WITH YOUR EASTER EGG-INSPIRED HAIR COLOR
Here's the thing: When you dress your tresses to the nines with pretty pastels, the last thing you want to do is overwhelm your look by going overboard with your face makeup, eye makeup, and lip color. Instead, keep it simple with a tinted highlighter lotion, like the L'Oréal Paris True Match™ Lumi Glotion Natural Glow Enhancer, a swipe of mascara, like the L'Oréal Paris Voluminous Lash Paradise Mascara, and a hint of color on your lips, like the L'Oréal Paris Colour Riche Shine Lipstick. By keeping your makeup super-simple, you'll give your beauty look balance for an end result that's anything but overdone. Happy Easter!
For more spring beauty ideas, head on over to our article, 10 Makeup Trends to Get on Your Radar for Spring 2019.
Discover more tips & tricks
Keep your skin happy
See all articles
Shop Featured Hair Color products
Discover More