hair color trends
How to Get Tie-Dye Hair with Hair Marbling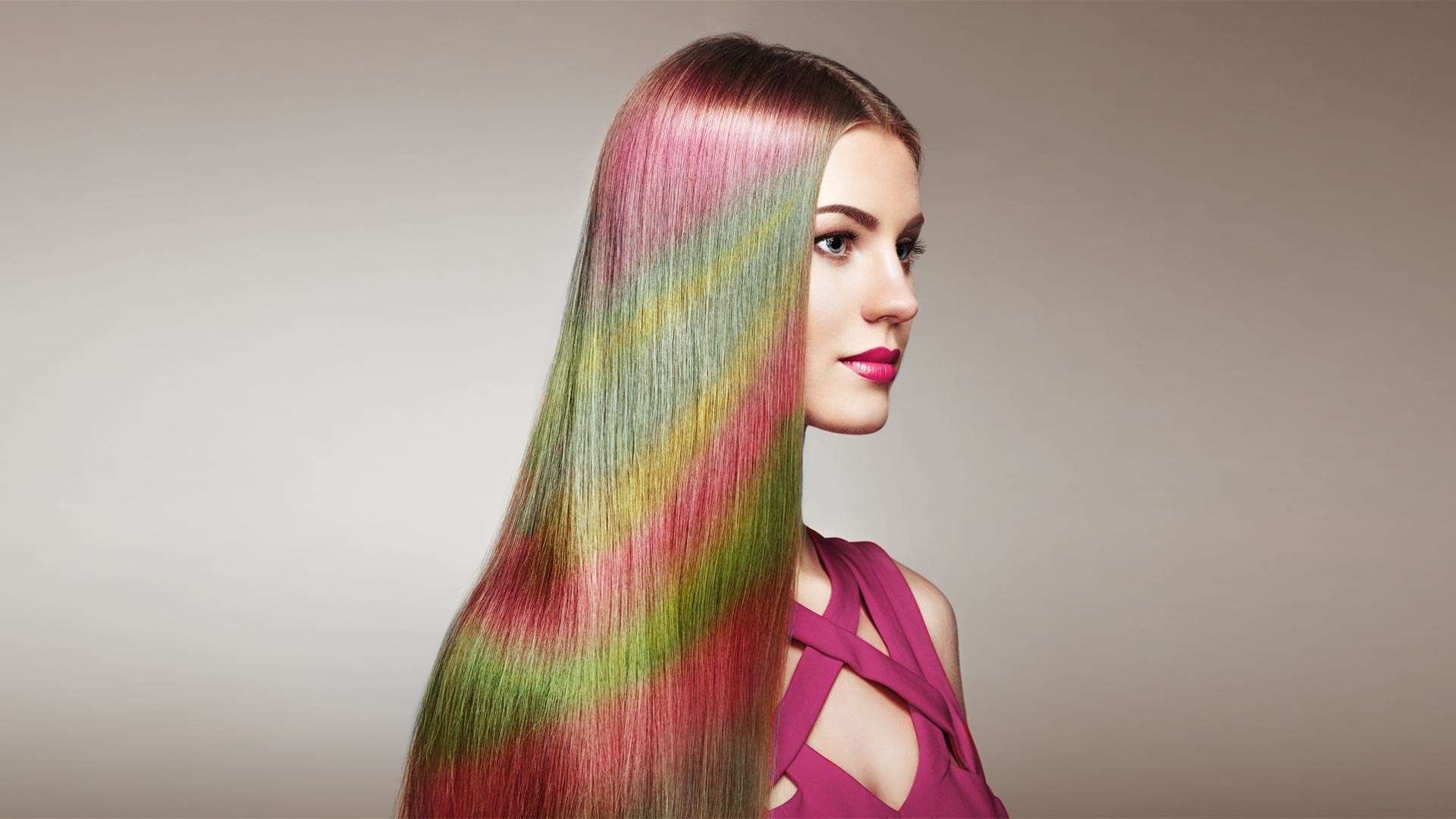 Let's take a little walk down memory lane. Remember when it seemed like just about everyone you knew was rocking rose gold hair? Or what about unicorn hair? And platinum hair with exposed roots? No matter which trend inspired you to switch up your hue, it's plain to see that hair color trends have been super-dramatic and colorful lately. The most recent trend to catch our eyes: hair marbling. This rainbow hair color trend is inspired by tie-dye—and is totally eye-catching. Keep reading to learn all about hair marbling, from how to use it to get tie-dye hair to how to care for your color-treated strands afterward.
WHAT IS HAIR MARBLING?
Think about the water marble nail art craze. To get that swirly, colorful pattern on your nails, you had to first create the design before applying it. The same goes for hair marbling. The best part? Since there's no one way to swirl your colors together, every single finished hair color is completely unique. This is one trend that's best left to the pros, so if you're thinking of trying hair marbling yourself, look for a colorist who specializes in the technique. Keep in mind that if you're starting with dark hair, you'll need to bleach it first in order for the rainbow hues to show up. The darker your starting color, the more work it'll take to achieve your customized hair marbling shade.
HOW TO CARE FOR YOUR HAIR POST-HAIR MARBLING
Once you've gone to the salon for hair marbling, it's important to switch up your hair care routine afterward. That's because color-treated hair needs lots of TLC. Plus, you may even want to change up how you style your hair to best show off your tie-dye hair.
1. USE A SYSTEM FOR COLOR-TREATED HAIR
Post-hair marbling, look for a shampoo, conditioner, and mask formulated for color-treated hair. Try the L'Oréal Paris Elvive Color Vibrancy Protecting Shampoo, L'Oréal Paris Elvive Color Vibrancy Protecting Conditioner, and L'Oréal Paris Elvive Color Vibrancy Repair and Protect Balm. Use the mask in place of the conditioner once or twice a week. Don't forget to turn the dial down in the shower—washing in super-hot water can strip your strands of essential oils. So, opt for lukewarm H2O instead.
2. SPRITZ ON A HEAT PROTECTANT
If you're planning to pair your hair marbling with a sleek blowout, remember to apply a heat protectant, like the L'Oréal Paris Advanced Hairstyle BLOW DRY IT Quick Dry Primer Spray, first. Then, read our article to learn How to Blow Out Your Hair at Home.
Thinking of flat ironing your hair? Apply the L'Oréal Paris Advanced Hairstyle SLEEK IT Iron Straight Heatspray beforehand. We've also got tips on How to Use a Flat Iron.
3. AIR DRY YOUR HAIR
On the flip side, you may not feel like heat styling your hair every day. For the times when you'd rather take it easy, air dry your hair instead. Air drying your hair doesn't have to mean sacrificing style, though. Show off your hair marbling by applying mousse, styling spray, or styling cream to help add definition and texture to your hair. Try the L'Oréal Paris Advanced Hairstyle CURVE IT Elastic Curl Mousse. Just apply the mousse to damp hair, scrunch, and go about your day.
4. ROCK A BRAID
Hair marbling is inspired by tie-dye, so can you imagine how pretty your hair will look in a braid? A traditional three-strand braid is always a good option, but feel free to branch out by trying something a little bit more intricate-looking, such as a fishtail or a Dutch braid.
HOW TO DIY TIE-DYE HAIR
Partial to DIY hair coloring? You can attempt a temporary tie-dye hair color at home! While this technique differs from the hair marbling method we talked about earlier, it's an equally stunning (and statement-making) way to try tie-dye hair.
What you'll need:
Paper
Scissors
Pencil
L'Oréal Paris Colorista Hair Makeup Temporary 1-Day Hair Color Spray
Get the look:
STEP #1. CREATE YOUR SHAPE
To resemble tie-dye, you'll want to draw a large swirl on a piece of paper that's reminiscent of your favorite tie-dye T-shirt. After you've drawn a swirl to your liking, cut it out with a pair of scissors.
STEP #2. PHONE A FRIEND
Bring all of your hair to the back of your head. Have a friend bobby pin the paper swirl onto your hair so that it covers the width of your hair. If you find your swirl doesn't cover all of your strands, you can do a swirl on each side of your hair.
Editor's note: This method works best on straight hair, so if you have naturally wavy or curly locks, consider straightening your hair beforehand!
STEP #3. COLOR AWAY
Once your swirl is secured into place, let your friend spray your mane from root to tip in an array of temporary hair colors. Try to create horizontal sections of different colors going down the length of your hair. The more colors, the more fun your tie-dye hair will be!
STEP #4. REMOVE THE SWIRL
After giving the temporary spray a few minutes to dry, carefully remove the bobby pins and the piece of paper to reveal your trendsetting tie-dye swirl. When you're ready to part ways with your colorful tresses, simply wash your strands with shampoo—and play again the next day!
If you loved learning about hair marbling, check out our article, Try Glow in the Dark Hair Dye for a Fun Color Change, for another fun hair color idea.
Discover more tips & tricks
Keep your skin happy
See all articles
Shop Featured Hair Color products
Discover More