hair color ideas
Yellow Hair Is an Unexpected Trend for 2020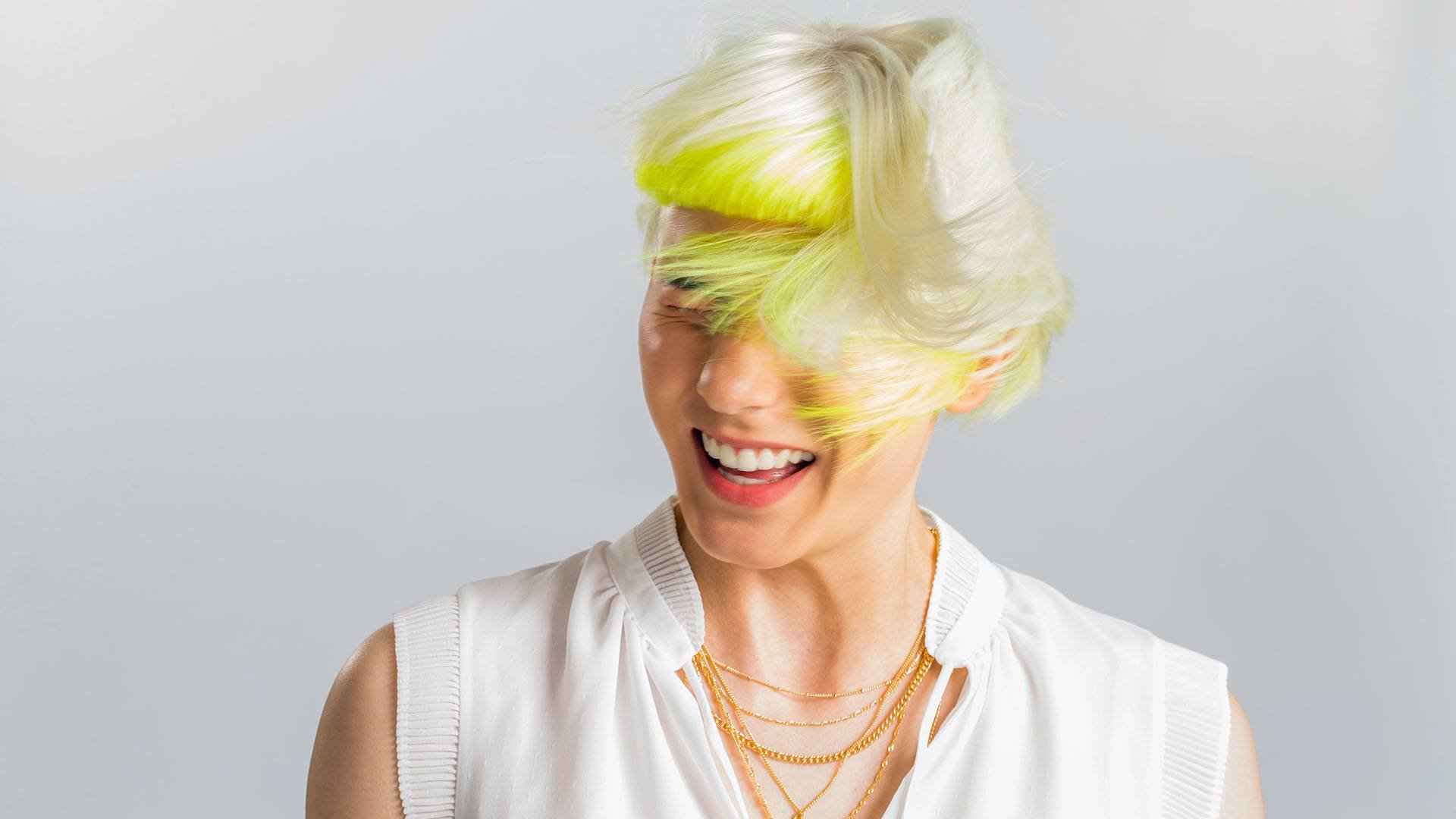 When you think about yellow hair, the first thing that likely pops in your mind is brassy, bleached hair gone wrong. However, there's a more on-trend version, featuring yellow hair dye, that happens to be creating quite the buzz on social media. Yup—yellow hair is officially a thing, and we're just a little obsessed. Curious about this hair color trend and how you can give your 'do a sunny transformation just in time for spring and summer? Below, we're sharing everything you need to know about 2020s most unexpected trendsetting hair color.
WHAT IS YELLOW HAIR?
Before we dive into how to get yellow hair, let's talk about what this trendy hue entails. As you can probably guess, yellow hair involves, well, hair that's yellow. We're not talking about strands that have become unintentionally yellow, but a mane that is colored with a bright, yellow hair dye that resembles the golden crayon you would have used to draw the sun as a child. As with most hair color trends, there are different variations and shades of yellow hair dye you can use to get the look. If you're interested, note that since this hair color is warm in tone, it'll be most flattering on those with warm skin tones.
HOW TO GET YELLOW HAIR
Ready to give yellow hair a try for yourself? It's important to keep in mind that because this trend involves such a vibrant hue, you'll likely need to bleach your strands prior to using a yellow hair dye. Any time you bleach your hair, the following applies: The darker your starting color, the more bleaching sessions you'll need. Also remember that bleach can damage hair, especially if you're going from dark to light. This is one reason yellow hair can be best left to professionals. As for another reason, there's also a not so fine line between yellow hair that's trendy and yellow hair that looks like a dye job gone wrong. If you're interested in giving the trend a try, a pro will be able to make sure your shade looks intentional and stylish.
5 YELLOW HAIR COLOR IDEAS
Want to give the yellow hair trend a try but don't know which hue is right for you? Here are a few yellow hair color ideas to consider.
#1. GOLDEN YELLOW
If you want to embrace the yellow hair trend fully, ask your colorist to use a golden yellow hair dye to color your mane. This hue veers toward being orange in color, making it even more warm-toned than other yellow hair options.
#2. ORANGE ROOTS
Speaking of orange, why not have your yellow hair transition from orange roots? This sunset-inspired ombré is not only a match made in hair heaven, but it's also a great option for those who want a mane that makes a statement.
#3. NEON YELLOW
You know what they say—go bold or go home! When it comes to bold hair colors, it doesn't get more daring than a neon yellow 'do. Not sure if you're ready to take the plunge? Try it on for size by using a temporary neon yellow hair dye, like the L'Oréal Paris Colorista Hair Makeup Temporary 1-Day Hair Color in Neon Yellow. The color will wash out in just one shampoo, so there's no commitment necessary!
#4. YELLOW BALAYAGE
Want to give yellow hair a try but don't want to deal with the constant upkeep? Consider asking your hairdresser to give you yellow balayage highlights. These hand-painted highlights will be expertly placed so you can put off time between touch-ups without a harsh line of demarcation.
#5. YELLOW DIP DYE
In search of the most low-maintenance option of all? Give yellow dip-dye ends a try. This is an especially good option for those who aren't ready to commit to a yellow 'do fully. The hair color idea involves having your colorist dye the very ends of your hair yellow. When you're ready to part with your yellow hair and give a new trend a try, just head to the salon and snip, snip!
Next up: Yellow not your thing? Perhaps another bold hair color is more your style. Get some inspo in our article, 15 Edgy Hair Colors You Need to Try.
Discover more tips & tricks
Keep your skin happy
See all articles
Shop Featured products
Discover More