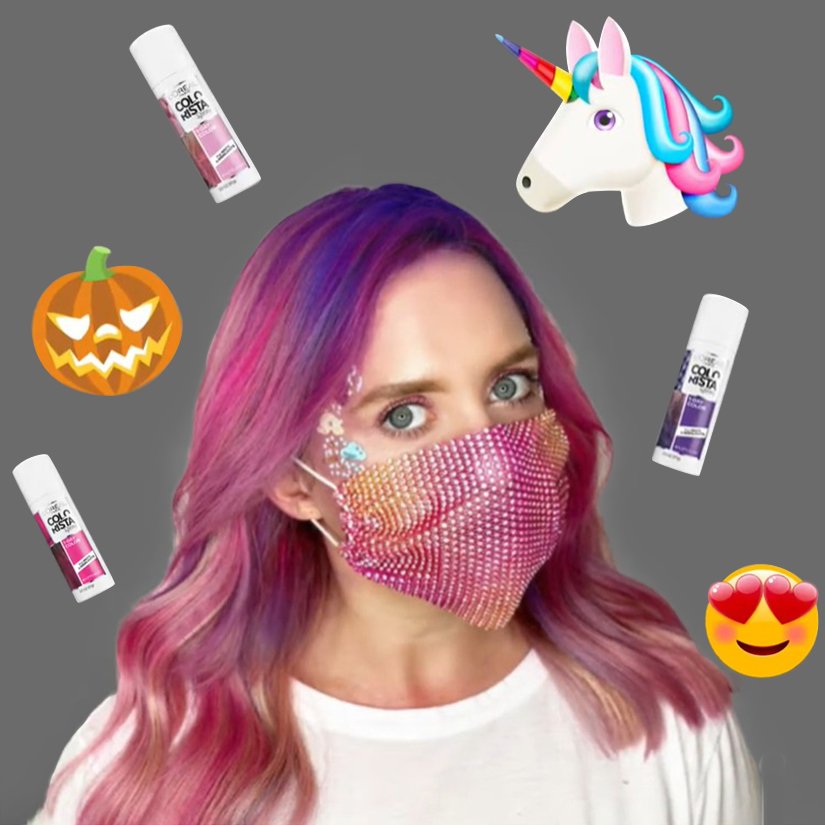 hair color ideas
Halloween Tutorial: Learn How To Score Unicorn Hair with Jonathan Colombini
October is officially in full swing, and that means Halloween is right around the corner. While a unique costume is a must to make the ultimate statement, you can't leave your mane out of the equation. Lucky for you, one of the most popular beauty trends for Halloween is none other than unicorn hair. It's a fantastic way to play with color and give your beauty look the extra oomph it needs.
While you may think that sporting a multi-colored mane is easier said than done, L'Oréal Paris Hair Expert, Jonathan Colombini, can help you pull the trend together without the fuss. All you need are the right hair color essentials and a positive spirit to bring this look to life. Watch the video above and follow the steps below to master the art of unicorn hair.
What you'll need:
L'Oréal Paris Colorista Hair Makeup Temporary 1-Day Hair Color Spray in Purple
L'Oréal Paris Colorista Hair Makeup Temporary 1-Day hair Color Spray in Hot Pink
L'Oréal Paris Colorista Hair Makeup Temporary 1-Day hair Color Spray in Rose Gold
Get the look by following these simple steps:
STEP #1: REACH FOR THE PURPLE SHADE
Kick things off by holding the purple hair color spray four to six inches above your roots, and apply the color to your locks. Be sure to pull your hair away from your scalp a bit as you work your way down. Remember, the closer you spray your mane, the more pigment you will get. The further away you apply the color, the softer hue your strands will be.
STEP #2: ADD SOME PINK HAIR COLOR INTO THE MIX
Next, you'll want to add the hot pink shade into the mix. Spray the mid-lengths of your hair and continue to move away from your mane as you work. The goal is to show off this gorgeous hue and allow your base color to shine through. Once complete, you'll see that your mane will begin to sport an ombré look.
STEP #3: APPLY THE ROSE GOLD HUE
Last but certainly not least, use the rose gold hair color spray to lighten things up. Focus on applying the color throughout the ends of your strands.
STEP #4: TOUCH-UP YOUR MANE
Take a minute to survey your handiwork. Add a bit more color if needed to knock this look out of the park.
HOW TO COMPLETE YOUR UNICORN LOOK
Now that your unicorn hair is set, it's time to focus on your makeup. Follow our tips below to transform into the gorgeous mythical creature.
STEP #1: PRIME, PRIME, PRIME
Before reaching for any of your face makeup, it's essential to set the stage with primer. This product helps to give your skin a smooth canvas for a seamless application. It also works in your favor to help your makeup last longer. Apply a thin layer of the L'Oréal Paris Pro-Glow Lock Makeup Primer over your entire face.
STEP #2: PERFECT YOUR COMPLEXION
Once your primer has dried, you can focus on foundation. Reach for a formula that will give you a radiant complexion to match your unicorn hair, like the L'Oréal Paris Infallible Pro-Glow Foundation. Squeeze a small amount of foundation onto the L'Oréal Paris Infallible Blend Artist Foundation Blender, and blend onto skin in rolling and dabbing motions.
STEP #3: CONCEAL
Next, you'll want to brighten things up on the under-eye front. Apply the L'Oréal Paris True Match Super-Blendable Multi-Use Concealer in an upside-down triangle under your eyes. Blend until even.
STEP #4: PAINT YOUR EYES
It's time to add a glitzy effect into the mix. Using a fluffy eyeshadow brush, color your lids with the L'Oréal Paris Brilliant Eyes Shimmer Liquid Eye Shadow Makeup in Blush Jewel. Take a small tapered brush and apply the shade along your lower lash line as well.
STEP #5: PUMP UP YOUR LASHES
You're almost at the finish line. No makeup look is complete without mascara. Take your look to the next level with the L'Oréal Paris Air Volume Mega Mascara, Lightweight Mega Volume Washable in Blackest Black for unmissable volume.
STEP #6: SEAL THE DEAL
Now that your makeup look is complete, you'll want to lock it in. After all, you don't want all of your hard work to go to waste. To ensure that your makeup lasts throughout the day, spritz L'Oréal Paris Infallible Pro-Spray and Set Make-Up Oil-Free Setting Spray over your face in "X" and "T" shapes. This spray will give you a "just applied" look that lasts from day to night.
Next: Halloween Hair: How To Get a Candy Corn-Inspired Color
Discover more tips & tricks
Keep your skin happy
See all articles