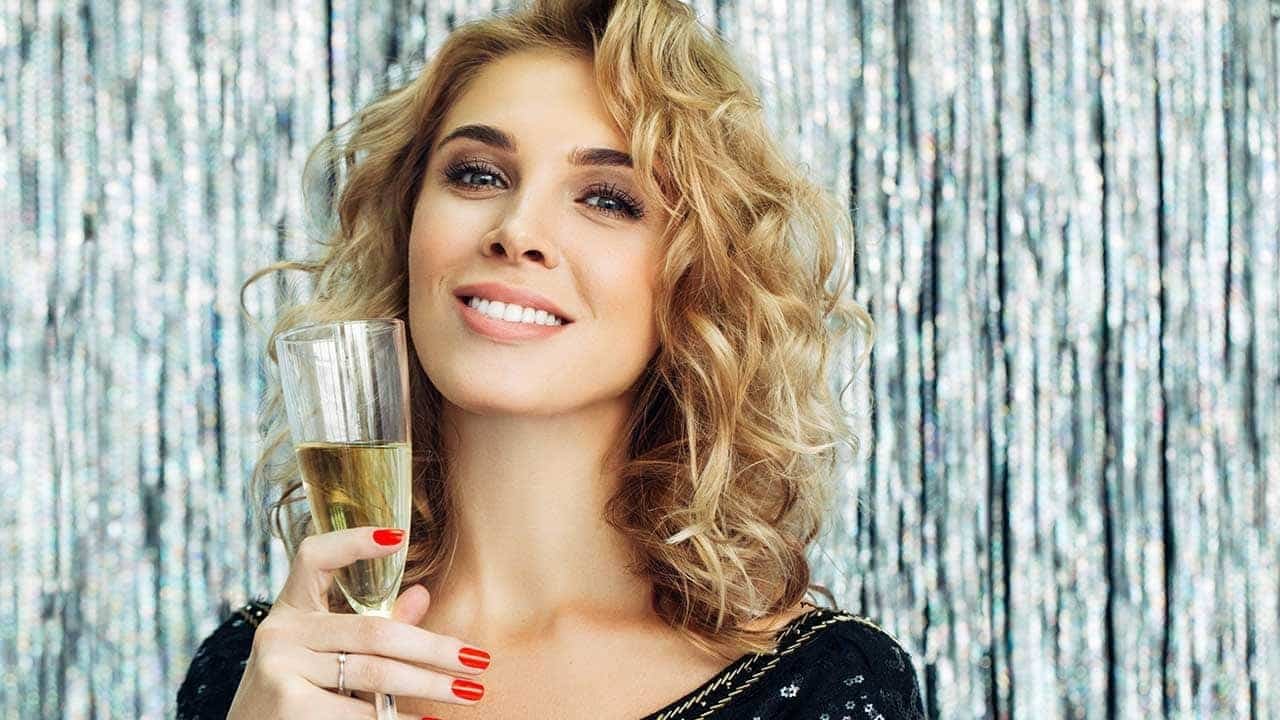 hair color ideas
4 Alcohol-Inspired Hair Colors
From cream soda to pumpkin spice, it's no secret that beverages are the inspiration behind some of the most talked about hair color trends. But did you know hair color trends don't only come from drinks that are suitable for the under-21 crowd? Your favorite wines are also a main source of hair color ideas! Yes, you read that right—you can now indulge in your evening glass of rosé in more than one way. Keep reading to learn about four alcohol-inspired hair colors.
ALCOHOL-INSPIRED HAIR COLOR #1: CARAMEL ROSÉ
There's just something about a blush-toned glass of rosé. Not only is it capable of immediately transporting you to summers spent day drinking with your girlfriends—even when it's fall and your friends are too busy for anything more than a half glass at happy hour—but it tastes just as good as it looks. While you won't want to literally taste the hair color it's inspired, it's certainly something to savor. This hair color idea has a brown base blended with rose and caramel-colored highlights.
How to get the look: The intricate blending of this seamless look is best left to the pros. That said, if you have a natural caramel brown hair color you can totally recreate the look at home. Simply use the L'Oréal Paris Colorista 1-Day Spray in Rose Gold to spray small sections of hair and create temporary rose gold highlights. This spray washes out in just one shampoo, so you'll be free to take a sip of something else as soon as you shower.
ALCOHOL-INSPIRED HAIR COLOR #2: CHAMPAGNE
Admit it, you still feel a little fancy every time there's a champagne flute in your hand. And lucky you, you can achieve the same feeling with your hair color. This celebratory beverage translates into a hair color that looks just as classy and elegant when it's painted on your tresses as when it's filling your glass. The ashy blonde hue features touches of cool-toned rose pink and gold to create a color that's totally toast-worthy.
How to get the look: Want to find out how to get champagne hair? Head over to our article, Pass the Bubbly, Please: Here's How to Get Champagne Blonde Hair, for all the details.
ALCOHOL-INSPIRED HAIR COLOR #3: RED WINE HAIR
When the weather cools down many of us switch from a chilled glass of white to a cozy glass of red, and unsurprisingly, you'll want to do the same with your hair color. If you're currently rocking a white blonde shade, you can replace it with a red wine hue. This deep red hair color has touches of copper, chocolate brown, purple, and vibrant reds to create a beautifully-blended red mane.
How to get the look: Ready to spend autumn with a glass of red wine in front of the fireplace? Then you'll need a hair color to match! To update your color, check out our article, How to Get a Red Wine Hair Color for Fall.
ALCOHOL-INSPIRED HAIR COLOR #4: MULLED WINE
If red wine hair sounds slightly too dramatic for your liking, mulled wine hair is likely right up your alley. While similar, thanks to an array of orange, chocolate brown, purple, and honey hues, the spice-filled beverage serves as inspiration for a lighter, less intense version of red wine hair.
How to get the look: For everything you need to know about getting a mulled mane, click through to our article, How to Get a Mulled Wine Hair Color.
HOW TO TAKE CARE OF YOUR ALCOHOL-INSPIRED HAIR COLOR
Once you've picked out your perfect alcohol-inspired hair color, it's important to update your hair care routine with a line of products that's safe for color-treated hair. The L'Oréal Paris Ever line has a variety of options for colored hair. Try the L'Oréal Paris EverPure Repair & Defend Shampoo, L'Oréal Paris EverPure Repair and Defend Conditioner, and L'Oréal Paris EverPure Repair Remedy Balm.
HOW TO STYLE YOUR ALCOHOL-INSPIRED HAIR COLOR
In addition to upgrading your hair care routine, you'll likely want to update your list of go-to hairstyles with a few stylish 'dos that will better showcase your new color. Consider the following two heat-free hairstyle options:
1. Beach waves
Display the dimension in your hue with effortless, loose waves. Use the L'Oréal Paris Advanced Hairstyle AIR DRY IT Wave Swept Heat Spray to define your hair's natural texture and shape. Simply spray the product onto towel-dried hair before creating a traditional three-strand braid. Allow your hair to air dry, undo your braid, then show off those beachy waves!
2. Undone texture
Messy, undone styles are all the rage. Ready to give it a try? Use the L'Oréal Paris Studio Line Overworked Hair Putty to give your hair piece-y texture. Start with a dime-sized amount, rub it between your palms, then work it into your hair. Keep adding product and shaping your hair until you're satisfied with your style!
Want more trendy hair color inspiration? Head over to our article, 9 Super-Stylish Rainbow Hair Color Ideas for Fall 2018.
Discover more tips & tricks
Keep your skin happy
See all articles
Shop Featured Hair Care products
Discover More