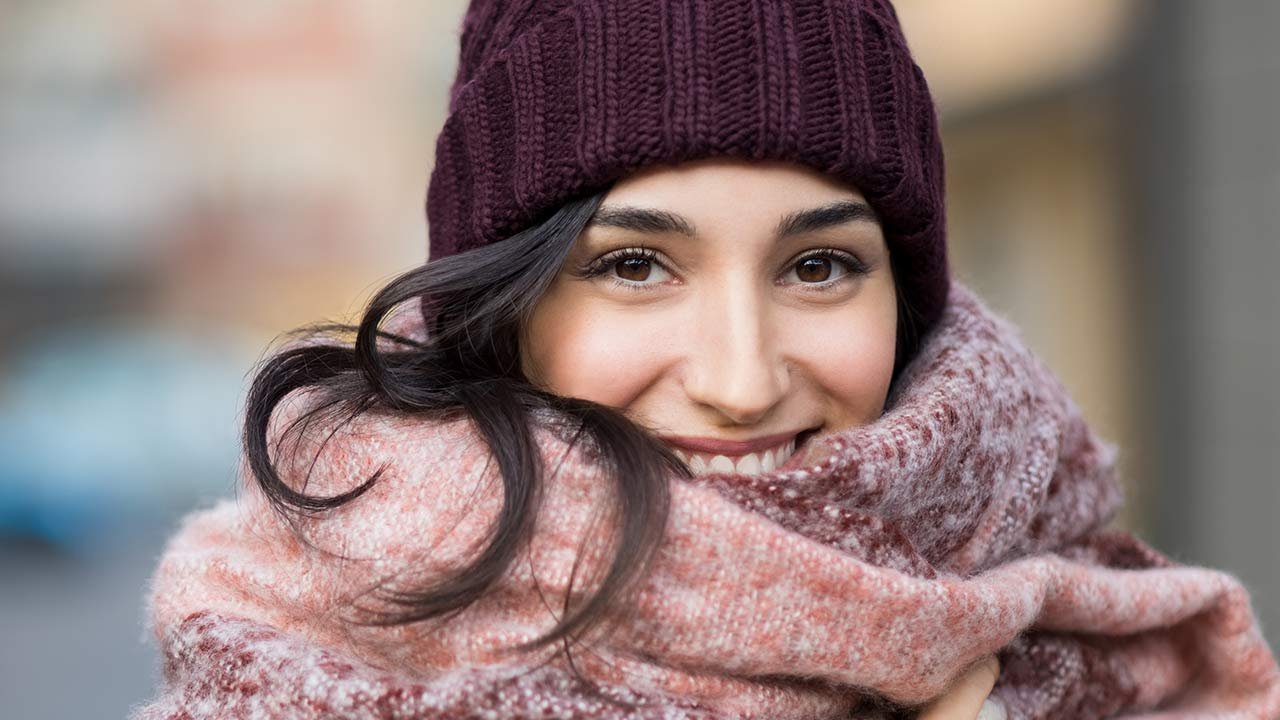 thin hair
5 Steps to Help Avoid Hat Hair This Winter
Hat hair can strike at the most inopportune moments. You know, like when you bump into your boss in the elevator, or into that ex while picking up a latte at your local coffee shop. While those warm hats might keep you nice and toasty in the winter, it's nearly impossible to wear them without falling victim to the much-maligned hat hair syndrome. But you don't need to hang up your hopes of voluminous-looking hair for the winter. Using these simple hair care tips (along with volumizing product recommendations like hair mousse and hair spray), you can still enjoy the appearance of luxurious body even when the going gets super-cold. Follow these five tips to learn how.
Hair Care Tip #1: Volumize in the Shower
If you plan on wearing a hat, washing and conditioning with a volumizing shampoo and conditioner can help give your hair a fuller base that won't deflate underneath your accessory. Try the L'Oréal Paris EverPure Volume Shampoo and L'Oréal Paris EverPure Volume Conditioner.
Hair Care Tip #2: Stick with Cotton and Cashmere Hats
The material that your hat is made of can make a big difference in how your underlying hair is affected. Wool and synthetic materials like polyester are more apt to turn hair flat and full of static. Stick with cotton, cashmere, and a loose fit like floppy styles and berets that leave room for your strands to move and scalp to perspire without sopping your hair flat against your scalp.
Hair Care Tip #3: Switch Your Hat Out When You're Inside
When you reach your destination, take your hat off so that volume is given an opportunity to last. You can also give your strands a quick toss with your fingers or a brisk comb-through to help reinvigorate your hair style. Taking your hat off can also help if icy weather has dampened your hair, as wet hair can mold to the indented shape of your hat much more easily. Bonus: Your strands will dry faster, so you'll stay warm and toastier, too!
Hair Care Tip #4: Use Volumizing Hair Styling Products
You can help counter the effects of your favorite winter hat by using volumizing hair styling products beforehand. The L'Oréal Paris Elvive Volume Filler Densifying Gelee can help instantly infuse body and bounce while you blow-dry. The L'Oréal Paris Advanced Hairstyle BOOST IT High Lift Creation Spray is a targeted hair spray that helps boost hair at the root. For bounce, the L'Oréal Paris Advanced Hairstyle BOOST IT Volume Inject Mousse is a lightweight hair mousse that gives even lifeless hair a shot of long-lasting volume.
Hair Care Tip #5: Wear an Easy Updo
If you plan on wearing a winter hat all day and still want the appearance of volume, fake it by wearing your hair up. Try this: Brush hair into a ponytail high up on your head, and secure into place with an elastic. Braid the ponytail and circle it into a bun, pinning as you work your way around the base. Finish with the L'Oréal Paris Advanced Hairstyle Lock It Bold Control Hairspray for hold. Putting on and taking off a hat may give it a texture that looks more lived-in—which is only even more on trend. So set it and forget about it as you head off into your day!
Static hair is another common winter hair care concern. Find out how to address static hair by reading our article, How to Help Static Hair This Winter.
Discover more tips & tricks
Keep your skin happy
See all articles