frizzy hair
I Tried the L'Oréal Paris Frizz Killer Serum, And My Hair Has Never Looked Better
February 16, 2021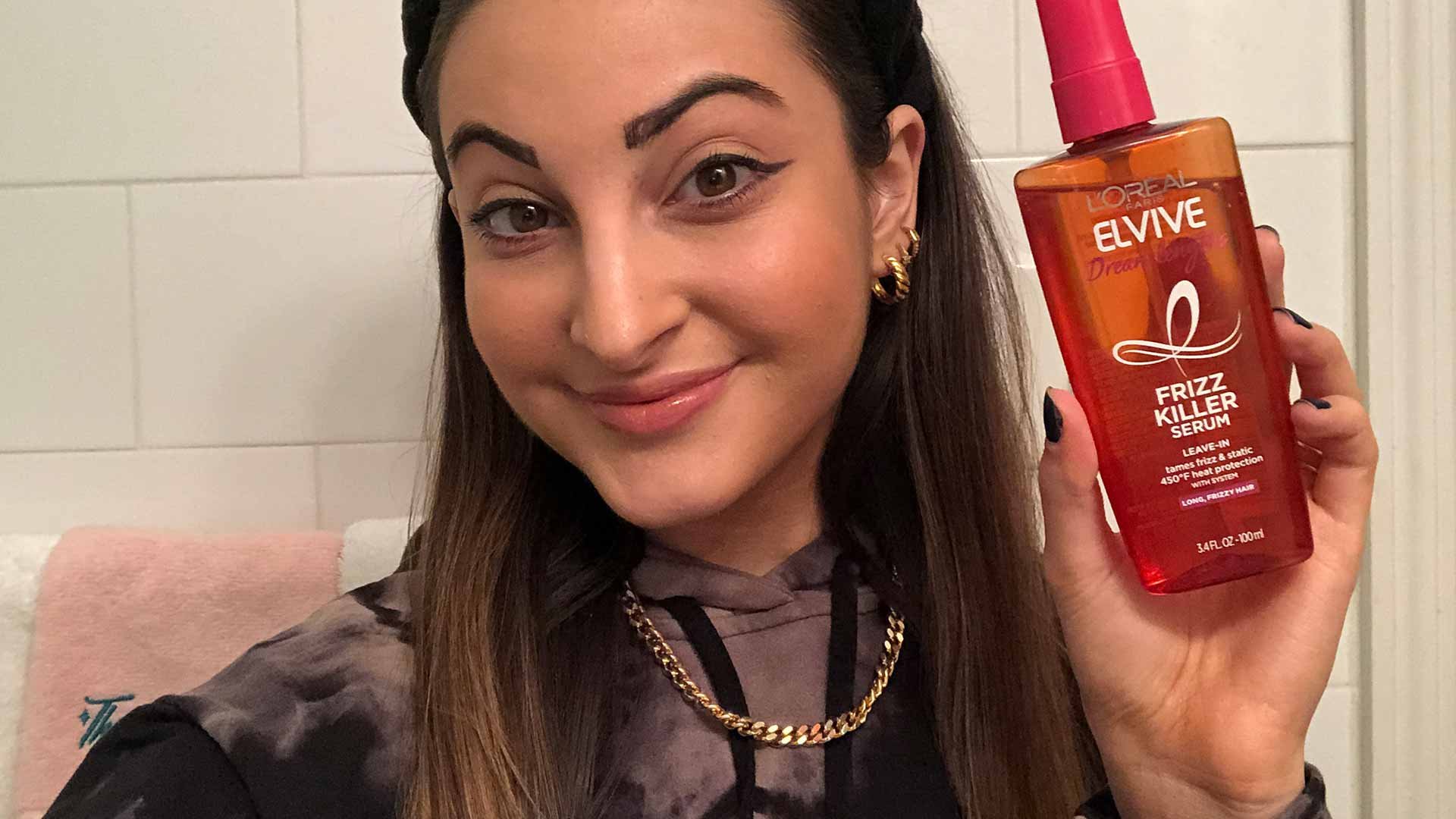 Frizzy hair is something I've always dealt with, even though I have naturally straight strands. I was that little girl in ballet class who always started with a sleek bun, but would have stray hairs and strands flying about by the time I hit the first tour jeté. And when met with an electric charge (hello static!) or post-blow dry, even as an adult it's nearly impossible to get every hair in place without loading up on hairspray.
As I've gotten older though, I've learned that there is another line of defense against these strands that go awry—frizz serum. These formulas work to keep strays, split ends and overall frizzy textures at bay, so when I heard L'Oréal Paris dropped the Elvive Dream Lengths Frizz Killer Serum Leave-In, I was super pumped to see what it could offer my frizzy mane. Not much could fully tame these strands, so it was going to have to really go to work to measure up to the challenge.
After shampooing and conditioning my hair, I slightly towel dried it by patting a few strands with a regular terry cloth towel (I avoid rubbing!) and was ready to apply the serum to my damp strands. The first thing I noticed about this formula was its fresh sweet scent, and how silky it felt on my fingertips without being greasy. I pumped out two medium-sized drops of the serum and patted my hands together, coating them both. I then worked it through my hair, starting from the upper third of my hair shaft all the way down to my ends, where I experience the most frizz. For good measure, I applied one more pump of the serum. It instantly absorbed into my strands which I was pretty pleased about — I was ready to blow dry.
The Frizz Killer Serum Leave-In provides heat protection for up to 450 degrees so that I could blow-dry with peace of mind. After sectioning my hair, I grabbed a round brush and began to blow dry, section by section. My hair felt strong, smooth, and stayed in place for the majority of my drying session. After I was done, I squeezed out a little more of the serum and just patted it throughout my hair once more to lock everything in. There were still no strays in sight.
Throughout the day, my hair looked and felt shiny, smooth and not frizzy — even after my trip outside wearing a beanie and scarf. Shockingly, it didn't cling to any of my clothes like usual. I also found that I didn't have as many split ends sticking out, and that my hair was easy to style with just a headband.
Oh, how I wish I had this frizz-taming serum back in my ballet days! It would've saved me from a lot of stray strands, damage and hairspray crunch. This velvety serum does exactly what it promises and helps to tame static and frizz like nothing I've tried before, and it's now part of my blow-dry arsenal. Talk about a product worthy of a tour jeté!
Photo Credit: Alanna Martine Kilkeary
Next: How to Tame Frizzy Hair
{ "@context": "https://schema.org/", "@type": "WebPage", "speakable": { "@type": "SpeakableSpecification", "cssSelector": ["speakable-content"] }, "url": "https://www.lorealparisusa.com/beauty-magazine/hair-care/frizzy-hair/loreal-paris-dream-lengths-frizz-killer-serum-review" }
Discover more tips & tricks
See all articles
Shop Featured Hair Care products
Discover More
{ "@context": "http://schema.org", "@type": "BreadcrumbList", "itemListElement": [ { "@type":"ListItem", "position": 1, "item": { "@id": "/", "name": "Home" } } , { "@type":"ListItem", "position": 2, "item": { "@id": "https://www.lorealparisusa.com/beauty-magazine", "name": "Beauty Magazine" } } , { "@type":"ListItem", "position": 3, "item": { "@id": "https://www.lorealparisusa.com/beauty-magazine/hair-care", "name": "All Things Healthy Hair" } } , { "@type":"ListItem", "position": 4, "item": { "@id": "https://www.lorealparisusa.com/beauty-magazine/hair-care/frizzy-hair", "name": "Frizzy Hair Care" } } , { "@type":"ListItem", "position": 5, "item": { "@id": "https://www.lorealparisusa.com/beauty-magazine/hair-care/frizzy-hair/loreal-paris-dream-lengths-frizz-killer-serum-review", "name": "loreal-paris-dream-lengths-frizz-killer-serum-review" } } ] }