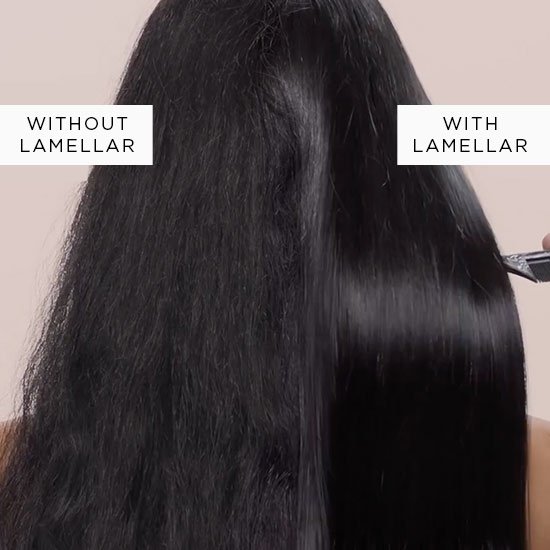 damaged hair
Why Lamellar Technology Is About To Be Your New Hair Care Must-Have
In the world of hair-care, there are many factors that ultimately determine whether or not a new product deserves a spot in your regular routine. You'll want to consider if it's time-intensive and has the ability to transform your strands for the better. Not to mention, when dealing with hair treatments it's important to know if it will weigh down your mane. This is where lamellar technology comes in. Whether you're familiar with this treatment or stepping into new territory, this miracle in bottle should be on your radar.
Lamellar technology is a type of liquid hair treatment that's a far cry from the hair masks you know of. The texture of it looks like water but transforms into a light froth when it's applied to wet hair in the shower. This wonder water hair treatment is easy and quick to use, and—dare we say it—just what you've been seeking for your strands. It gives you a tailored amount of care depending on the amount of damage your hair has. That means your hair won't experience over-conditioning or have a weighed down appearance. Best of all, it's easy to add it into your normal hair-care routine, right alongside your shampoo and conditioner. Plus, it'll make your blowout look even better! Keep reading to learn more about wonder water treatments, including how they benefit your hair.
WHAT IS WONDER WATER?
Wonder water is a new generation of liquid rinse-out hair treatment that works to visibly transform your hair immediately, making it appear smooth, shiny, and healthy-looking. This lamellar technology wonder water treatment has a lightweight yet effective formula that spreads throughout hair quickly. Wonder water works to coat the hair with moisturizing agents and an amino acid. It targets damaged areas of hair, forming small and very organized thin layers called lamellars that help smooth the surface of strands without the weighed down result. And that isn't only true if you have thick, damaged hair. Any hair type with damage (caused by anything from heat tools to regular brushing) can benefit from a lamellar treatment. The smart technology deposits care based on how damaged the hair is. The more damage, the more care that is deposited to your strands.
Equally important for you and your busy life is the fact that the wonder water works fast. Eight seconds is all it takes, and after a single-use, hair is already reaping the benefits of the lamellar technology.
Now that you have the lowdown on wonder water treatments, it's only right that we give you the intel on the best offerings from L'Oréal Paris. You can get your hands on the L'Oréal Paris Elvive 8 Second Wonder Water Lamellar Hair Treatment, which works its magic by transforming hair with one use without the fuss. The L'Oréal Paris Elvive Dream Lengths 8 Second Wonder Water Lamellar Rinse Out is another useful option worth noting. This pick is one of the newest additions to the L'Oréal Paris Elvive Dream Lengths family. It is specially formulated to work on all hair textures—from thin to thick manes—and long, damaged hair. This option also helps to detangle and smooth long locks in a pinch, leaving you with hair that's easier to style. Plus, it has a sweet, floral-scent.
HOW TO USE 8 SECOND WONDER WATER
So, you've decided to try a wonder water treatment for yourself—and now you need to know exactly how to use it for the best results. Follow our steps below to get the job done.
Step #1: Shampoo as Usual
Start off by hopping in the shower and shampooing your strands per usual, focusing your shampoo on your scalp (rather than your lengths and ends). We suggest using a shampoo and conditioner system that's formulated to do the same. Massage it onto wet hair, lather, and rinse out completely. Move on to the next step—using the water treatment.
Step #2: Apply 8 Second Wonder Water
After you've rinsed out your shampoo, it's time to use the 8 Second Wonder Water treatment of your choice. Apply the product onto wet hair, coating it completely from mid-length to ends. Massage through hair for about eight seconds in a zig-zag motion. You'll notice a frothy cream-like consistency form as the formula comes in contact with water. Don't worry if you feel a slight warming sensation, that means it's working! After you've fully massaged your strands (for eight seconds), rinse it out, making sure to avoid contact with eyes. It's as easy as that!
As for how much of a water treatment you should use, that will depend on your hair texture and length. If you have medium to fine hair, you won't need as much product as someone with thick to curly hair.
Step #3: Follow with Conditioner
While many hair masks and treatments are meant to be used in place of your conditioner, that isn't necessarily the case with the 8 Second Wonder Water options. You can hop out of the shower after using a lamellar treatment, or follow up with conditioner. If your hair needs some deep conditioning, try the L'Oréal Paris Elvive Total Repair 5 Rapid Reviver Deep Conditioner, which is formulated with a conditioning serum, almond, and protein. It helps to fortify each strand and reinforces the hair fiber to give you a strong and healthy-looking mane. Not to mention, it also works quickly—in just one minute.
Step #4: Dry Hair with a T-Shirt
Here's a hair hack for you: Drying your hair with a cotton T-shirt is gentler on strands than using a cotton towel—which is especially important if you're trying to protect and revive damaged hair.
Step #5: Blow-Dry Hair
The results from giving your hair an 8 Second Wonder Water treatment will be even more apparent if you give yourself a blowout. In case you aren't a total pro at wielding a blow-dryer and a round brush, here's How To Blow Out Your Hair at Home.
Next up: If you want to pair your soon-to-be healthy, shiny locks with length, we're here to help. Here's The Truth About How To Grow Hair Faster.
{ "@context": "https://schema.org/", "@type": "WebPage", "speakable": { "@type": "SpeakableSpecification", "cssSelector": ["speakable-content"] }, "url": "https://www.lorealparisusa.com/beauty-magazine/hair-care/damaged-hair/lamellar-technology-treatment" }
Discover more tips & tricks
See all articles
Shop Featured Hair Care products
Discover More
{ "@context": "http://schema.org", "@type": "BreadcrumbList", "itemListElement": [ { "@type":"ListItem", "position": 1, "item": { "@id": "/", "name": "Home" } } , { "@type":"ListItem", "position": 2, "item": { "@id": "https://www.lorealparisusa.com/beauty-magazine", "name": "Beauty Magazine" } } , { "@type":"ListItem", "position": 3, "item": { "@id": "https://www.lorealparisusa.com/beauty-magazine/hair-care", "name": "All Things Healthy Hair" } } , { "@type":"ListItem", "position": 4, "item": { "@id": "https://www.lorealparisusa.com/beauty-magazine/hair-care/damaged-hair", "name": "Damaged Hair Care" } } , { "@type":"ListItem", "position": 5, "item": { "@id": "https://www.lorealparisusa.com/beauty-magazine/hair-care/damaged-hair/lamellar-technology-treatment", "name": "lamellar-technology-treatment" } } ] }