damaged hair
L'Oréal Paris Elvive Dream Lengths Collection Review
October 25, 2019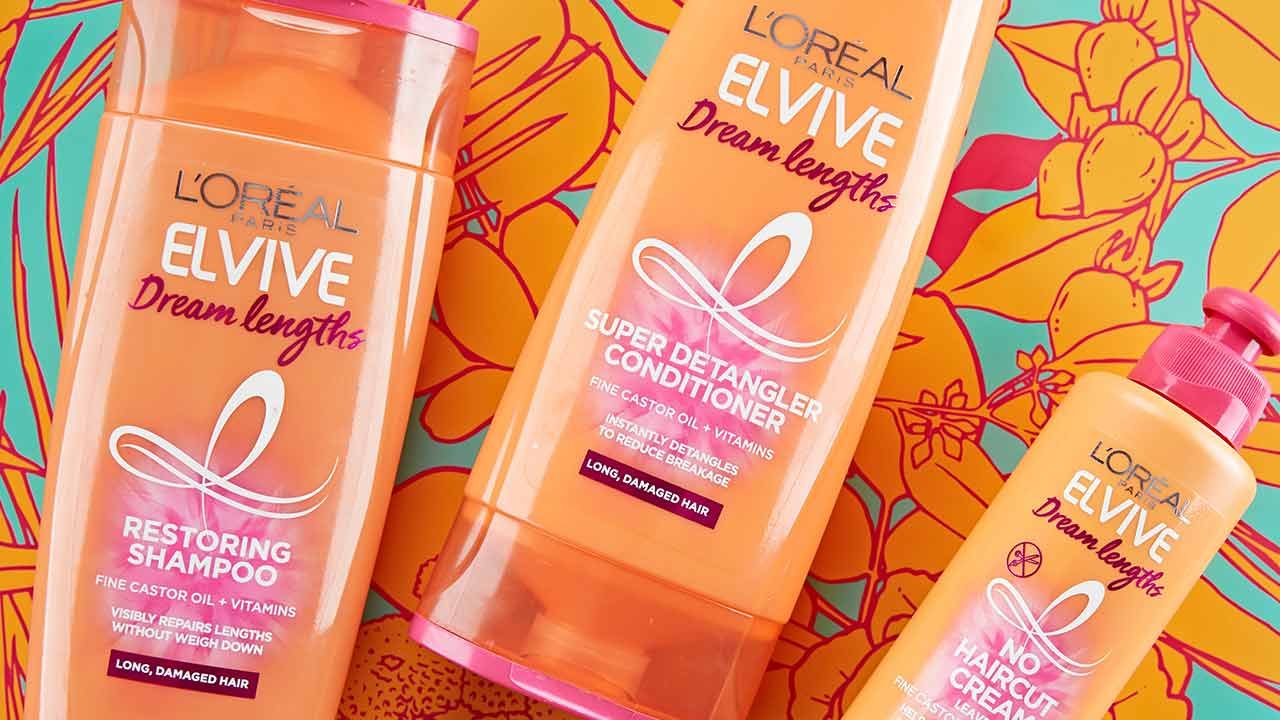 Long hair, don't care—you know the motto. It's safe to say most of us have dreamed of having a long, luscious mane at some point—only to have to part with those dreams due to damaged hair, split ends, and all too necessary haircuts. Sound familiar? If you crave long hair but just can't seem to maintain your length, perhaps you're overlooking something very important: your hair care routine! Well, we know just the thing. Without further ado, allow us to introduce you to the L'Oréal Paris Elvive Dream Lengths collection. Read on for our full review of this must-try line.
L'ORÉAL PARIS ELVIVE DREAM LENGTHS COLLECTION REVIEW
The L'Oréal Paris Elvive Dream Lengths collection may just be the answer for those with long, damaged hair that don't want to sacrifice their length in the name of a healthy-looking mane. The system consists of a shampoo, conditioner, and leave-in conditioner that work together to strengthen long hair and help seal split ends. How? Each product is formulated with a blend of castor oil and vitamins B3 and B5—ingredients you can read up on in our articles, Does Castor Oil Work for Hair Growth? and What Vitamins Can You Add to Your Hair Care Routine?. Basically, the Dream Lengths line is meant to help you grow the long hair of your dreams! No more unwanted haircuts, as you won't be trimming away dead ends.
3 DREAM LENGTHS PRODUCTS TO TRY
Like we mentioned, there are three products in the Dream Lengths collection. Each product works together to keep your long hair, well, long. Below, we're sharing the details.
L'Oréal Paris Elvive Dream Lengths Restoring Shampoo for Long, Damaged Hair: This restoring shampoo has a creamy formula that works with the rest of the hair care system to help you say goodbye to damage. It also adds shine, protects lengths, and strengthens hair.
L'Oréal Paris Elvive Dream Lengths Conditioner for Long, Damaged Hair: The nourishing conditioner is formulated to instantly detangle hair in order to help reduce hair breakage.
L'Oréal Paris Elvive Dream Lengths No Haircut Cream Leave In Conditioner: Last but not least, this leave-in treatment helps seal split ends and reduce breakage. Not only that, but it also can help prevent heat damage caused by styling because it offers up to 450-degree heat protection.
HOW TO USE THE L'ORÉAL PARIS ELVIVE DREAM LENGTHS COLLECTION
Ready to give this line a try for yourself? Follow the steps below, and you'll be well on your way to long, beautiful hair!
STEP #1: WASH YOUR STRANDS
Reach for your shampoo and massage it onto wet hair until it begins to form a lather. Rinse thoroughly.
Editor's tip: When rinsing your hair, try finishing with cold water for extra shine. We promise it's worth the quick chills!
STEP #2: CONDITION YOUR ENDS
Next up? Conditioner! Apply the nourishing formula to the lengths and ends of your mane to avoid ending up with greasy roots. After all, it's your dry, split ends that will be needing the most love in the moisture department.
STEP #3: AMP UP THE MOISTURE
Damaged hair calls for extra moisture. To take your hydration up a notch, hop out of the shower and apply the leave-in conditioner on damp hair—no need to rinse! Just like with your conditioner, it's a good idea to focus the hydrating formula on the lengths and ends of your hair to avoid weigh-down and help manage split ends.
STEP #4: STYLE AWAY
Style your hair as you normally would—and don't be afraid to pick up your hot tools! Since the leave-in conditioner offers 450-degree heat protection, you don't have to spritz on an additional heat protectant prior to styling. Pretty great, right?
STEP #5: SHOW OFF YOUR HAIR
There's no doubt your mane will be looking good after your upgraded hair care routine. Show off your length and tell your friends all about your new hair care secret!
Next up: Trying to grow your hair long and strong? Before turning to Google in search of the best way to get long hair, head over to our article, The Truth About How to Grow Hair Faster.
{ "@context": "https://schema.org/", "@type": "WebPage", "speakable": { "@type": "SpeakableSpecification", "cssSelector": ["speakable-content"] }, "url": "https://www.lorealparisusa.com/beauty-magazine/hair-care/damaged-hair/elvive-dream-lengths-shampoo-and-conditioner-review" }
Discover more tips & tricks
Keep your skin happy
See all articles
Shop Featured Hair Care products
Discover More
{ "@context": "http://schema.org", "@type": "BreadcrumbList", "itemListElement": [ { "@type":"ListItem", "position": 1, "item": { "@id": "/", "name": "Home" } } , { "@type":"ListItem", "position": 2, "item": { "@id": "https://www.lorealparisusa.com/beauty-magazine", "name": "Beauty Magazine" } } , { "@type":"ListItem", "position": 3, "item": { "@id": "https://www.lorealparisusa.com/beauty-magazine/hair-care", "name": "All Things Healthy Hair" } } , { "@type":"ListItem", "position": 4, "item": { "@id": "https://www.lorealparisusa.com/beauty-magazine/hair-care/damaged-hair", "name": "Damaged Hair Care" } } , { "@type":"ListItem", "position": 5, "item": { "@id": "https://www.lorealparisusa.com/beauty-magazine/hair-care/damaged-hair/elvive-dream-lengths-shampoo-and-conditioner-review", "name": "elvive-dream-lengths-shampoo-and-conditioner-review" } } ] }