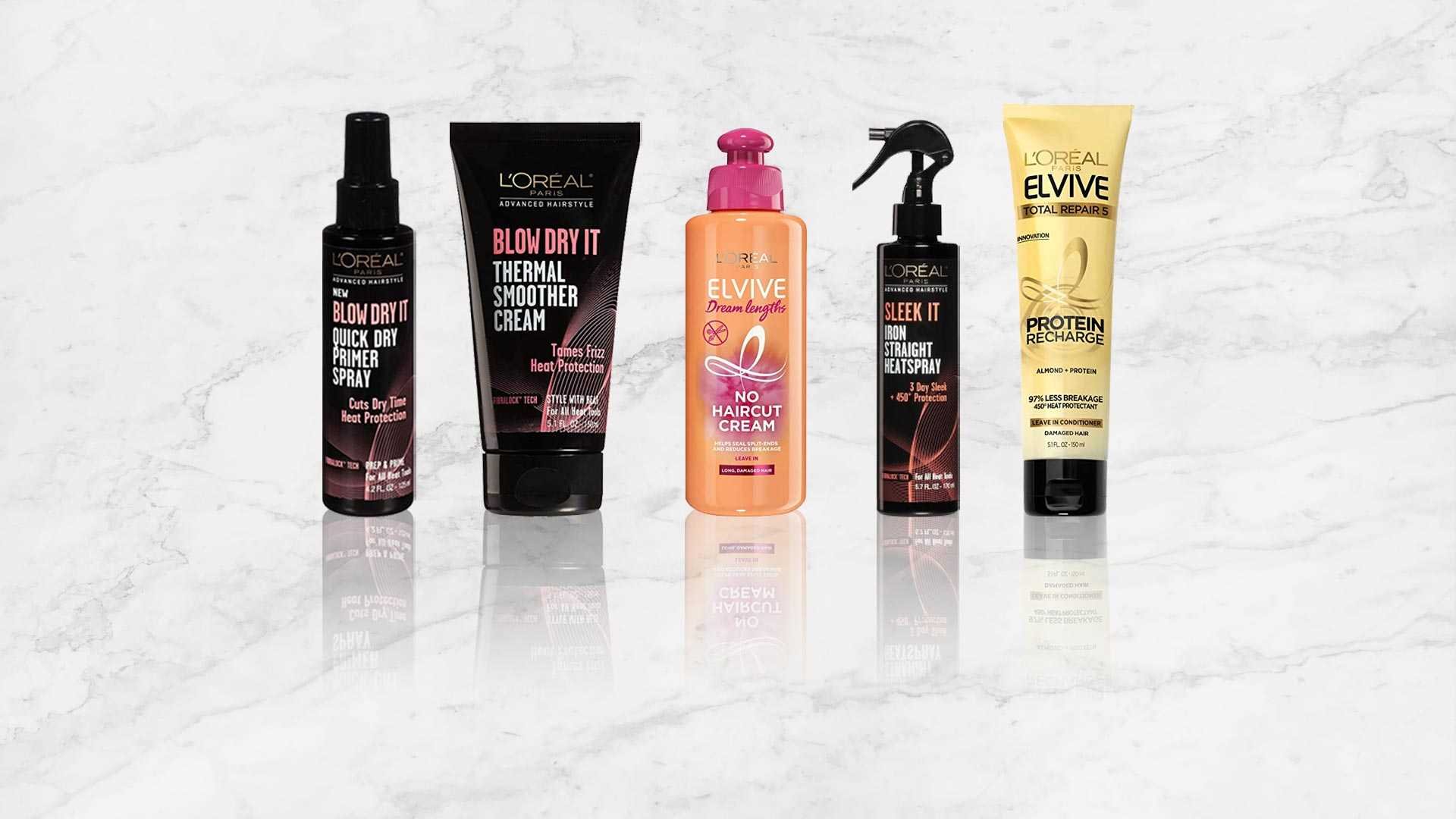 damaged hair
Heat Protectant Is a Must—Here's How To Use It
Let's be honest: When you're pressed for time in the morning, you may cut corners while styling your hair and skip out on heat protectant. However, bypassing this essential could wreak havoc on your strands and lead to hair breakage, brittle ends, and other concerns. Whether you're blow-drying or flat ironing your mane, it's a wise choice to take a couple of extra seconds to apply a few quick spritzes of heat protectant for hair before styling. Ahead, we're giving you the full breakdown on why heat protection is an essential, along with the best heat protectant products from L'Oréal Paris.
WHAT IS HEAT PROTECTANT?
Before we dive into the best heat protectant products, you need to know what this heat-safe essentialis. A heat protectant for hair is a product that works to protect your strands from damage when used before applying heat. The best way to think of it is as a shield for your hair. Typically you can find a heat protectant available in spray, cream, oil, or serum formulas. Depending on the option you use, it can also help to tame frizz, condition, add shine, and block out humidity.
WHAT HAPPENS IF YOU DON'T USE HEAT PROTECTANT
When you expose your hair to heat every time you style your hair without protection, it can lead to hair damage. Heat can dry out your strands, cause split ends and breakage, and make your hair look dull, among other issues. Wee get it—heat-styling isn't always avoidable. Thankfully, by applying a heat protectant for hair and being smart about how you use your hot tools, you can help prevent damage while still creating a killer style. It only takes a couple of extra seconds to apply and the protection that a hair heat protectant offers is well worth the extra seconds it'll tack onto your routine.
ARE HEAT PROTECTANTS BAD FOR YOUR HAIR?
No, heat protectant is not bad for your hair. In fact, it helps prevent damage, which is just the opposite. The only concern you may need to have with heat protectant is that over time, it can cause buildup. This simply means you don't want to apply a hair primer for days on end without washing. You need to give your hair a thorough clarifying session every week or two (amidst your regular washing schedule) to get rid of product buildup. This goes for any hairstyling product!
DO HEAT PROTECTANT SPRAYS ACTUALLY WORK?
Heat protectant sprays do work, assuming you follow the instructions listed on the product. They're often formulated to protect hair from temperatures as high as 450-degrees. Make sure your heat tools aren't exceeding the temperature that your product can defend against to ensure it's effective.
OUR BEST HEAT PROTECTANTS FOR HAIR
Now that you're well-versed on heat protectant for hair, it's time to find your heat-safe match. In case we haven't hammered this point home already, don't pick up your hot tools until you've prepped your strands with a heat protectant! Have your pick from our six best heat protectants for hair below.
L'Oréal Paris Advanced Hairstyle SLEEK IT Iron Straight Heatspray: This high-performance heat protectant spray for hair offers 450-degree heat protection for a sleek look. Specifically formulated to work with any heat-styling tool, the unique formula goes beyond heat protection to calm frizzy hair, seal in shine, block humidity, and condition strands. Best of all, it's versatile!
How to use it: Spray onto damp or dry hair section by section before styling.
L'Oréal Paris Advanced Hairstyle BLOW DRY IT Quick Dry Primer Spray: This hair primer is known as one of our best heat protectant sprays for hair that cuts down blow-dry time. It also protects hair from damage.
How to use it: Since this heat protective spray is also a primer, you'll want to apply it onto clean, damp hair. Spray it on evenly before heat-styling, holding the bottle about six to eight inches away from your hair.
L'Oréal Paris Advanced Hairstyle BLOW DRY IT Thermal Smoother Cream: If you like the idea of a heat protectant cream, this offering makes for a solid pick. It is a lightweight formula that instantly smooths hair while protecting against heat damage. Not only will this hair cream help keep your strands safe from heat damage, but it will also help to tame frizz.
How to use it: Squeeze a quarter-sized amount into your palm for medium-length hair (use a little less for short hair and a little more if you have long hair). Apply to damp hair before reaching for your hot tools.
L'Oréal Paris Elvive Total Repair 5 Protein Recharge Treatment: In addition to being formulated to protect against heat up to 450-degrees, this hair cream helps increase hair strength and flexibility and protect against everyday damage.
How to use it: Apply a small amount of product onto clean, wet hair, working through from the roots to the ends. Leave in and style as usual.
L'Oréal Paris Elvive Dream Lengths Heat Slayer Pre-Iron Spray Leave-In: This leave-in spray is the newest addition to the L'Oréal Paris Elvive Dream Lengths family. It's specially formulated to work with a flat iron to protect against heat up to 450-degrees while strengthening your hair.
How to use it: Spray it on evenly, holding the bottle six to eight inches away from clean, damp strands before heat-styling.
L'Oréal Paris Elvive Dream Lengths No Haircut Cream Leave In Conditioner: Splits ends are one of the most common signs of heat damage. To stay ahead of the game, this heat protectant for hair can protect against brittle and frayed ends. This cream is formulated with a blend of castor oil and vitamin B3 and B5. It strengthens long hair and helps to seal in split ends. Not to mention, it also offers up to 450-degree heat protection.
How to use it: Apply on damp hair, leave in, and style as usual.
OTHER WAYS TO HELP PREVENT HEAT DAMAGE
Now that you have the resources to pick the best heat protectant for you, that shouldn't be your only line of defense. Besides stocking up on heat protectant oils, sprays, and creams, there are other strategies you should employ to help beat heat damage. Consider these four additional tips to play it safe, below.
TIP #1: ALLOW HAIR TO PARTIALLY AIR DRY BEFORE BLOW-DRYING
Blow-drying your hair when it's soaking wet is only going to extend the process. And the more time that your hair is exposed to high-heat, the more damage that can occur. Switch things up by letting your hair air dry at least halfway before reaching for a blow-dryer.
Alternatively, you can consider allowing your hair to air dry completely. According to the American Academy of Dermatology (AAD), decreasing the number of times you blow-dry every week helps limit damage. Don't worry, you can still achieve a beautiful style without your blow dryer. Apply your towel-dried strands with the L'Oréal Paris Advanced Hairstyle CURVE IT Elastic Curl Mousse to define soft and bouncy curls. No heat tools necessary.
TIP #2: LIMIT HOW OFTEN YOU USE HEAT TOOLS
Beyond taking a break from your blow-dryer, it's also a smart idea to cut back on the frequency with which you curl and straighten your hair. The AAD shares that flat irons should be used no more than every other day. If your use exceeds that, take a little hiatus and put your strands into a pretty braid instead.
TIP #3: ADJUST THE HEAT SETTING
Always use the lowest heat setting possible on your hair, because those super-high heat settings likely aren't necessary to get the job done. In reality, the highest settings are typically meant for in-salon treatments—not at-home use.
TIP #4: DON'T GIVE ONE PIECE OF HAIR TOO MUCH ATTENTION
Repeatedly applying heat to the same section of hair will increase the chances of damaging your strands. The AAD recommends that when working with a curling iron or wand, you only leave your heat tool in place for a second or two. As for using a flat iron, straighten your hair in small sections, so you'll only need to pass through each section once to straighten it.
HOW TO HANDLE DAMAGED HAIR
While you can protect your hair from high temperatures, heat-damaged hair requires extra TLC. Besides starting to take preventative measures (it's never too late), follow these tips for managing damaged hair.
TIP #1: USE A HAIR MASK
There are hair treatments to help with everything, including heat damage. In addition to your regular shampoo and conditioner, adding a strengthening hair mask into your weekly routine (ideally two to three times per week) can help to repair damage and protect your strands in the long-run. Use a renewing hair mask, like the L'Oréal Paris Elvive Total Repair Extreme Emergency Recovery Mask, which conditions and instantly penetrates your mane to renew broken fibers of damaged hair. Apply onto wet strands after shampooing, leave on for three to five minutes, then rinse.
TIP #2: AND A DEEP CONDITIONING TREATMENT
Instead of relying on a hair mask to provide your strands with moisture, switch things up with a deep conditioning treatment. This essential provides a more thorough conditioning to intensely nourish and moisturize your hair. Reach for a fast-acting deep conditioner, such as the L'Oréal Paris Elvive Extraordinary Oil Rapid Reviver Deep Conditioner, which helps to hydrate each strand to leave you with silkier, shinier hair. You can also opt for the L'Oréal Paris Elvive Total Repair 5 Rapid Reviver Deep Conditioner. It helps to fortify each strand, reinforcing the hair fiber to help you achieve a strong and healthy-looking mane. Both options work in just one minute to transform your strands.
TIP #3: TRIM DEAD ENDS
As we mentioned above, split ends can be a clear indicator of heat damage. If your hair has a slew of dry and brittle tips, it's best to go ahead and trim your hair. That way, you can cut off the ends of your hair—where most of the damage is—and get a new haircut out of it. Not such a bad deal, if you ask us.
TIP #4: USE A REPAIRING SHAMPOO AND CONDITIONER SYSTEM
When you're trying to repair your hair, it's crucial to use a shampoo and conditioner system that will help strengthen and fortify your locks. Reach for the L'Oréal Paris EverPure Repair & Defend Shampoo and the L'Oréal Paris EverPure Repair & Defend Conditioner to defend against damage and deeply condition and strengthen fragile hair.
Discover more tips & tricks
Keep your skin happy
See all articles
Shop Featured Hair Style products
Discover More