all hair types
4 Ways to Style Your Hair Using Dry Shampoo
January 13, 2021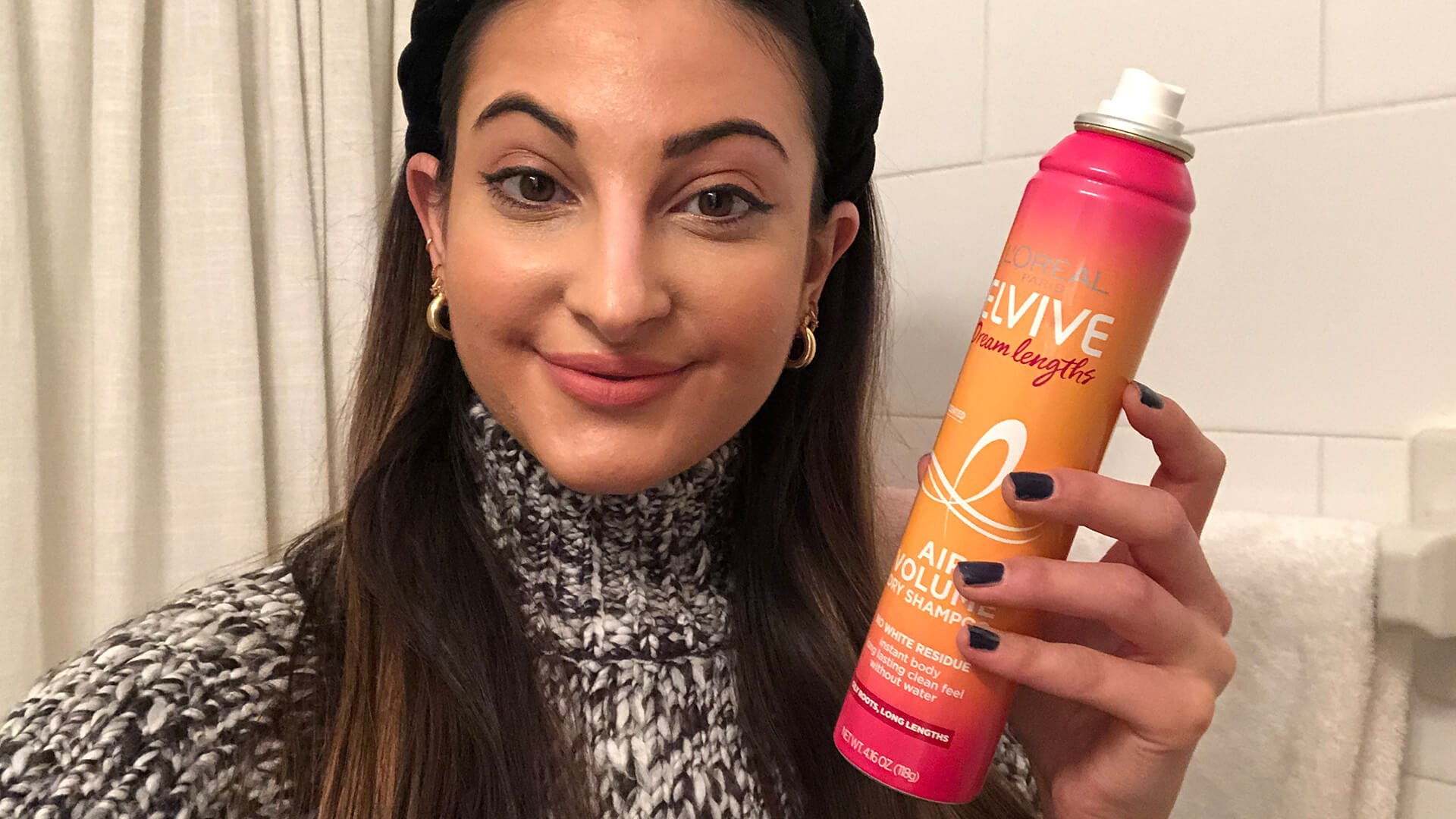 Let's be honest, washing your hair is not always a fun process. Depending on your hair texture and length, it can take up a lot of time and require various products. This is why dry shampoo comes in handy between washes. It helps you keep your hair fresh when a full wash-day routine is just not in the books. But dry shampoo as a hair styling tool? It's possible with the new L'Oréal Paris Elvive Dream Lengths Air Volume Dry Shampoo. It instantly absorbs oil and won't leave behind any white residue. So whether you're looking to add volume to dull day-old hair or want to give texture to bone straight strands, this will help you do that, and more. Read on for four quick and easy hairstyles you can create on those no-wash days using this wonderful waterless shampoo.
Style #1: Beachy Waves
If you have straight, flat hair and want to add some texture and volume, this is the perfect alternative to hair mousse and anything else that can cause build-up. It can also be used as a texturizing spray throughout your mane while it freshens your hair.
How to get the look: Start by sectioning pieces of your hair and holding the L'Oréal Paris Elvive Dream Lengths Air Volume Dry Shampoo can upwards pointing towards the underside of your hair. Shake the can before you use it, and then spray it close to the root. Continuously spray it all the way up to your fingertips using a zig-zag motion. Let that section of hair drop, and repeat all around your head until you've covered every section. Massage the product in the crown of your head—this will give you that volume you're looking for. Then flip your hair over and use a blow dryer to seal in the product quickly. And ta-da! You have the beachy textured waves of a morning surfer.
Style #2: Top Knot Bun
This style adds a chic twist to the classic bun hairstyle, and it's a super easy look anyone can achieve. L'Oréal Paris celebrity hairstylist & colorist Jonathan Colombini recommends lifting the hair and putting it in an up-do style when dry shampoo is needed. "Your hair will be less greasy longer by keeping it off your neck and body, so a top-knot is my go-to style," he says.
How to get the look: Start by spraying L'Oréal Paris Elvive Dream Lengths Air Volume Dry Shampoo throughout your hair. Make sure to hold it at least six to eight inches away from your hair so you don't get product build-up. Aim the nozzle at your roots and try to spray it evenly throughout your hair. Wait a few minutes for the product to dry in your hair, and then run your fingers through to make sure the product is spread out thoroughly. Gather your hair together into a ponytail at the crown of your head and then spray some more dry shampoo along the ends for volume and added texture. Lastly, wrap the ponytail around to create a bun and secure it with a hair tie or bobby pins.
Editor's Tip: If you have type 4 curls, braid or two strand twist the ponytail and wrap it around to create a bun. Then tuck the end of the ponytail inside the bun for an easy style that requires no bobby pins.
Style #3: Volumized Natural Curly Hair
For all the curlistas out there, we know it can be a struggle to keep your curls from falling flat after a few days. Try adding in a dry shampoo to add that extra volume.
How to get the look: Start by tilting your head forward slightly and use your fingers to shake through your curls and add some natural volume. Then shake up the L'Oréal Paris Elvive Dream Lengths Air Volume Dry Shampoo and hold it about six to eight inches away from your head. Lift your roots and spray it directly onto your scalp and anywhere where your curls may be too flat. Wait a few minutes for the product to absorb oil and dirt and then shake out your roots all throughout your head using a hair pick or your fingers for maximum volume.
Style #4: Textured Ponytail
There are no rules claiming ponytails need to be sleek, so if you're working with greasy hair, a quick ponytail switch up can make it look textured and glam.
How to get the look: Start by dividing your hair into three sections,—one section in the front, middle, and at the back of your head. Tie the back section into a ponytail and use a comb to tease it, then repeat the same step for the middle section. After that use a brush to smooth out the front section of your hair and gather all the sections together into one ponytail.
Next: Hair Spray vs. Dry Shampoo: When to Use Each One Post-Blowout
Discover more tips & tricks
Keep your skin happy
See all articles