all hair types
How To Get The Best Beach Waves With A Perm
Catch the beach perm wave.
May 29, 2020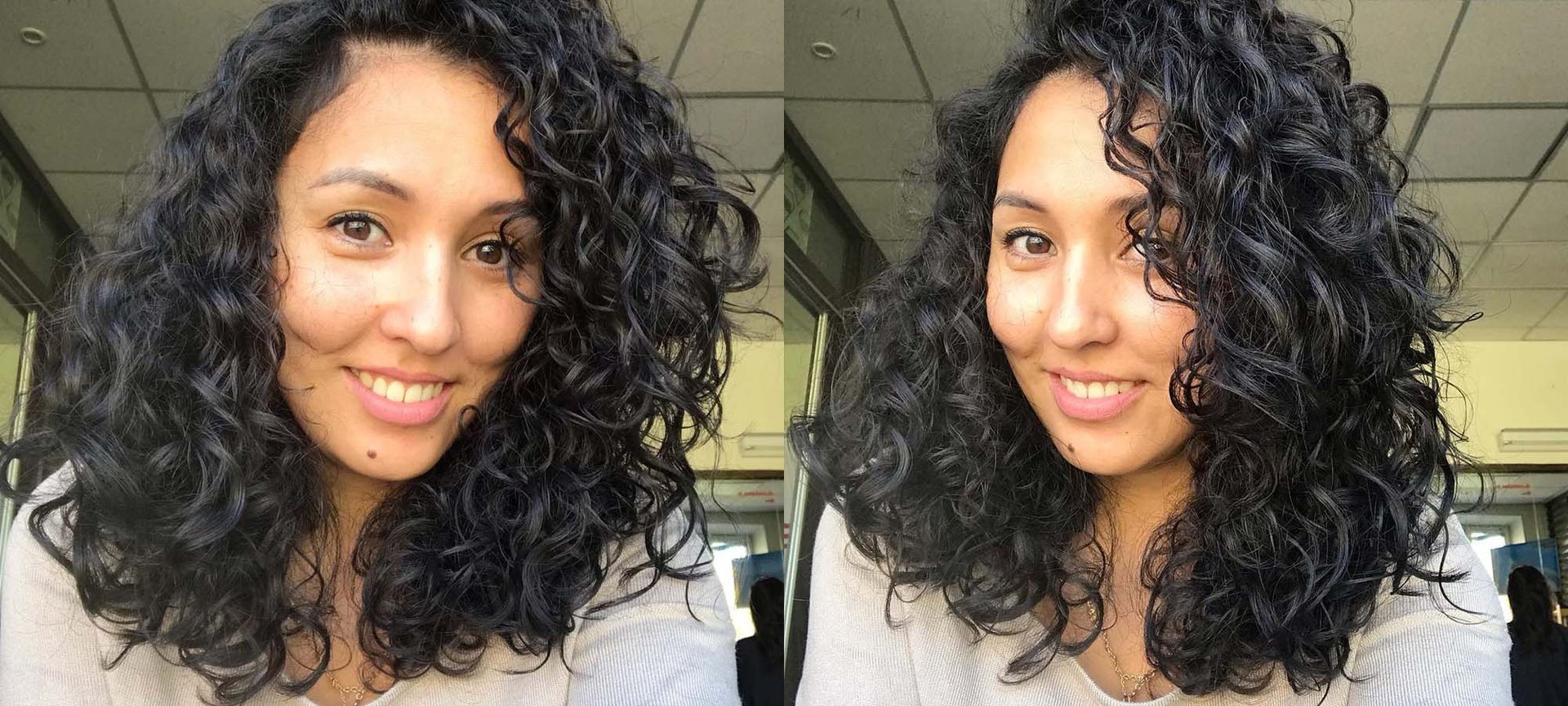 Just because we're transitioning into the fall season, that doesn't mean your hair has to wave goodbye to summer styles. If you're looking for a hot hairstyle to wear this fall, a beach wave perm is the perfect way to make those warm-weather vibes last. No matter your hair texture, a hair perm can make achieving the perfect beach waves a breeze. Keep reading to learn all about this salon texturizing process and how to get the best permanent wavy curls for you.

What Is A Beach Wave Perm?
Similar to the standard hair perm, this hair treatment leaves your previously straight hair with beach waves instead of tight curls. According to the American Academy of Dermatology (AAD), hair perming chemically alters the hair fibers and restructures your strands to create texture and body, which can make getting a curly or wavy hairstyle possible even for those who have thin or fine hair.

How To Get A Beach Wave Perm
There are various techniques and ways to perm hair that can result in different looks, from spiral perms to multi-textured perms. While the solution applied to your hair will be similar to what's used for any other type of perm, what's different will be the tool used to set your waves. The beachy wave look is achieved by using foam rollers and wrapping the hair more loosely instead of the tiny, uniform rods that give you a tight curl. Keep in mind that similar to coloring or relaxing your hair, hair perming can be damaging and require special care so the AAD recommends only having one service done—color, perm, or relaxer.

How To Take Care Of A Beach Wave Perm
In order to get the most of your wavy strands, it's important to update your normal hair care routine with products that are formulated to care for your new texture. With the proper care, you can expect your beach wave perm to last about six months. Here are a few hair tips you'll want to take note of if you decide to give a beach wave perm a try.

1. Switch Your Shampoo And Conditioner
With waves comes frizz, so to keep your curly hair perm looking its best swap your usual shampoo and conditioner for a system that's formulated to hydrate your waves. Try the L'Oréal Paris EverPure Sulfate-Free Frizz-Defy Shampoo With Marula Oil and L'Oréal Paris EverPure Sulfate-Free Frizz-Defy Conditioner or the L'Oréal Paris EverPure Moisture Shampoo and L'Oréal Paris EverPure Moisture Conditioner.

2. Use A Hair Mask
The perming process can be intense on your hair, so give your processed mane a little extra love with a hair mask. A few times a week, swap out your conditioner in favor of a nourishing, wave-defining mask like the L'Oréal Paris Elvive Total Repair 5 Power Restore Multi use treatment for stronger, healthier-looking hair. It's deeply nourishing, helps to protect against heat damage when used as a leave-in treatment, and can even be used as a co-wash product.

3. Grab A Hair Mousse
When it comes to styling your beach waves, you'll want to stock your cabinet with products that will give your loose curls some bounce, like the L'Oréal Paris Advanced Hairstyle CURVE IT Elastic Curl Mousse. apply the mousse to damp hair, scrunch, and let your beach wave perm air dry.

Next: 10 Hottest Curly Perms For Men

Written by: Lauren Paige Richeson, Photo Credit: Nuzhina Natalya, IG/@nuzhynanata
{ "@context": "https://schema.org/", "@type": "WebPage", "speakable": { "@type": "SpeakableSpecification", "cssSelector": ["speakable-content"] }, "url": "https://www.lorealparisusa.com/beauty-magazine/hair-care/all-hair-types/beach-wave-perm-guide" }
Discover more tips & tricks
Keep your skin happy
See all articles
Shop Featured Hair Care products
Discover More
{ "@context": "http://schema.org", "@type": "BreadcrumbList", "itemListElement": [ { "@type":"ListItem", "position": 1, "item": { "@id": "/", "name": "Home" } } , { "@type":"ListItem", "position": 2, "item": { "@id": "https://www.lorealparisusa.com/beauty-magazine", "name": "Beauty Magazine" } } , { "@type":"ListItem", "position": 3, "item": { "@id": "https://www.lorealparisusa.com/beauty-magazine/hair-care", "name": "All Things Healthy Hair" } } , { "@type":"ListItem", "position": 4, "item": { "@id": "https://www.lorealparisusa.com/beauty-magazine/hair-care/all-hair-types", "name": "All Hair Types" } } , { "@type":"ListItem", "position": 5, "item": { "@id": "https://www.lorealparisusa.com/beauty-magazine/hair-care/all-hair-types/beach-wave-perm-guide", "name": "beach-wave-perm-guide" } } ] }