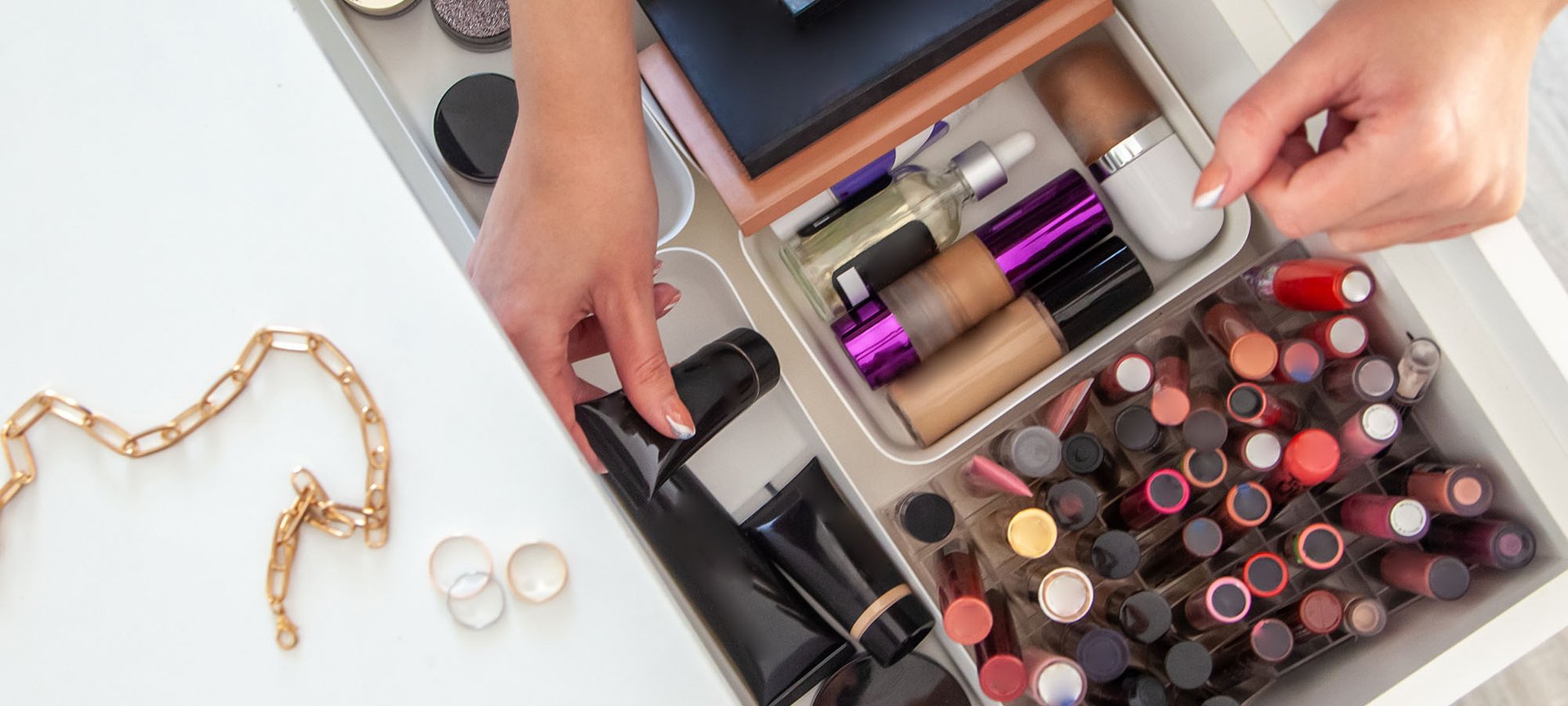 beauty trends
6 Beauty Editor-Approved Tips To Organize Your Makeup Collection
We're helping you create a method to the madness.
If there's one thing that all beauty editors can agree on, it's that organizing our ever growing makeup collections can be quite a challenge. So many beauty products 一 and for those of us that live in major cities 一 so little space. And while a constant flow of new goodies is a great problem to have, it comes with its challenges. So if you're struggling to figure out how to organize your makeup collection, allow us to help you create a method to the madness and share with you our key takeaways from firsthand experience.
How To Organize Your Makeup Collection
Whether you have twenty products or two hundred, it's important to organize your collection in a way that makes your life easier. Essentially, you want to make ease of use (of products) and best usage of your space top priorities. Ahead, our tips on how to straighten up your beauty stash.

1. Declutter
The first and most important thing to keep in mind when organizing your beauty stash is that decluttering is a necessary evil. It might pain you to think of departing with that glittery purple eyeshadow that you've held onto for years for nostalgia 一 but if you're tight on space, you must take a hard look at your collection and be honest with yourself about what you will and will not use. What doesn't make the cut should be donated or recycled where possible.

2. Assess Your Space
Next, it's helpful to take a fresh look at your space sans products. Perhaps you've been keeping your makeup collection in your bathroom for a while, but it might fit better at your desk or in drawers in your bedroom. If you're finding that your collection feels unorganized or in need of an organizational refresh, perhaps it's time to move it to a different space.

3. Opt For Clear Organizers
If you have a large collection of products, it's best to use clear organizers where possible. This will make finding what you're looking for much easier. You can easily find a variety of clear acrylic or plastic drawers and bins on Amazon.

4. Organize By Category
It might be tempting to aimlessly throw all of your makeup in a makeup bag or drawer, but it will only make sifting through your products harder in the long run. Instead, store your products by category, which makes it easier to find exactly what you need when you need it. Think of it in terms of geometry 一 most lipsticks fall within a certain size range or shape, making them fit well when stored together.

5. Form A Product Hierarchy
While this might sound silly, figuring out which products are most important to you and most used is helpful when trying to organize. If you wear foundation and concealer daily, but less frequently feel the urge to create an eyeshadow look, keep your face products in the easiest to reach places and store your eyeshadow palettes in the bottom or back of your storage.

6. Get Creative
Stocking up on storage bins or makeup organizers can get pricey. While you'll likely want some kind of bins or storage unit for most of your collection, don't be afraid to get creative. For example, cute mugs or empty candle jars make perfect brush holders. Kitchen utensil holders are great for storing cheek products because they have multiple long sections so you can neatly line up your products. If you have a vanity and you're throwing products in the drawers non methodically, place a utensil holder in a drawer to keep things tidy.

7. Take Consistent Inventory
Organizing your makeup collection is one challenge, but keeping it organized is a whole other ballgame. In addition to committing to putting things back in their designated place, commit to taking inventory or your collection and decluttering every few months. By purging your collection of the items you don't use, you'll be better able to make the most of your stash and more likely to keep it organized long term.
Next: 10 Nail Polish Organizer Ideas To Stylishly Store Your Polish

Written by: Alyssa Kaplan, Photo: iStock
Discover more tips & tricks
Keep your skin happy
See all articles
Improve your routine
Show your new look more love:
makeup