beauty trends
10 Nail Polish Organizer Ideas To Stylishly Store Your Polish
Put your polish on display.
October 09, 2020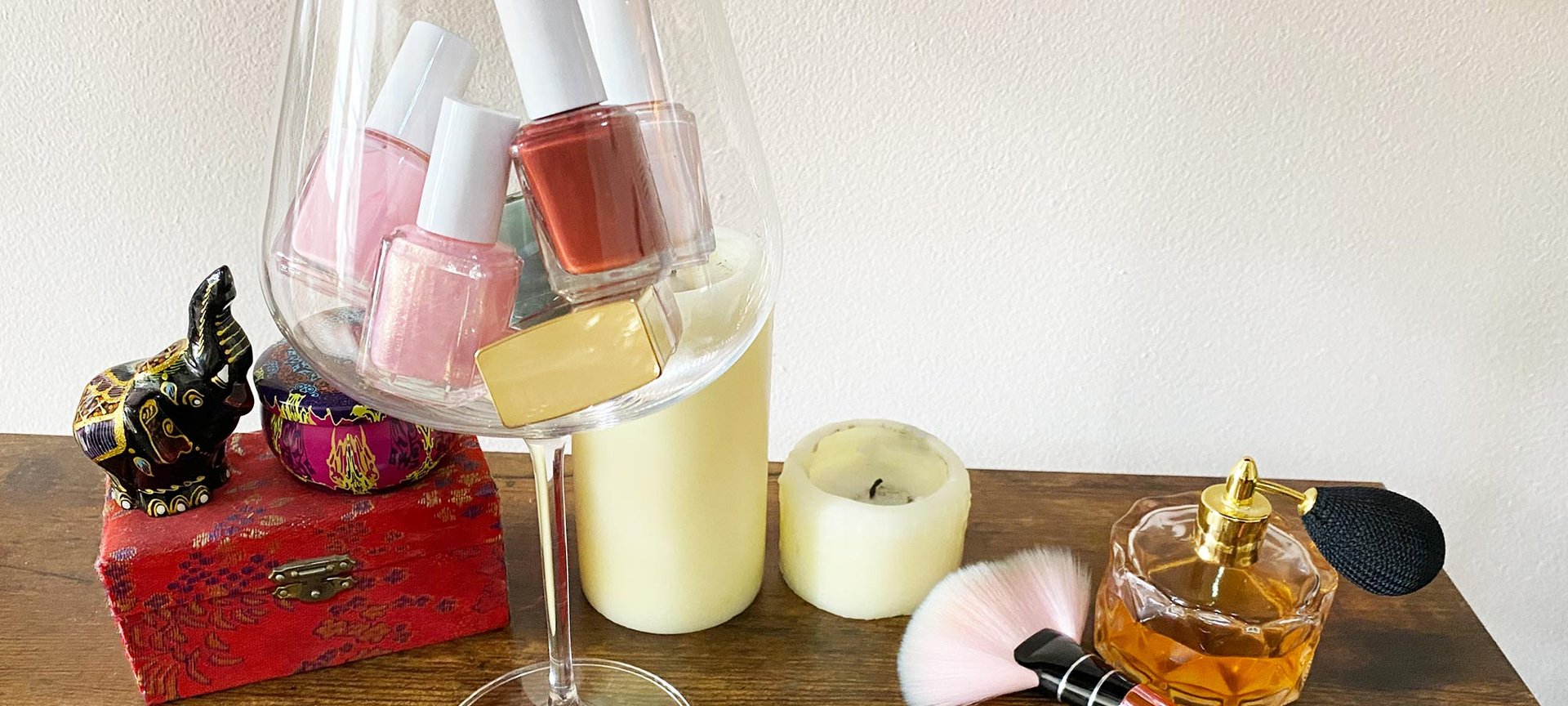 There's nothing more satisfying than stepping back and taking in your newly organized space, especially considering how daunting cleaning can be. While you may have your skin care organization down and perhaps a few makeup storage ideas up your sleeve, there's one area in your beauty regimen you may have overlooked: Nail polish. Below, we've pulled together 10 totally stylish storage options like a nail polish organizer case, and even a DIY nail polish organizer to help you clean up your at-home manicure headquarters.

1. Clear Acrylic Organizer
One of the easiest nail polish organizer options is a clear acrylic organizer. You're likely familiar with this as an option for storing makeup and tools, but it works just as well with nail polish bottles. You may even find that a clear lipstick organizer can be used for your polish collection instead. Hunt around for an option that will fit a variety of bottle sizes.

2. Bookcase
If you want your nail polish collection to have that department store feel, a bookcase is a great organizer option. Whether you dedicate a single shelf amongst your favorite books or have enough nail polish shades to fill the entire case is up to you. If you opt for the latter, allow us to suggest dedicating each shelf to a different color family for some seriously aesthetically pleasing organization.

3. Multi-Tier Cupcake Stand
Swap out your sugary treats and use your cupcake stand for this sweet storage trick. A multi-tier stand is a cute and artsy way to put your nail polishes on display. Pop one onto your vanity so each color can be in the spotlight.

4. Nail Polish Organizer Case
To streamline storage, consider investing in a nail polish organizer case. Similar to a briefcase, this option is typically clear (so you can see each individual shade) and contains slots for your nail polish bottles. It also features a handle that makes for easy transportation of your collection.

5. Clear Makeup Bag
If your collection is on the smaller side, toss your shades into a clear makeup bag. You can then put this on display on your vanity. Sure, you'll have to sift through the bag to get to the specific shade you're looking for, but it's the perfect carefree storage option for someone who doesn't have an endless amount of nail polish to organize.

6. Wall Shelf
You can make your arsenal the centerpiece of your room by using a wall shelf as a nail polish wall organizer. Similar to a bookcase, the shelf will allow you to fill a designated area with an array of polishes in a way that's similar to the nail polish aisle at your favorite store.

7. Foam Drawer Organizer
This DIY nail polish organizer is super-easy to recreate and is ideal for those who want to tidy up, but don't necessarily want their nail polish on display. First, you'll need an empty desk or dresser drawer. Then, get a one-inch thick piece of foam and cut it so that it perfectly fits inside your designated drawer. Take a crafting knife and cut out circles or squares from the foam that are approximately the size of your nail polish bottles. This will create custom-made slots. Add your nail polish, and you're good to go.

8. Cookie Jar
An empty cookie jar is a seriously cute nail polish organizer. When it's time to paint your nails, open the lid and reach in for your favorite color.
9. Jewelry Box
Jewelry boxes don't have to be saved for your necklaces and other pieces of bling. If you hollow one out (with the help of that crafting knife), you can use it as a DIY nail polish organizer.
10. Decorative Bin
You can't go wrong with using a decorative bin to organize your nail polish. This can be placed on your vanity or left on the floor, depending on the size of the bin and your nail polish arsenal. Even better, it's easy to find a decorative bin that matches the style of your room.

Next: 23 Cool And Affordable Makeup Brush Holder Ideas
Edited by: Lauren Paige Richeson, Photo Credit: Shalwah Evans
Discover more tips & tricks
Keep your skin happy
See all articles
Improve your routine
Show your new look more love:
makeup