beauty trends
Celebrate Yourself With These Cute Birthday Nails
February 21, 2021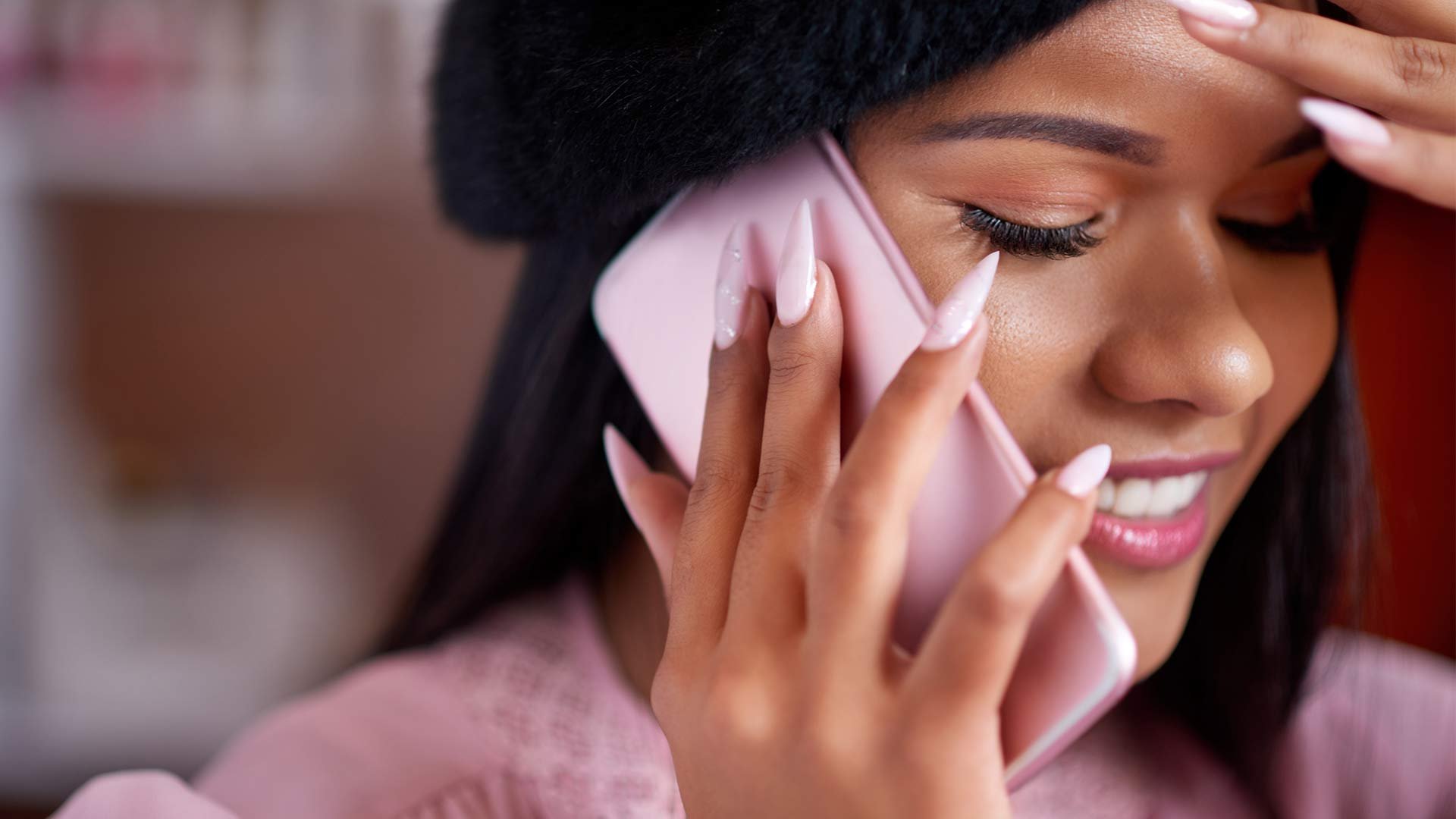 We're firm believers that you should celebrate yourself all day, every day. But there's certainly one day of the year when it's particularly important to treat yourself—and we happen to think cute birthday nails are the perfect way to do that. On your birthday, you may pull out that fresh new outfit, get yourself some new shoes or try a romantic eye makeup technique, and a festive manicure is a great way to finish off your look. It lets you keep the party going all the way to your fingertips! So we're sharing four birthday nail ideas worthy of celebrating you, below.
Cute Birthday Nail Design #1: Cotton Candy Ombré
These cute birthday acrylic nails bring three beautiful colors together: sky blue, fuschia, and pale yellow. The seamless combination of shades makes for a manicure with a cheerful aesthetic that reminds us of cotton candy—the perfect kind of sweetness for your special day. You'll need sky blue nail polish, fuschia nail polish, pale yellow nail polish, disposable cosmetic wedges, nail polish remover, cotton swabs, and a top coat.
Get the look: Instead of applying your nail polish directly to your nails, you'll need to apply it to a disposable cosmetic wedge first to get the ombré effect. First, paint on a swipe of sky blue polish. Then, apply your fuschia shade next to it and follow with pale yellow. Line the cosmetic wedge up with your nail, so the sky blue shade is at the tip. Gently press the wedge onto your nail so the polish transfers. When you lift up the cosmetic wedge, you should see a seamless gradient pattern. Do this until you have a full set of colorful ombré nails. Dip a cotton swab in nail polish remover and clean any excess polish from the edges of your nails. Smooth on a top coat for a high-shine finish and to help prevent your birthday nails from chipping.
Editor's note: To ensure your cute birthday nails truly look their best, apply a hand cream, like the L'Oréal Paris Age Perfect Hydra Nutrition Manuka Honey All Over Balm - Face, Neck, Chest and Hands, before you go celebrate.
Cute Birthday Nail Design #2: Sprinkle Nails
Hand-painted sprinkles may be one of our favorite birthday nail designs. Not only are they super festive and cute, they're also easy to recreate. You'll need several bright nail polish colors (as many as you like!), pale pink nail polish, toothpicks, and a top coat.
Get the look: Start by smoothing on two coats of the pale pink nail polish to serve as the base color for your design. Then dip a toothpick into your first bright-colored polish and draw two or three small lines onto your nail. Repeat this process with your other colors until you have a nail full of colorful sprinkles. Feel free to paint on varying sizes and don't worry if they aren't identical—real sprinkles look like this. Seal the look with your top coat and you're all done!
Cute Birthday Nail Design #3: Glitter Tips
If you're on the hunt for easy, foolproof birthday nails, glitter tips may be just what you're looking for. After all, glitter makes everything feel more like a party—even if you're celebrating virtually at home. Grab a nail polish color of your choice for the base, glitter nail polish and a top coat.
Get the look: Smooth on two layers of your base nail polish. After your nails are dry, grab your glitter nail polish and carefully paint it onto the tips of each of your nails as the perfect accent. Don't stress if your tips aren't perfect—since glitter nail polish isn't opaque, there won't be any noticeable harsh lines of demarcation. Then, as always, apply a top coat to finish your glitter birthday nails.
Cute Birthday Nail Design #4: Unicorn-Inspired Nails
We're clearly still not sick of unicorns and all the trends associated with them! When you want to say a big happy birthday to you (or even someone else!) say it with a bright design inspired by these mythical creatures. Try a solo tie-dye design reminiscent of unicorn hair or add an actual unicorn into the mix.
Get the look: You'll need to take a trip to the nail salon, grab some specialty nail stickers or get your favorite press-ons for a colorful design this detailed.
Photo Credit: istock
Next: Snake Nails Are Our Latest Obsession: Here's How To Get The Look
Discover more tips & tricks
Keep your skin happy
See all articles