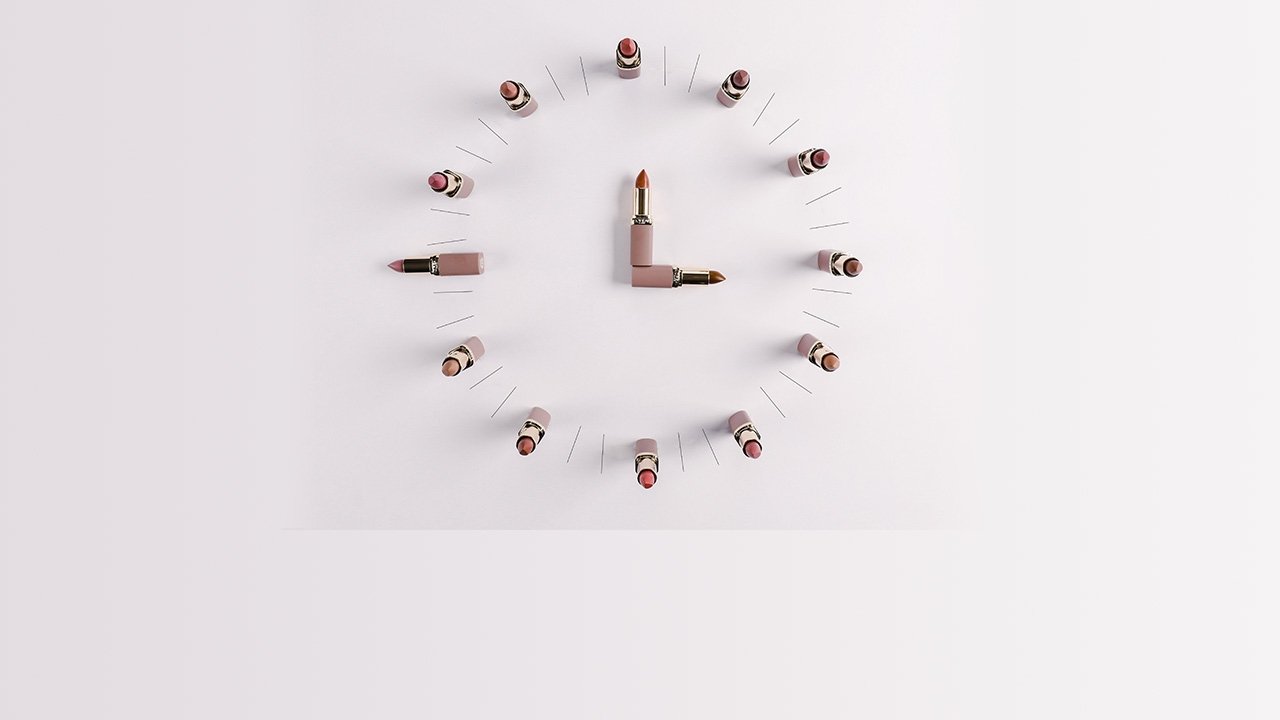 beauty looks
How to Cut Down Your Beauty Routine for Daylight Savings Time
It's that time of year again. Daylight Savings Time is fast approaching, and you probably don't need a reminder of what that means—losing an hour. The clocks move forward an hour, and suddenly you have one less hour to sleep, or if you're beauty obsessed like us, one less hour to spend on your hair styling, makeup, and skin care routines. Of course, it's a one-time adjustment, until DST comes around again in November, that is. But, even when you get used to the time change, you'll notice it's regularly darker in the morning after time springs forward, making it much less appealing to wake up early and get ready for the day. Hence, why you may want to cut down on your beauty routine as much as possible once Daylight Savings Time hits. No more taking time to give yourself the perfect blow out or meticulously layer your makeup. In honor of Daylight Savings Time, here are eight beauty tips for speeding up your beauty routine.
BEAUTY TIP #1: WASH YOUR FACE WITHOUT WATER
The way you normally wash your face—with a facial cleanser and water—may not seem terribly time-consuming, but that's because you've likely never tried any other option. As it turns out, if you get clean with a rinse-free facial cleanser instead, you can save yourself quite a bit of time in the long run. Making the switch to a micellar water, which doesn't require water, gives you the chance to cut two steps from your skin care routine: rinsing and drying off. Convinced? Pick from these three options: the L'Oréal Paris Micellar Cleansing Water Complete Cleanser – Normal to Dry Skin hydrates and soothes, the L'Oréal Paris Micellar Cleansing Water Complete Cleanser – Normal to Oily Skin purifies and mattifies, and the L'Oréal Paris Micellar Cleansing Water Complete Cleanser Waterproof – All Skin Types intensely purifies. Once you have one selected, saturate a cotton pad with the liquid and sweep it over your skin. That's all there is to it!
BEAUTY TIP #2: APPLY A MULTI-TASKING MOISTURIZER
Everyone knows moisturizers have one main job—to moisturize (duh)—but that isn't all they're good for. Moisturizers come in all varieties, offering everything from anti-aging benefits to skin tone-correcting to SPF. Instead of choosing a moisturizer that only offers moisture, pick one that does more. Here are a few of our best options:
L'Oréal Paris Age Perfect Hydra Nutrition Manuka Honey All Over Balm - Face/Neck/Chest/Hands: Formulated with manuka honey and nurturing oils, the balm wraps skin in soothing moisture to soften skin that feels tight and uncomfortable. This moisturizer can be used on your face, neck, chest, and hands, allowing it to be the ultimate multi-tasker.
L'Oréal Paris RevitaLift Cicacream Face Moisturizer Pro Retinol & Centella Asiatica: Formulated with Pro-Retinol and centella asiatica. this lightweight, protective cream strengthens skin's barrier and helps resist visible lines, loss of firmness, and other signs of aging. Immediately skin feels softer and smoother, while the skin barrier becomes stronger, helping to resist signs of aging over time.
L'Oréal Paris RevitaLift Bright Reveal Brightening Day Moisturizer SPF 30: Formulated with glycolic acid, Pro-Retinol, and vitamin C, this daytime moisturizer immediately makes skin appear brighter, while dull, uneven skin tone is renewed with continued use over time. This moisturizer is also formulated with broad-spectrum sunscreen SPF 30, so apply as directed.
L'Oréal Paris AgePerfect Cell Renewal Rosy Tone Moisturizer: Formulated with imperial peony and LHA, this intense daily moisturizing cream for mature skin gently exfoliates dull skin and revives skin's natural pink tone for a smooth, renewed, and younger-looking complexion.
BEAUTY TIP #3: PREP WITH ILLUMINATING PRIMER
When you're trying to speed up your routine and looking for every possible step you can skip, it's easy to assume primer isn't absolutely necessary, but think again. Primer isn't just an extra step in your makeup routine, it can make all the difference in how your makeup applies and appears. Not only do primers help your makeup last longer and go on more smoothly, as they're known for doing, but with the right product, they can hydrate and illuminate, too. Try the L'Oréal Paris Infallible Pro-Glow Lock Makeup Primer.
BEAUTY TIP #4: COVER UP AND COLOR CORRECT
Asking yourself to choose between saving time and concealing imperfections isn't fair. And thankfully, you don't have to! Layering color correctors, concealers, foundations, and face powders may be effective for hiding everything from dark spots to blemishes, but it certainly can eat up a lot of time. To have the best of both worlds—time and coverage—switch to using a color correcting BB cream, like the L'Oréal Paris Magic BB Anti-Redness (For All Skin Tones) or L'Oréal Paris Magic BB Anti-Fatigue (For All Skin Types). Both BB creams combine four beautifying actions into one product: neutralizing the look of redness or reviving tired-looking skin (depending on which you choose), correcting skin color for a healthy looking, even complexion, hydrating for all-day moisture, and perfecting your skin.
BEAUTY TIP #5: ALLOW HAIR TO AIR DRY
There's no doubt a blowout can look seriously stunning, but blow-drying your hair isn't the fastest (or easiest) task. If you're looking to cut down on your beauty routine, heat styling is one of the first things that can go. Allowing your hair to air dry will be much quicker, and you don't have to compromise on how good your hair looks. While your strands are still damp, spritz with the L'Oréal Paris Advanced Hairstyle AIR DRY IT Wave Swept Spray and scrunch. Then, all you have to do is wait for your hair to dry on its own for effortless, loose waves.
BEAUTY TIP #6: STYLE HAIR WHILE SLEEPING
Wouldn't it be nice to wake up with your hair already done? Well, we've found a way to get pretty close to achieving just that. Before bed, after spraying your hair with a wave-making spray, put your tresses into braids. Sleep with your hair as is, and when you get up in the morning, let your locks loose. Finger comb through your hair, and ta-da—you have curling wand-worthy waves. Use a little hair spray to set and you'll be good to go.
Editor's tip: Worried about frizz developing as you sleep? Use a silk pillowcase or wrap your braids in a silk scarf!
BEAUTY TIP #7: WEAR A STATEMENT LIPSTICK
One of the quickest ways to pull together your beauty look when you're short on time is to swipe on a standout lip color. It only takes a moment but your pout instantly becomes the focal point of your look and makes it appear as if you've put in more effort than you really have. So, go ahead and add a few fun shades of the L'Oréal Paris Colour Riche Ultra Matte Highly Pigmented Nude Lipstick to your makeup collection pre-DST.
BEAUTY TIP #8: SET YOUR MAKEUP
Another must when it comes to cutting down your beauty routine? A setting spray! While this may not help you right off the bat, a setting spray will keep you from needing to reapply your makeup throughout the day. After applying your makeup, spritz your face in "X" and "T" motions with the L'Oréal Paris Infallible Pro-Spray & Set Makeup Extender Setting Spray to rock a "just applied" makeup look all day long.
Still in need of more ways to speed up your routine? Check out our articles, Time-Saving Beauty Hacks: How to Do Your Makeup Fast and 5 Hair Hacks to Get Out the Door Faster.
Discover more tips & tricks
Keep your skin happy
See all articles