sun care and self tanning
How To Get the Perfect Wedding Spray Tan
Practice does make perfect.
July 01, 2022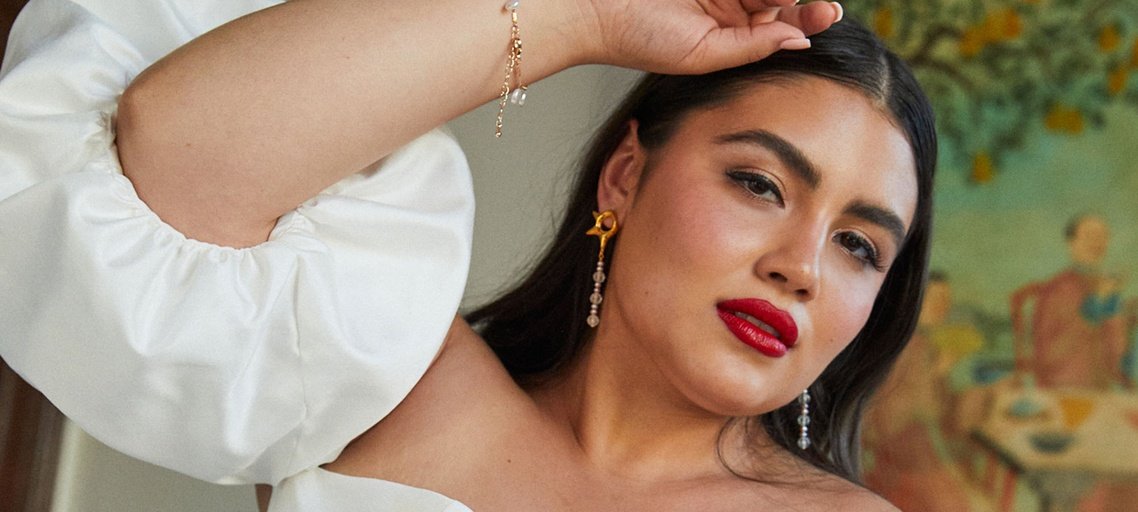 When you dream of your wedding day glam, you probably imagine yourself with a romantic updo to accompany your soft-glam makeup and sun-kissed skin to spotlight your dreamy dress. This special day is all about looking and feeling your best and the perfect spray tan can help you do exactly that with no UV risk. Keep reading to learn all our tips and tricks for achieving your perfect wedding spray tan.
Is a Spray Tan Good For a Wedding?
If you've never gotten a spray tan before, getting one for your big day may feel out of the norm or even a little risky. A natural tan is tempting but the last thing you want to worry about on your wedding day is a sunburn, plus every time you tan you're exposing yourself to sun damage.
Everyone hears about spray tan disasters but there are so many times when they look so natural people can't even tell you have one. A spray tan offers a sure thing come time for your big day and with the right preparation you could have a happy outcome.
How Soon Should I Get a Spray Tan Before My Wedding?
The sweet spot to get your spray tan is two days before your wedding. This way, your spray tan is still fresh without smelling like a fresh spray tan and has time to settle and dry which is ideal for avoiding transfer and any fading.
How Should I Plan For My Wedding Spray Tan?
There's a reason why the saying goes "practice makes perfect," and the best way to perfect your spray tan is to try it on for size. Keep reading to see our list of essential tips to help you discover your perfect wedding spray tan.
1. Do Your Research
Many brides test out different hairstylists and makeup artists before their big day and the same energy needs to be applied to your spray tan. For your wedding — do you want to get a spray tan in a booth or a spray tan from an artist? Choosing an artist over a machine in a booth is a better option for a more precise and custom tan that is tailored to your liking.
2. Do a Trial Run…or a Few
In the three months leading up to your wedding, use this time to test out different spray tans and expel any pre-wedding spray tan jitters. You may not find your perfect spray tan on the first try and that's totally okay. Try different shades and formulas, experiment, ask questions and adjust — this period of time before your wedding is meant for just that. The right spray tan is supposed to make you feel instantly confident in your skin so use that as a guide while you do your trial runs.
We mentioned that the best time to get your spray tan is two days before your wedding. When you're testing spray tans, consider what it looks like on day two because that is what it's going to look like at your wedding.
If you've never gotten a spray tan before, try out a self-tanning mousse like the L'Oréal Paris Sublime Bronze Self-Tanning Water Mousse weeks (or months) before the big day. This self-tanning mousse offers a natural, sun-kissed glow that is customizable to your liking. If you like the results, use it as inspiration for your wedding spray tan.
Editor's tip: Schedule your practice spray tan a couple of days before your practice hair and makeup so you can see the whole look come together before your big day.
3. Pick the Right Shade
An orange spray tan is a bride's worst nightmare and testing out your spray tan before your wedding day is the single best way to avoid that. While looking orange is absolutely not the goal, you also don't want to pick a shade that is too dark and you don't want to look like you didn't get a spray tan at all.
Use your test rounds to find the right shade for your skin tone and liking. Maybe you want a spray tan solution with green undertones to color correct any redness or a darker shade to mimic your natural skin after a sun tan — the only way you'll discover these things is with trial and error.
Ultimately, the right shade is one that is true to yourself while also highlighting your dress — keep in mind that a spray tan may look darker when paired with a white dress so you're better off going lighter than going darker.
4. Schedule Accordingly
As you get closer to your big day, remember to schedule your wedding manicure before your spray tan and to schedule your hair and makeup for after. Soaking your hands in water and soap along with using acetone can cause your spray tan to break down and fade. The last thing you want is pale hands and fingers contrasted with bronzed, tan arms on your wedding day.
Editor's tip: Remember to wipe down your wedding manicure post-spray tan to avoid any semblance of orange nails.
How Do I Prep for My Wedding Spray Tan?
Once you've found the right shade, the key to a good spray tan lies in the prep beforehand. Keep reading to see all the steps you should take to prep for your wedding spray tan.
1. Decide on Hair Removal
Are you going to shave or wax before your wedding? Both have their own pros and cons but it's super important to make a decision because you want to finish all hair removal before your spray tan. Removing all hair will give your body a seamless, exfoliated canvas that will allow your tan to look its best while ensuring that it lasts.
2. Exfoliate
Exfoliating, like hair removal, is an essential step when leading up to a spray tan. Exfoliate your body from head to toe and pay close attention to dry areas like the elbows, knees or feet. If you have old self-tan or spray tan on, make sure to remove all of it because you don't want to apply the new one over the old one.
Don't forget to exfoliate your face — reach for a gentle scrub that will do the job without irritating your skin, like the L'Oréal Paris Pure Sugar Resurface & Energize Kona Coffee Scrub.
3. Moisturize Before Tanning
Moisturizing before your spray tan is all about timing. A spray tan applies and wears better on hydrated skin but that doesn't mean apply moisturizer right before your appointment. Any moisturizer, deodorant or product on the skin will affect the way your spray tan adheres. Moisturize on the days leading up to your spray tan but not the day of.
How Do I Care for My Wedding Spray Tan?
After your spray tan, your artist will tell you when you can wash off your tan and that's usually between four to eight hours. This period of time before washing off your tan is essential for letting the color develop on your skin.
Once you wash off your spray tan, moisturize with an oil-free body lotion and do so every day leading up to your wedding and after to help your tan last. Avoid extra hot showers, exfoliation and sweaty workouts leading up to your wedding to preserve your perfect spray tan you worked so hard for.
Next: 5 Tricks to Make Your Self-Tanner Last Longer
Written by: Reece Andavolgyi, Photo by: Chaunte Vaughn
Discover more tips & tricks
Keep your skin happy
See all articles
Improve your routine
Show your new look more love:
makeup