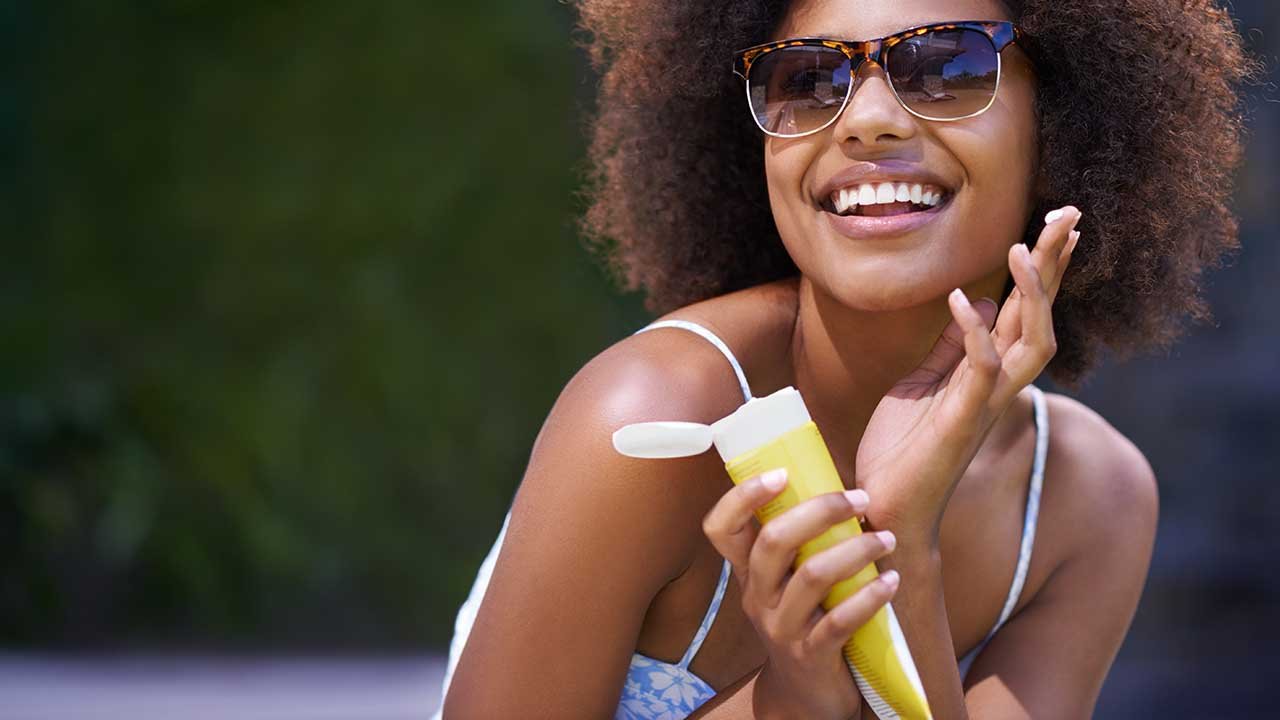 sun care and self tanning
7 Sunscreen Myths to Stop Believing Now
You slather on the broad-spectrum sunscreen before heading out for a day at the beach—but when it comes to the other days of the year, it's totally cool to not make SPF part of your skin care routine…right? Er, not so fast. When it comes to the right way to use sunscreen, it turns out you could be in the dark. We're debunking common sunscreen myths and sharing some of the most important sun-related skin care rules right here so that you can start making smarter choices. From how to reapply sunscreen to how to multi-task by wearing moisturizer with SPF to how to get a tan the safe way with self-tanner, we've got you covered.
SUNSCREEN MYTH #1: ALL SUNSCREENS PROTECT AGAINST UVA AND UVB RAYS
Nope, not so. When it comes to sunscreen, you should be reaching for one that is broad-spectrum, meaning that it protects against both UVA and UVB rays. The Food and Drug Administration (FDA) recommends using a broad-spectrum sunscreen with an SPF value of 15 or higher regularly and as directed.
SUNSCREEN MYTH #2: YOU DON'T NEED TO WEAR SUNSCREEN EVERY DAY
If you're the kind of person who only uses sunscreen on vacation when you're sitting by the pool, it's time to change that. It's important to wear SPF every single day—rain or shine—since, according to the Skin Cancer Foundation, you can get burned even on cloudy days. An overcast day doesn't mean you're safe from the sun, and spending time out in the sun sans protection can lead to damage, which can show up as visible signs of aging like dark spots and fine lines and wrinkles down the road. Hence why sunscreen should be part of your daily beauty routine.
SUNSCREEN MYTH #3: YOU DON'T NEED TO REAPPLY IT
OK, now you know that you should wear SPF on the daily. So, you'll just apply one before you head out the door for the day and that's it. Well, hear us out: The FDA recommends you reapply sunscreen every two hours—or more frequently if you'll be swimming or sweating. Be sure to toss a bottle in your purse so that you have it on hand for reapplication.
SUNSCREEN MYTH #4: YOU JUST DON'T HAVE TIME TO USE IT
We get it: You're busy. But that doesn't mean you have to skip out on the SPF. If you're pressed for time, opt for a moisturizer formulated with broad-spectrum SPF, like the L'Oréal Paris RevitaLift Bright Reveal Brightening Day Moisturizer SPF 30, to help cut back on the number of steps in your skin care routine. Make this the last step in your morning skin care routine in the morning before moving on to makeup.
SUNSCREEN MYTH #5: YOU DON'T NEED TO PROTECT YOUR LIPS
According to the Skin Cancer Foundation, one of the most commonly overlooked areas when it comes to sun protection is the lips. It's time to pay attention to your pout! Swipe on a lip balm formulated with broad-spectrum SPF and store a tube in your tote for easy access.
Editor's tip: Wondering what other areas you might be forgetting about? Small spots like the scalp, ears, and tops of the feet are often forgotten. That means make sure you hit your ears and feet with your SPF, and if you wear your hair parted, dust on a powder sunscreen before heading outdoors.
SUNSCREEN MYTH #6: THERE'S NOTHING ELSE YOU CAN DO TO PROTECT YOUR SKIN FROM THE SUN
Wearing sunscreen is the only way to help protect your skin, isn't it? Not true! The FDA advises wearing sunglasses, a broad-brimmed hat, and long sleeves in addition to using sunscreen. The FDA also recommends seeking shade, especially during peak sun hours, which are between 10 a.m. and 2 p.m.
SUNSCREEN MYTH #7: THERE'S NO SAFE WAY TO GET A TAN
We get that sometimes you want some golden color—but spending time in the sun sans protection is not the way to do it. The good news is that there is a way to get a tan without even going outside. It's time to get familiar with self-tanner! There are plenty of different types of self-tanner formulas out there, so you should be able to find one that fits your needs pretty easily. We recommend trying a gradual tanner, like the L'Oréal Paris Sublime Bronze™ Hydrating Self-Tanning Milk Medium.
What's next on the myth-busting agenda? Self-tanner, of course! Read up on the 4 Self-Tanner Myths You Should Stop Believing Now.
Discover more tips & tricks
Keep your skin happy
See all articles
Shop Featured Skin Care products
Discover More