skin care essentials
What Does Aftershave Do? The 4-1-1 On Shaving Aftercare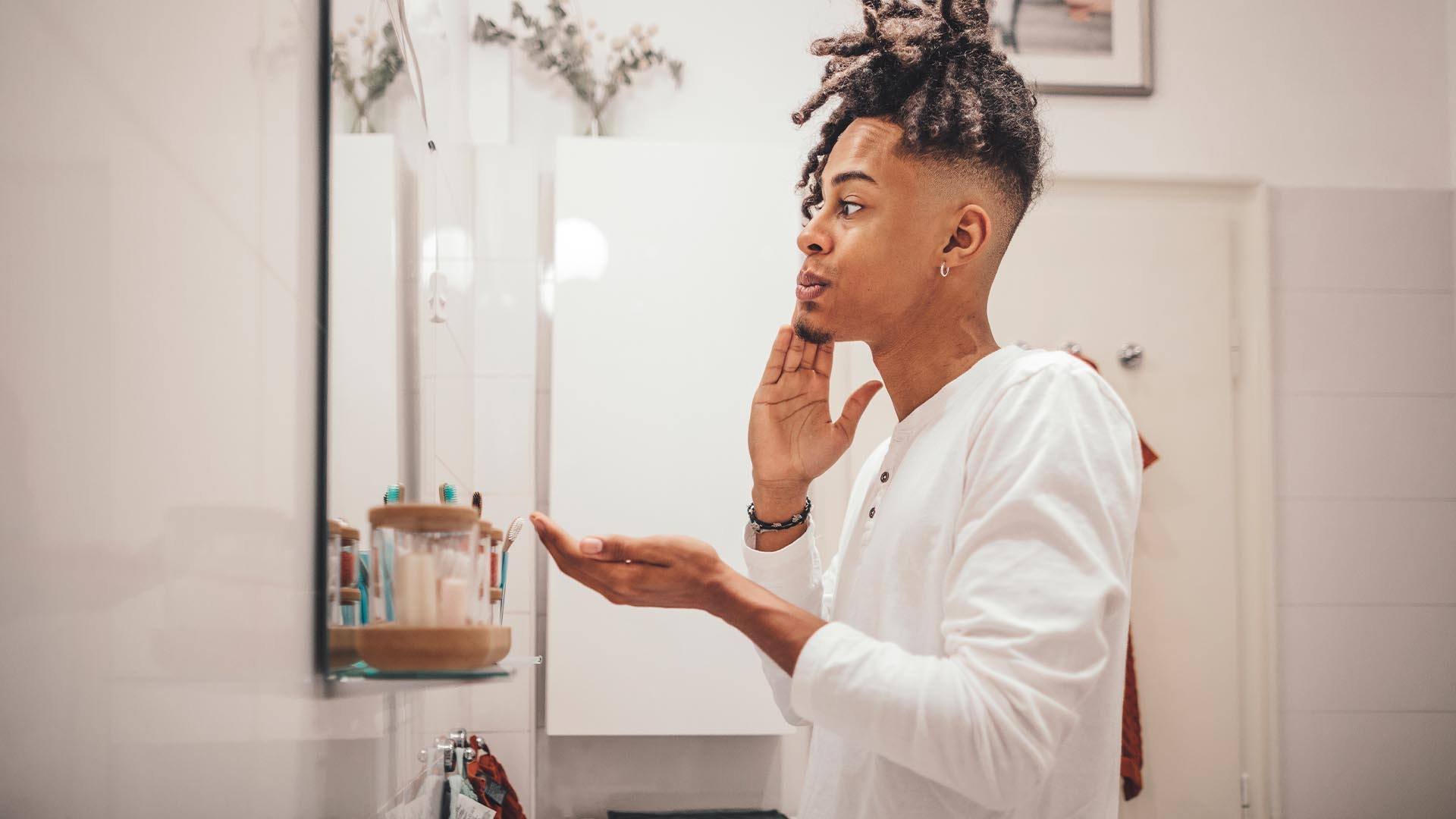 When it comes to men's grooming, your skin can take quite the beating after a round of shaving. While you may keep a moisturizing shaving cream, face moisturizer, and clippers handy, that's not all your skin needs to look and feel its best. So, it's no surprise that aftershave has become a permanent fixture for many grooming routines.
If you're wondering, "What does aftershave do?", you're in for a real treat. This grooming essential is known to provide the skin with many benefits for a seamless shave. Not to mention, you'll be able to take your regimen to the next level. If you're ready to see what this product brings to the table, we're here to provide some clarity. Ahead, we're answering the highly-anticipated question: what does aftershave do?, along with tips for using this essential in your grooming routine.
WHAT IS AFTERSHAVE?
You may have already guessed it, but aftershave is a skin care product used by men post-shaving. This essential is formulated with astringents and/or moisturizing ingredients that work to calm irritation, redness, razor burn, and other skin care concerns that occur after shaving. In other words, you can consider aftershave as a protective shield for your skin. Typically, you can find aftershave products in liquid, gel, lotion, or balm formulas to suit your needs.
DO YOU NEED TO USE AFTERSHAVE WITH EVERY SHAVING SESSION?
Since there are tons of products on the market geared toward men's grooming, it's easy to think that you can pass on aftershave. The truth is, it's all up to you. As we mentioned, aftershave comes in handy to address various concerns that can cause you discomfort post-shave. Plus, it's a fabulous way to show your skin some extra TLC after wielding a razor to your face. So, if you find yourself struggling to manage irritated skin after your shave session, it'd be wise to make aftershave a staple product in your routine.
WHAT IS THE DIFFERENCE BETWEEN AFTERSHAVE AND COLOGNE?
It's not common to see some men use cologne after applying aftershave. However, both of these essentials have key differences that you need to know. For starters, aftershave is a skin care product that's sole purpose is to protect your skin after shaving. This essential helps to soothe skin from the effects of hair removal. Depending on the formula, you can also count on this offering to provide ample sun protection with a scent. On the flip side, cologne is nothing more than a product used to make you smell good. Colognes do not tout the benefits of an aftershave and can't protect your skin.
OUR BEST AFTERSHAVE
Now that you know all about the wonders of using aftershave in your grooming regimen, you're probably ready to get your hands on this essential. Of course, we don't blame you. Allow us to introduce you to our best aftershave, the L'Oréal Paris Men Expert Hydra Energetic After Shave Balm. This offering is formulated with vitamin E to provide your skin with the nourishment it needs sans alcohol. You can count on this balm to protect your skin from every day shaving and soothe razor burn, redness, and excessive dryness. We also dig that it contains broad-spectrum SPF 15, which works in your favor to shield your skin from UV rays.
HOW TO USE OUR AFTERSHAVE IN YOUR GROOMING ROUTINE
If you're ready to see how an aftershave can transform your skin, we're here to show you the way. Follow our step-by-step routine below to make some magic happen.
STEP #1: CLEANSE YOUR SKIN
Before you reach for a razor, it's important to start your grooming routine the right way. That means kicking things off with a round of cleansing. This will help get rid of any dirt, oil, and debris from your skin to keep your face in shape. Grab a facial cleanser that's formulated for men's skin like the L'Oréal Paris Men Expert Hydra Energetic Extreme Cleanser Infused with Charcoal. This pick fights the five problems caused by daily city grime: oily skin, dirt, stickiness, dullness, and clogged pores. It also eliminates impurities and excess oils to keep your skin fresh and healthy. Massage the product onto wet skin and gently massage it all over your face, focusing on the forehead, nose, and chin. Rinse with lukewarm water.
STEP #2: SMOOTH ON SHAVING CREAM
While your skin is wet, apply an even layer of shaving cream or gel to the area you want to shave.
TIP #3: BE GENTLE
It can be easy to get rough with a razor, but pressing too hard can adversely affect your skin. Play it safe and always use a gentle hand so you can prevent any cuts or nicks. Rinse off your skin to remove any stray hairs or leftover shaving cream from your face.
TIP #4: APPLY AFTERSHAVE
Now that your work with a razor is over, it's time for the aftershave to do its job. Rub a dime-sized amount of the product between your palms and apply it all over your face.
Discover more tips & tricks
Keep your skin happy
See all articles
Shop Featured Skin Care products
Discover More