skin care essentials
Under Your Skin: Serum 101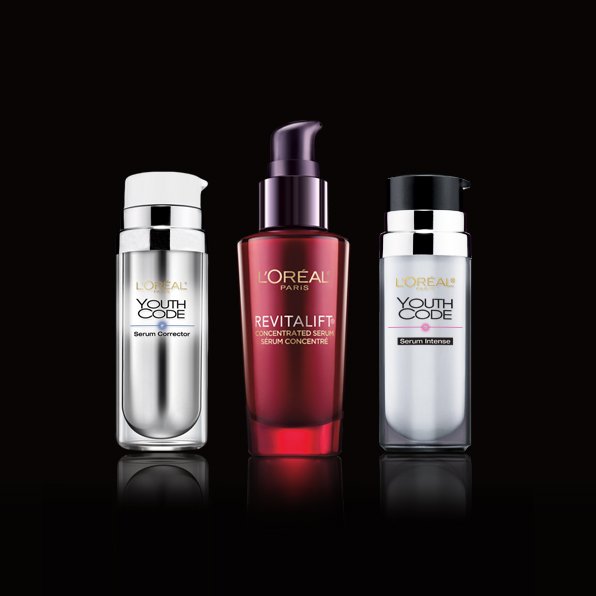 Dream Regime
A cleanser will get your face squeaky clean, a moisturizer will keep the texture smooth, and a night cream will help lock in moisturizing nutrients while you sleep. So what's missing from your routine? A drop of concentrated serum to penetrate deep into the surface layer and energize the skin.
Skintervention
If beauty is only skin deep, serum is the stuff that gets furthest from the surface.
Facial serum is a powerful supplement that your skin loves to drink up. Serums pack a high concentration of active ingredients in a small bottle. They reach deep into the surface layer of the skin helping to provide firmness and elasticity.
The best part about serum is its saturating nature, which yields faster, more nourishing results.
The Perfect Formula
There are many types of serums to choose from based on skin concern.
Your go-to serum should be one that boosts the skin's own ability to recover from everyday damage. Youth Code™ Serum Intense is a potent yet lightweight product that works with the skin's natural healing powers, giving it an instantly youthful looking quality.
If your dry skin calls for some heavier lifting, RevitaLift® Triple Power™ Concentrated Serum takes a 3-dimensional approach to anti-aging: fight wrinkles, replenish volume and resurface skin texture.
Youth Code™ Dark Spot Correcting & Illuminating Serum Corrector is a formula that helps skin visibly reduce the signs of past damage and discoloration.
Assess your skin type and notice what it's missing—a serum might be just what your skin's asking for.
Lay It On Me
Don't get carried away—when it comes to serums, less is always more.
Start by warming the serum in your hands; applying cold products to the skin will cause pores to close up and absorb less effectively. Using your finger, dab the serum on your forehead, corners of the eyes, cheeks, tip of the nose, and chin. Spread in an upward and circular motion.
Here's how serum should fit into your daily regimen:
Morning- Cleanser, serum, eye cream, SPF lotion, primer
Night- Cleanser, exfoliating scrub (if needed), serum, night lotion or cream
Discover more tips & tricks
Keep your skin happy
See all articles
Shop Featured Skin Care products
Discover More