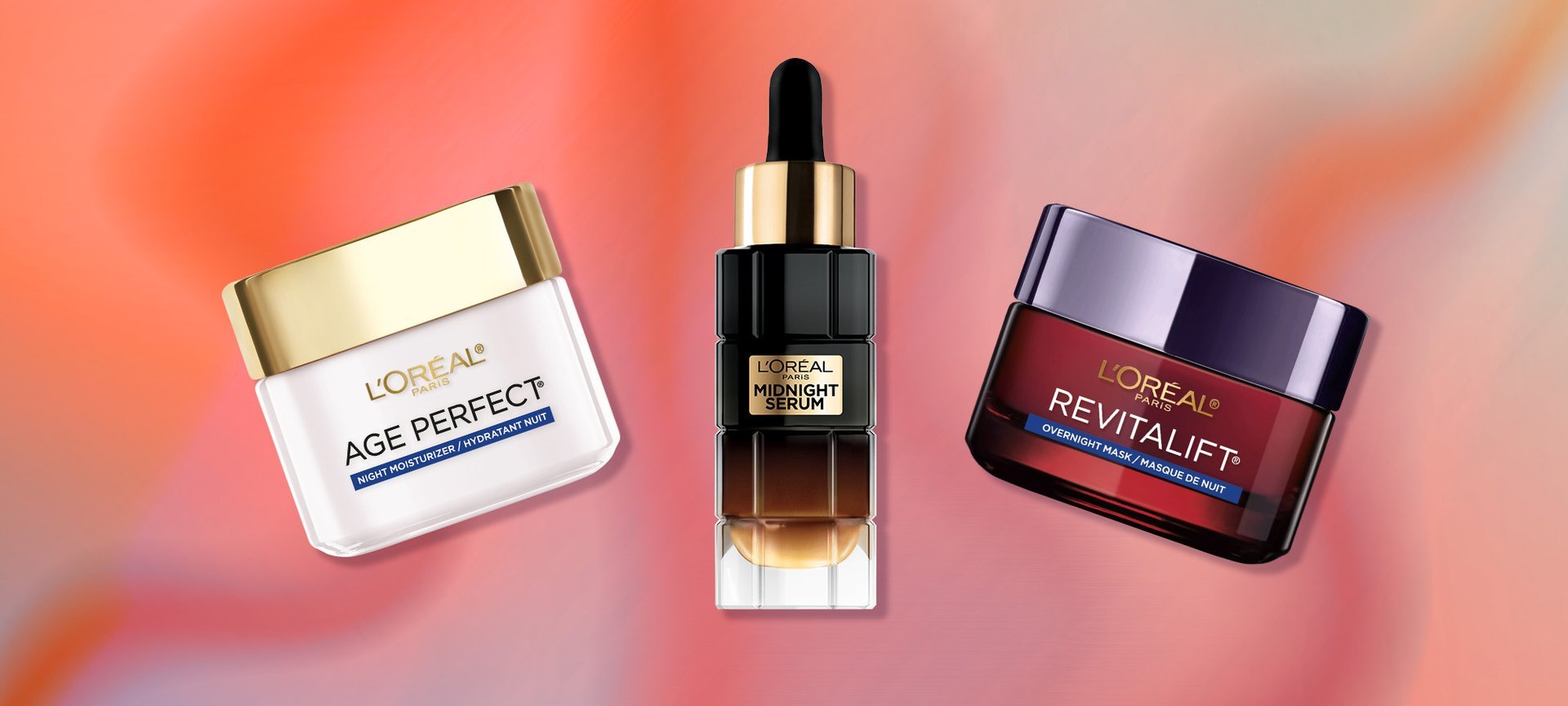 skin care essentials
11 Nighttime Skin Care Must-Haves To Stock For Fall
Don't sleep on your skin care needs.
We all have our own unique nighttime rituals. But taking care of your skin is one we should all share. After a long day, it's important to remove your makeup and wash off the dirt and oils from your face. Whether you're a night owl or early sleeper, your evening skin care routine doesn't have to be elaborate. With the right combo of nighttime skin care products, you can make the most of your beauty sleep. So we're sharing 11 of the best nighttime cleansers, moisturizers, and serums to help put your best face forward this fall.
The Best Facial Cleansers To Use At Night
No matter the time of day, the first step in any skin care routine is a facial cleanser. From foam cleansers to facial wipes, there are many different formulas on the shelves, and most can be used day and night. Just be sure to choose the best facial cleanser for your skin type and skin care concerns. Check out some of our favorites below.
For an around-the-clock face wash, this creamy cleanser is always on time. Its gentle formula removes traces of dirt and makeup without drying the skin, for a softer and smoother feel. The added benefits of replenishing oils like jojoba and macadamia nut oil make it a great facial cleanser for dry and mature skin.
This water-based cleanser is an excellent no-rinse face wash option. It's powered by micelle molecules that gently lift away impurities and makeup with no rinsing or harsh rubbing. This cleansing water is alcohol-free so it's safe to use on your face, eyes, and lips.

L'Oréal Paris Revitalift Derm Intensives 5% Glycolic Acid Peeling Toner
A facial toner
helps to remove dirt, excess oil, product residue, and any other impurities from your skin's surface after cleansing. This peeling toner is formulated with 5 percent
pure glycolic acid
to remove dead skin cells and
aloe vera
to soothe and moisturize the skin. Its gentle formula is designed for daily use and is suitable for all skin types and tones.
On those nights when you're just too exhausted to make it to your sink, face cleansing towelettes can be a skin care savior. These ultra-soft wipes are formulated with vitamin E and dissolve dirt, oil, and all traces of makeup — even waterproof mascara. They're dermatologist and ophthalmologist tested and alcohol-free, making them suitable for use on the eyes and all skin types.
The Best Serums To Use At Night
A night serum is a great way to give your skin a beauty boost while you catch some shut-eye. Depending on the ingredients, some facial serums are specifically formulated for either day or night use. So be sure to check the labels for details. In the meantime rest assured with these night serums created to take the overnight shift in your skin care routine.

This replenishing serum is formulated with an antioxidant recovery complex that replenishes skin while you sleep. Derived from bitter orange and vitamin E, this complex not only helps the skin reveal new cells but also reinforces the skin's moisture barrier. It works overnight to reduce wrinkles and makes the skin feel firmer and appear more radiant and youthful when you wake.
One of the best ways to experience the benefits of alpha hydroxy acid (AHA) is with a serum. Formulated with aloe to soothe the skin and a high concentration of glycolic acid, this serum visibly evens skin tone, reduces dark spots, fine lines & wrinkles. For sensitive skin, start by using face serum 2-3 times per week and build to nightly use.
Formulated with our highest concentration of pure retinol, this night serum fights key signs of aging, including wrinkles, and works to smooth and brighten your complexion. It's also formulated with glycerin and hyaluronic acid to balance the potential drying effects of retinol. Plus, it's paraben-free, fragrance-free, and is suitable for all skin types. To acclimate your skin to using retinol, start by applying the serum a few nights a week, then build nightly use if tolerated.

The Best Moisturizers To Use At Night
Night creams are intensely hydrating moisturizers, formulated with skin care ingredients like collagen, glycolic acid, and retinol which work best on resting skin. Night creams often have a thicker consistency that blankets the skin with hydration and helps to repair signs of aging and moisture loss while the skin is in repair mode. We love these picks for those reasons.
This night moisturizer is formulated with collagen peptides and an exclusive Antioxidant Recovery Complex that helps to recover the skin's antioxidant reserves night after night. So you can still reap anti-aging benefits in your sleep. With continued use, new cells are revealed, and skin appears younger with fewer wrinkles.
This night moisturizer is formulated with an exclusive Antioxidant Recovery Complex that also helps to recover the skin's antioxidant reserves. The rich creamy texture comforts and nourishes the skin, resulting in fewer wrinkles and a younger appearance.
This powerful and innovative night cream is the newest addition to the Revitalift beauty regimen. Its unique formula is created by freshly pressing retinol, niacinamide, and nourishing oils into a lightweight yet deeply hydrating cream. This moisturizer is packed with a 12 percent complex of nourishing ingredients, including panthenol, glycerin, and hyaluronic acid for an added moisturizing boost. It visibly reduces wrinkles, evens tone, and is suitable for all skin types. To introduce your skin to this retinol night cream, start by applying one pea-sized pump two nights per week for the face, under the eyes, and on your crow's feet, being sure to avoid the eyelid. Then build up to nightly use as tolerated.
Next: An Easy 4-Step Nighttime Skin Care Routine

Written by: Lauren Paige Richeson, Photo Credit: Design: Sarah Duvivier
Discover more tips & tricks
Keep your skin happy
See all articles
Improve your routine
Show your new look more love:
makeup