skin care essentials
How to Cut Your Morning Skin Care Routine in Half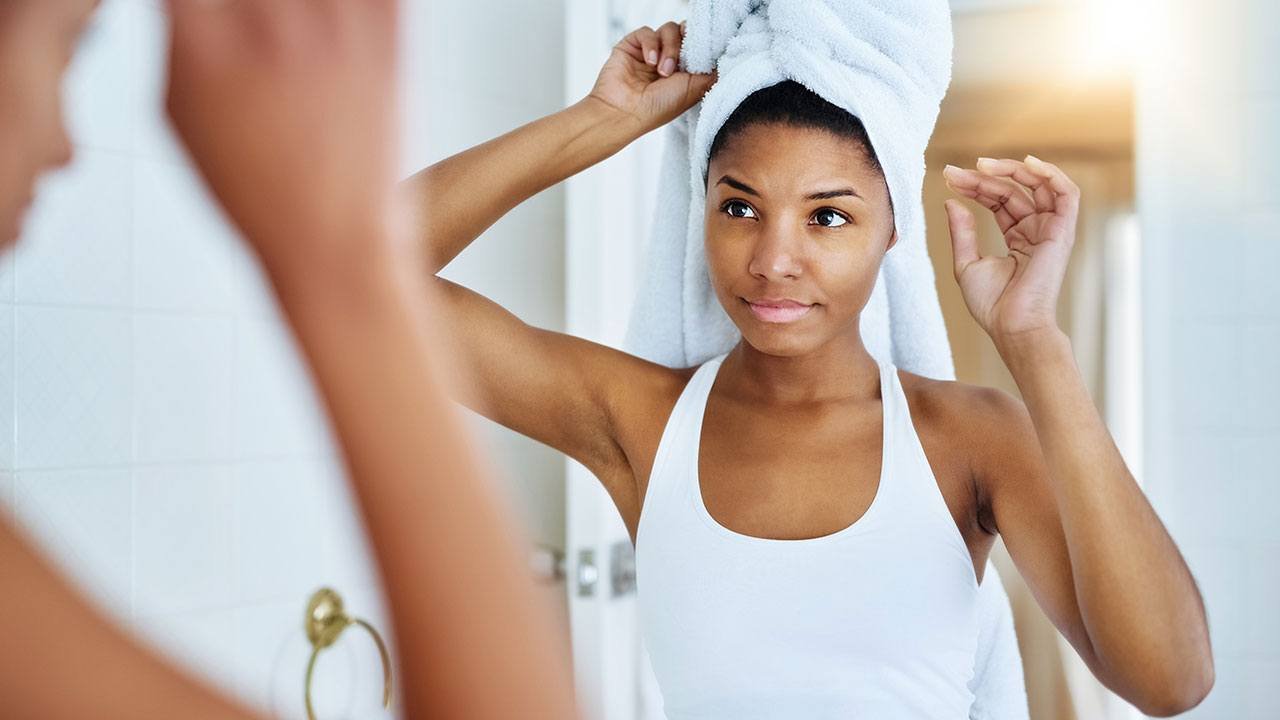 In the morning, it's safe to say that nothing is more precious than time. Whether it's a few extra minutes to catch more glorious sleep or enjoy a cup of coffee, every single minute counts. Which makes it a minor—OK, major—annoyance when your skin care routine starts sucking up all of those minutes. Keeping things quick can be extremely tricky, but we're here to help you with the challenge. Keep reading to find out how to cut your morning skin care routine in half. Just imagine the blissful shut eye you could be dedicating that time to instead!
Morning Skin Care Tip #1: Shower Before Bed
If you're waking up 30 minutes early to fit in a steamy shower, there's only one question. What are you thinking? Showering at night is the way to go. Take a bit of time before bed to bathe, handling everything from washing your hair to shaving your legs. (By the way…make sure you're shaving the right way by reading our how-to guide.) Slip between your sheets feeling fresh and clean, and get a restful night's sleep knowing you already saved yourself some serious time in the A.M.
Morning Skin Care Tip #2: Work on Your Skin While You Sleep
Just because you're not actually awake doesn't mean you have to stop taking care of your skin. Apply an overnight face mask prior to hitting the pillow to help hydrate and improve the appearance of your skin. Try the L'Oréal Paris RevitaLift Triple Power™ Intensive Overnight Face Mask. When it's time to wash in the morning, just cleanse your skin as you normally would. No special face mask removal technique necessary! The happier you are with how your complexion looks, the less time you'll have to dedicate to covering up your face in foundation and concealer.
Morning Skin Care Tip #3: Cleanse Without Water
Don't tether yourself to the sink—stick with a cleanser that doesn't require rinsing. Micellar waters are rinse-free cleansers powered by tiny micelles—oil molecules—that act as a magnet to lift dirt, oil, and makeup up and away from your skin. All it takes is saturating a cotton pad with the liquid and sweeping it across your skin until completely clean. No sink necessary means you can get clean just about anywhere—perfect for those on the go all morning long. Cleanse quickly with the L'Oréal Paris Micellar Cleansing Water Complete Cleanser for Normal to Oily Skin, L'Oréal Paris Micellar Cleansing Water Complete Cleanser for Normal to Dry Skin, or L'Oréal Paris Micellar Cleansing Water Complete Cleanser Waterproof – All Skin Types.
Morning Skin Care Tip #4: Pick "Double-Duty" Skin Care Products
Keep your morning routine short and sweet by condensing the number of skin care products you use in your morning routine. Don't worry, there's a way to scale back without missing out on the benefits of all your faves. Pick skin care products that serve more than one purpose, making them all the more worth your time.
1. Moisturizer + broad-spectrum sunscreen: Two things your skin is undoubtedly in serious need of: Moisture and sun protection. That's why combining the two makes serious sense. Apply a moisturizer formulated with broad-spectrum sunscreen, like the L'Oréal Paris RevitaLift Bright Reveal Brightening Day Lotion SPF 30, as directed. Remember to reapply every two hours or immediately after swimming or sweating, limit your amount of time in the sun, seek shade, and cover up exposed areas when you're outside.
2. Dark spot corrector + illuminator: Start to diminish the appearance of dark spots while giving your skin a radiant highlight with the L'Oréal Paris Youth Code™ Dark Spot Correcting & Illuminating Serum Corrector. Immediately, skin looks more luminous, while the look of dark spots is minimized with continued use over time.
3. Skin care + coverage: Sometimes makeup and skin care meet somewhere in the middle, and that's the case with BB cream. The L'Oréal Paris Magic Skin Beautifier BB Cream takes care of everything—hydrating, priming, perfecting, and correcting.
4. All-around eye cream: Don't settle for an eye cream that only addresses one issue. Choose one that can help decrease the appearance of crow's feet, dark circles, and puffiness with continued use over time, like the L'Oréal Paris RevitaLift Miracle Blur Eye.
On days when you find yourself with a bit more time, try these 7 Ways to Upgrade Your Morning Skin Care Routine.
Discover more tips & tricks
Keep your skin happy
See all articles
Shop Featured Skin Care products
Discover More