skin care essentials
6 Fall Skin Care Products for Men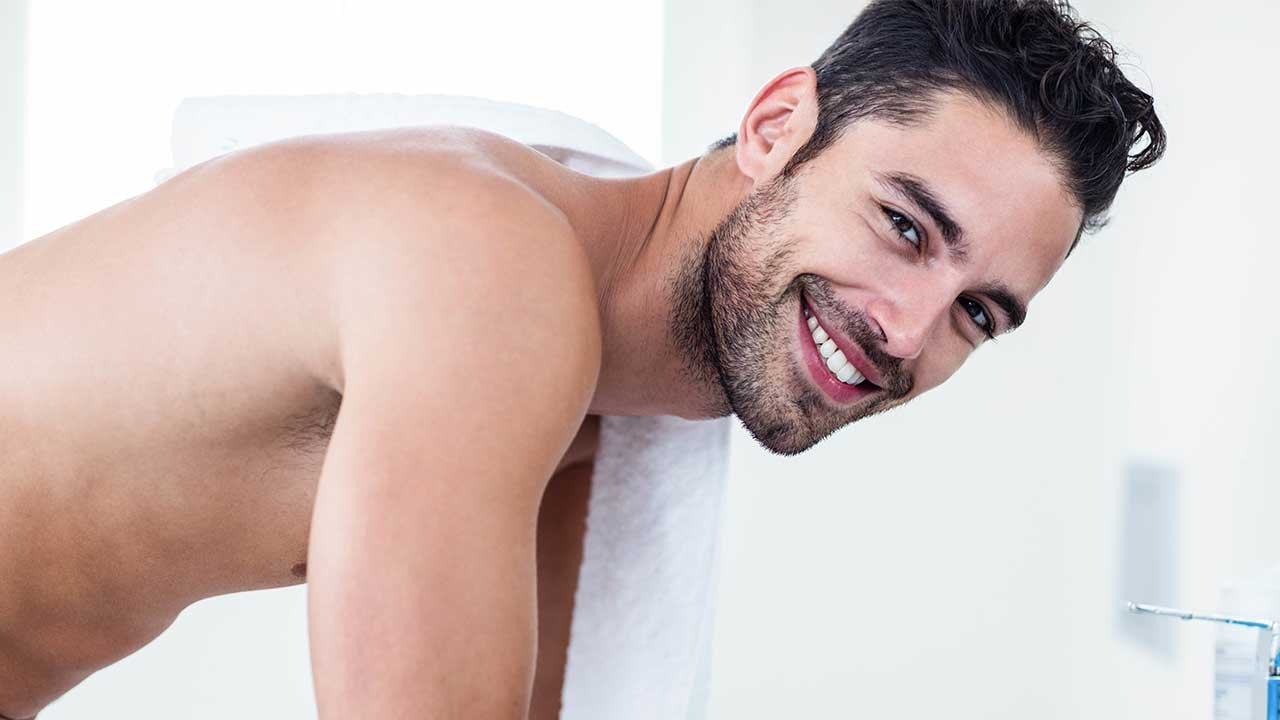 As the seasons change, your skin's needs are changing too. While you may think you don't need to put time and effort into creating a skin care routine, it's equally important for men and women to maintain consistent skin care regimens. If you've yet to do that, now's the perfect time to start. As the weather gets cooler and drier, you'll experience different skin care concerns and your complexion will be in need of TLC more than ever. To get you going, here are our best fall skin care products for men:
FALL SKIN CARE PRODUCT #1: CLAY CLEANSER
Have you noticed colder temperatures lately? You probably tossed on a sweater and didn't give it much thought, but the cooler weather could lead to skin that's dry and dull. To combat that fall side effect, use a brightening cleanser. The L'Oréal Paris Pure-Clay Detox & Brighten Cleanser brightens dull, tired skin and removes everyday impurities like dirt and excess oils. Use it in the morning and before bed to keep your skin looking perfectly clear.
FALL SKIN CARE PRODUCT #2: FACE MASK
Face masks aren't just for the ladies! Believe it or not, your skin needs pampering too. Face masks have a variety of benefits and can provide dry skin with the extra care it needs (and deserves!). To comfort your skin as the weather becomes more harsh, use the L'Oréal Paris Pure-Clay Clear & Comfort Face Mask Clear & Comfort. The formula of this face mask contains three pure clays and seaweed to clear and comfort stressed skin while reducing imperfections. Use it up to three times a week for 10 minutes to be left with purified, healthier looking skin.
FALL SKIN CARE PRODUCT #3: FACE SCRUB
Another skin care product you may not think you need? A face scrub! A face scrub is especially useful during the colder months of the year because it gently exfoliates dead skin cells from your face, leaving behind a smooth, even complexion. Try the L'Oréal Paris Pure-Sugar Nourish & Soften Cocoa Scrub. The buttery-soft sugar scrub is formulated with coconut oil, rich cocoa butter, and finely crushed cocoa. Use it three times a week for skin that looks more refined, healthy, and smooth.
FALL SKIN CARE PRODUCT #4: FACIAL MOISTURIZER
One of the most important skin care products for fall, regardless of gender, is a facial moisturizer. The fall is a time where many people are prone to having drier skin, so keeping it hydrated is key to achieving (and maintaining) an even, smooth complexion. The L'Oréal Paris Hydra Genius line provides skin with continuous, intense hydration and is perfect for this time of year. Depending on your skin type, use the L'Oréal Paris Hydra Genius Daily Liquid Care - Normal/Oily Skin, L'Oréal Paris Hydra Genius Daily Liquid Care - Normal/Dry Skin, or L'Oréal Paris Hydra Genius Daily Liquid Care - Extra Dry Skin.
FALL SKIN CARE PRODUCT #5: UNDER EYE CREAM
No matter the time of year, dark circles under eyes are a fact of daily life for many. Using an eye cream should be an essential part of your skin care routine to keep those unsightly circles at bay. The L'Oréal Paris Men Expert Hydra-Energetic Ice Cold Eye Roller is a lightweight serum formulated with caffeine and vitamin C to reduce dark under-eye circles and puffiness. Bonus: The roller format makes this hands-free product super easy to apply.
FALL SKIN CARE PRODUCT #6: AFTER SHAVE BALM
No-shave November is right around the corner, but there will still be times this fall where you want to have a clean, freshly shaved face. Since shaving reveals skin that is normally protected by hair, allowing it to be exposed to the elements, you'll want to be sure to pay that skin some attention. To keep skin moisturized post-shave, use an after-shave balm like the L'Oréal Paris Men Expert Hydra Energetic After Shave Balm, which moisturizes, soothes, and prevents excessive dryness.
Want more skin care tips for men? Head over to our article, The Ultimate Skin Care Routine for Men.
Discover more tips & tricks
Keep your skin happy
See all articles
Shop Featured Skin Care products
Discover More