skin care essentials
Our Best Eye Creams Formulated With Caffeine
For the pick-me-up your eye area needs.
January 25, 2022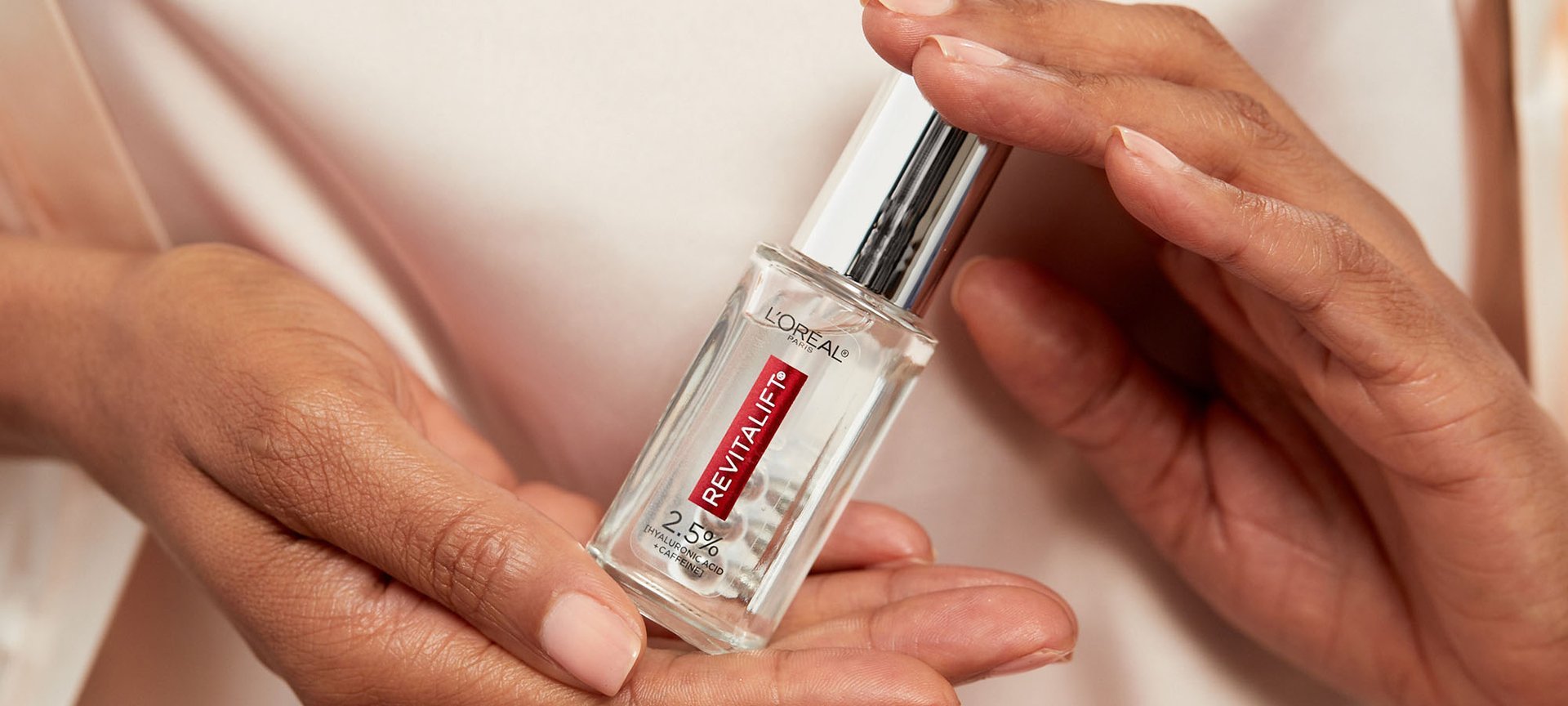 Oh the wonders of caffeine — we know them all too well on a Monday morning. That fresh cup of joe feels like everything you need when it's five alarm snoozes later and you're still dragging. And if you've been paying close attention, then you know that caffeine can also offer your skin the same pick-me-up. Yes — there are benefits of caffeine for skin, especially the skin under your eyes. This sensitive area can truly reap the rewards of caffeine's anti-inflammatory and antioxidant properties. If your interest is now piqued but you're not sure where to start, keep reading. We've got five eye creams formulated with caffeine to give your under-eye area just the TLC that it needs.
If your list of skin care concerns include under-eye woes such as crow's feet, puffiness, dark circles, bags and crepiness, then this is the eye cream to add to your regimen. The night to day treatment is made with an exclusive complex that includes bitter orange, and also has vitamin E and caffeine to help recover the skin's antioxidant reserves daily. It's your self-care gateway to younger-looking skin.
For the serum lover in you, this eye treatment formulated with caffeine and hyaluronic acid is an anti-aging must-have. Equipped with a triple roller applicator, the eye serum helps to depuff the under-eye area and visibly brighten it. Just massage the rollers over the contours of your eye area for a few minutes twice daily for hydrated, firmer, smoother skin.
When it comes to anti-aging ingredients there are three powerhouses that always make the list — retinol, hyaluronic acid and vitamin C. This eye treatment has that trifecta, plus caffeine, working to visibly reduce wrinkles, de-puff and brighten the eye area in just one week. The bonus: It's allergy tested, safe for contact lens wearers and layers well under makeup.
Searching for an eye treatment with nourishing oils that depuffs and works wonders on dry skin? This is your pick! The gentle Manuka honey-infused formula isn't sticky and soothes and cushions dry, mature skin. After just one week of daily use dark circles appear brighter and eye bags look reduced. And the rollerball wand offers a cooling massage when you keep the eye gel in your skin care fridge. Talk about a sweet sensation!
Made for dull, mature skin, this eye cream is the ultimate answer to your dark circles. The creamy whipped texture feels soft and soothing on crepey complexions while visibly brightening the eye area. Formulated with Imperial Peony extracts, caffeine and glycerin, it's antioxidant rich and calming.
Next: This Is How You Should Be Applying Eye Cream
Written by: Shalwah Evans; Photography: Chaunte Vaughn, Senior Art Direction: Melissa San Vicente-Landestoy, Senior Visual Designer: Hannah Packer, Associate Creative Producer: Becca Solovay, Makeup Artist: Jonet Williamson, Hair Stylist: Akihisa Yamaguchi, Wardrobe Assistant: Victoria Ochoa, Digital Tech: Kyle Thompson, Model: Roxanne Hancock
{ "@context": "https://schema.org/", "@type": "WebPage", "speakable": { "@type": "SpeakableSpecification", "cssSelector": ["speakable-content"] }, "url": "https://www.lorealparisusa.com/beauty-magazine/skin-care/skin-care-essentials/eye-cream-with-caffeine" }
Discover more tips & tricks
Keep your skin happy
See all articles
Improve your routine
Show your new look more love:
makeup
{ "@context": "http://schema.org", "@type": "BreadcrumbList", "itemListElement": [ { "@type":"ListItem", "position": 1, "item": { "@id": "/", "name": "Home" } } , { "@type":"ListItem", "position": 2, "item": { "@id": "https://www.lorealparisusa.com/beauty-magazine", "name": "Beauty Magazine" } } , { "@type":"ListItem", "position": 3, "item": { "@id": "https://www.lorealparisusa.com/beauty-magazine/skin-care", "name": "Skin Care For Every Age" } } , { "@type":"ListItem", "position": 4, "item": { "@id": "https://www.lorealparisusa.com/beauty-magazine/skin-care/skin-care-essentials", "name": "Skin Care Essentials" } } , { "@type":"ListItem", "position": 5, "item": { "@id": "https://www.lorealparisusa.com/beauty-magazine/skin-care/skin-care-essentials/eye-cream-with-caffeine", "name": "eye-cream-with-caffeine" } } ] }