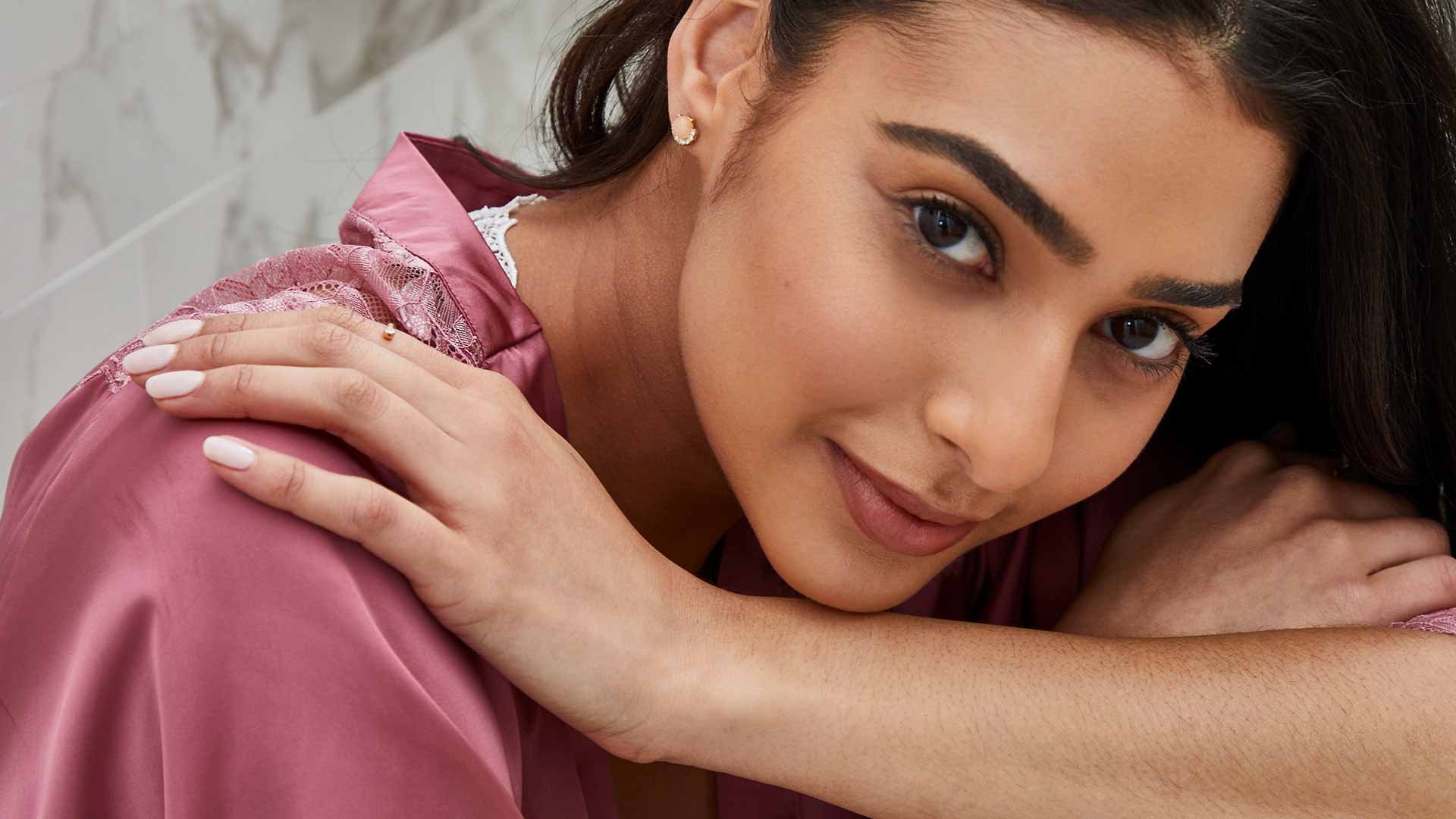 Whether you have oily skin, dull skin, or are simply prone to build-up, you may be looking for solutions to help keep your skin looking and feeling its best. One of the most essential products you can incorporate into your skin care routine to help combat your skin care concerns is an exfoliating face wash. And the best part about using an exfoliating face wash is that you don't have to spend a fortune to score one that is effective. In fact, there are three L'Oréal Paris face washes that can be purchased at your local drugstore. Below, we're filling you in on our three favorite exfoliating cleanser options and how to use them in your daily skin care routine.
Our Three Best Exfoliating Face Washes
When it comes to exfoliating face washes, you'll need to consider your skin type. While some people can handle daily exfoliation, others may find it irritating to the skin. So be sure to adjust your usage based on your skin's needs or speak with a dermatologist to figure out a routine that is right for you.
Without further ado, allow us to introduce you to three exfoliating face washes that are all under twenty dollars.
The skin goes through a frequent cycle of shedding and creating new skin cells. And according to the Mayo Clinic, pores can become clogged due to dead skin cells accumulating on the skin's surface. Fortunately, exfoliating face washes like this daily scrub cleanser can gently scrub away those cells. Formulated with gentle micro-pearls and glycolic acid, this cleanser works to gently exfoliate the skin, removing impurities and improving your skin tone and texture. With consistent use, you'll begin to notice visibly brighter, more radiant-looking skin. And over time, your skin tone will look more even and its texture will feel smoother. Every morning and evening, lather the cleanser into wet hands and gently massage it onto the skin in a circular motion, avoiding the eye area. Rinse thoroughly and pat dry.
Editor's Tip: Always apply a sunscreen of SPF 30 or more after using this product, as glycolic acid can cause sun sensitivity to the skin.
Formulated with popular skin care ingredients such as glycolic and salicylic acid, this cleanser is designed to exfoliate dead skin cell build-up, remove excess oils and makeup from the surface of your skin. The formula has a gel-like texture which helps to resurface the skin by gently dissolving away the skin cells. After using, your complexion will appear smoother, brighter, and feel hydrated thanks to its dose of aloe leaf juice. Its formula has also been tested by dermatologists and is safe to use on all skin types, including sensitive skin. Squeeze a generous amount of the cleanser into wet hands, lather, and then gently massage it onto your skin using circular motions. Rinse thoroughly, pat dry and then follow up with a face serum.
If you have dry skin, a cream cleanser will be a must-have for your skin care cabinet. And this cleanser is specially formulated to nourish the skin and boost radiance while gently exfoliating and removing all traces of impurities and makeup. Its ingredients include salicylic acid, which will help to exfoliate the skin's surface by removing dead skin cells. The formula will also help enhance the skin's smoothness and radiance, leaving you with a complexion that's brighter and more refined. Moisten your face, apply a generous amount of the cream cleanser into your hands, lather it, and then smooth it across your face and rinse thoroughly.
How To Incorporate An Exfoliating Face Wash Into Your Skin Care Routine
We already covered how to cleanse with an exfoliating face wash, but, of course, that doesn't make for a complete routine. Use these three steps to add your new cleanser to your skin care regimen.
Step #1. Cleanse Your Face
Kick things off with your exfoliating face wash. Cleansing should be the first step in both your morning and evening skin care routines. That's because cleansing can help remove impurities from the surface of your skin.
Step #2. Follow Up With A Face Serum
Now that your skin is clean and exfoliated, you can move on to applying skin treatments like face serums. Choose a serum based on your skin concerns. If your interest in exfoliating cleansers is because you're battling dull skin, try a vitamin C serum like the L'Oréal Paris Revitalift Derm Intensives 10% Pure Vitamin C Serum, which effortlessly absorbs into the skin to restore its radiance and reduce wrinkles.
We also love the L'Oréal Paris Age Perfect Cell Renewal Midnight Serum. This day-to-night serum is formulated with an exclusive L'Oréal patented antioxidant recovery complex, which works to replenish the skin's antioxidant levels (which boost the skin's renewal process overnight). Its hyaluronic acid-infused formula helps to smooth out wrinkles and lock in moisture. It also quickly absorbs into the skin and won't clog pores or leave behind any sticky residue.
Step #3. Apply Moisturizer
Replenishing moisture keeps your skin from becoming dry and protects it against harmful environmental factors that age and damage the skin. During the day, follow up with a moisturizer such as the L'Oréal Paris Age Perfect Rosy Tone Broad Spectrum SPF 30 Sunscreen. This ultra-hydrating cream is infused with imperial peony extract and LHA to instantly revive skin's rosy tone while protecting it from the sun's rays with SPF 30. At night, reach for the L'Oréal Paris Rosy Tone Cooling Night Moisturizer to seal in moisture and prevent any overnight dryness. Its formula absorbs quickly, instantly cools the skin, and provides lasting hydration with a non-greasy feel.
Photo Credit: Sarah Duvivier
Next: How to Exfoliate When You Have Sensitive Skin
{ "@context": "https://schema.org/", "@type": "WebPage", "speakable": { "@type": "SpeakableSpecification", "cssSelector": ["speakable-content"] }, "url": "https://www.lorealparisusa.com/beauty-magazine/skin-care/skin-care-essentials/exfoliating-face-wash-cleanser-options" }
Discover more tips & tricks
Keep your skin happy
See all articles
Shop Featured Skin Care products
Discover More
{ "@context": "http://schema.org", "@type": "BreadcrumbList", "itemListElement": [ { "@type":"ListItem", "position": 1, "item": { "@id": "/", "name": "Home" } } , { "@type":"ListItem", "position": 2, "item": { "@id": "https://www.lorealparisusa.com/beauty-magazine", "name": "Beauty Magazine" } } , { "@type":"ListItem", "position": 3, "item": { "@id": "https://www.lorealparisusa.com/beauty-magazine/skin-care", "name": "Skin Care For Every Age" } } , { "@type":"ListItem", "position": 4, "item": { "@id": "https://www.lorealparisusa.com/beauty-magazine/skin-care/skin-care-essentials", "name": "Skin Care Essentials" } } , { "@type":"ListItem", "position": 5, "item": { "@id": "https://www.lorealparisusa.com/beauty-magazine/skin-care/skin-care-essentials/exfoliating-face-wash-cleanser-options", "name": "exfoliating-face-wash-cleanser-options" } } ] }