skin care essentials
5 Skin Care Products You Should Try In Your 50s
September 08, 2017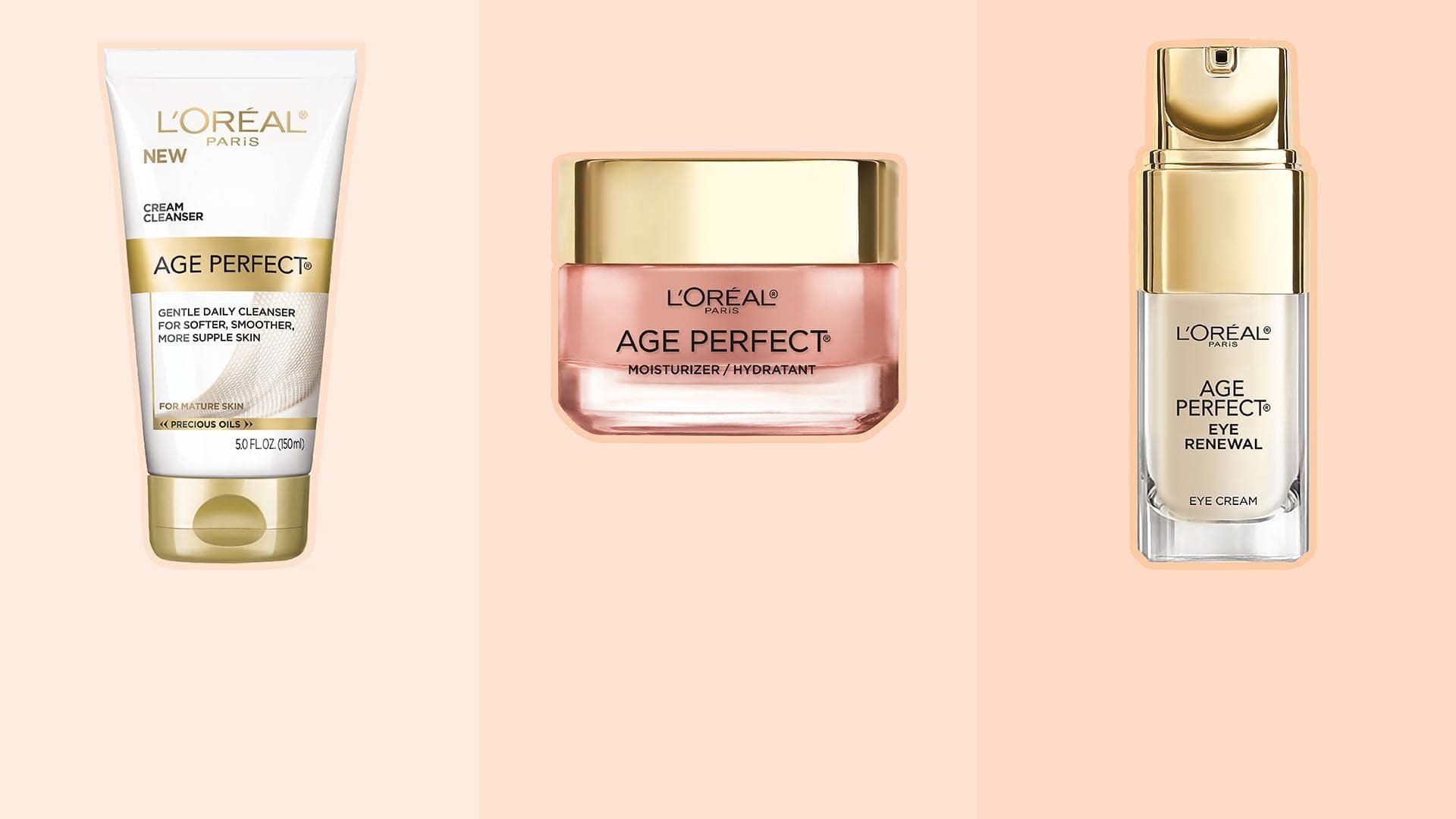 Regardless of your age, a consistent skin care routine (including cleansing, moisturizing, and using broad-spectrum sunscreen) is key to helping keep your skin looking its healthiest. But if you're in your 50s, there's a good chance your needs are quite a bit different now than they were when you were in your 20's, 30s, and 40s. That makes finding the right skin care products — and knowing how to use them — super important. Ready to put together your new and improved skin care regimen? Here, the five best skin care products you should try in your 50s.
Cream Cleanser
The products and formulas that you use to help cleanse your skin when you're in your 50s matters. That's because as skin matures, it can lose moisture, nutrients, and natural oils, which can result in dry-looking skin. The L'Oréal Paris Age Perfect Nourishing Cream Cleanser is formulated with replenishing oils. It gently, yet effectively, removes traces of makeup and cleanses without over-drying for softer and smoother skin.
Serum
After cleansing your complexion, reach for a serum formulated for mature skin. If you are looking for a serum to address wrinkles, opt for the L'Oréal Paris Revitalift Derm Intensives Night Serum with 0.3% Retinol. This formula helps minimize the appearance of deep wrinkles and lines, and contains soothing ingredients like glycerin and hyaluronic acid to balance drying effects. If you want to address moisture retention, try the L'Oréal Paris Revitalift Derm Intensives 1.5% Hyaluronic Acid Serum which helps protect the moisture barrier and targets fine lines and wrinkles.
Day Cream
Start your morning off right with a day cream that can help create the appearance of youthful, rosy looking skin. Try the L'Oréal Paris Age Perfect Rosy Tone Moisturizer, which is formulated to help revive skin's rosy tone by gently exfoliating it. Apply it after cleansing in the A.M. while your skin is still damp.
Anti-Aging Moisturizer
In your 50s, skin loses vital nourishment and becomes thinner. Wrinkles begin to deepen and skin loses density, which can make you look older. The L'Oréal Paris Wrinkle Expert Anti-Wrinkle Intensive Care Day/Night Moisturizer for 55+ is formulated with calcium and can help strengthen thinning skin and improve smoothness for a more youthful appearance. Immediately, skin can feel nourished with moisture, while the appearance of jawline sagging can improve and visible wrinkles can be reduced with continued use over time. The ultra-creamy and intensive formula glides onto skin and absorbs quickly for a non-greasy feel and velvety soft finish. Every morning and night, gently smooth it over your face and neck until thoroughly absorbed.
Eye Cream
The delicate eye area is a key place to take care of throughout your entire life, and especially during your 50s as it can be more prone to wrinkles and fine lines. That's where an anti-aging eye cream comes into play, like the L'Oréal Paris Age Perfect Renewal Eye Cream. If you prefer coverage, opt for the L'Oréal Paris True Match Eye Cream in a Concealer with 0.5% Hyaluronic Acid which is formulated to hydrate while revealing more radiant-looking skin under-eye. It helps conceal dark circles and works to plump, hydrate and smooth out creases and fine lines in the eye area. Every morning after your skin-care routine, apply a small amount of eye cream around your entire eye area using your fingertips and pat in gently until your dark circles are completely concealed.
Design: Sarah Duvivier
Next: Your Guide to Taking Care of Mature Skin


Discover more tips & tricks
Keep your skin happy
See all articles
Shop Featured Skin Care products
Discover More