skin care essentials
5 Tips To Prep Your Skin For Prom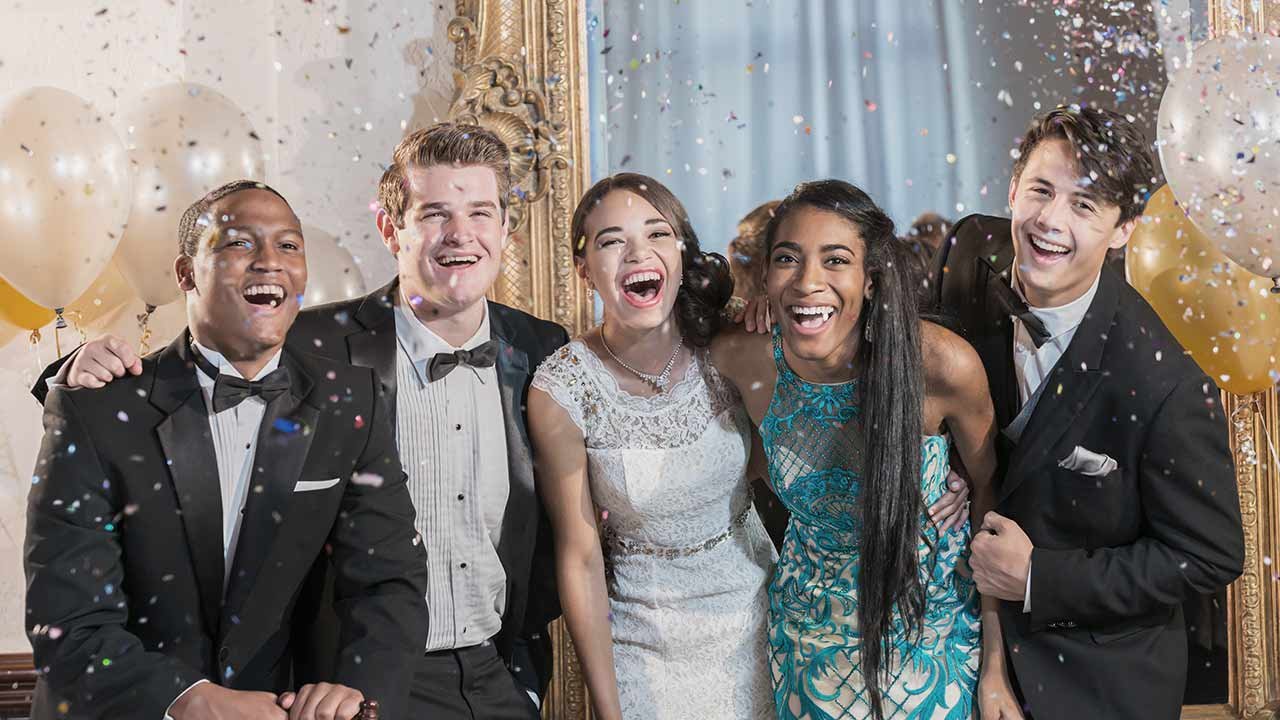 Prom season is beginning and chances are—whether your prom is virtual or an in-person affair—you're going to want your face to look as flawless as possible in all the selfies and pics you snap on your special night. But while you have your dress (equipped with matching protective face mask), and your prom makeup look all set, do you have your skin care routine secured? No worries if you don't—we're here to help you out. Follow our prom skin care guide, including tips for using a face mask to get glowing skin pre-prom and how to remove your makeup easily post-prom.
SKIN CARE TIP #1: KEEP A CONSISTENT SKIN CARE ROUTINE LEADING UP TO PROM
You know how solving equations becomes almost like second nature the more times you do it? Think of your skin care routine in the same way. The more often you cleanse and moisturize morning and night, the easier it'll be to stick to it without needing to set a reminder. Look for skin care products that are formulated for your skin type, whether you have oily skin, combination skin, dry skin, or sensitive skin.
SKIN CARE TIP #2: BRIGHTEN YOUR SKIN WITH A CHARCOAL MASK
Create a spa-like, self-care experience at home when you get ready by using a charcoal mask. The L'Oréal Paris Pure-Clay Mask Detox & Brighten Face Mask is formulated with three clays (kaolin, montmorillonite, and Moroccan lava) and enhanced with charcoal to help draw out the buildup of impurities, dirt, and pollution and reduce the look of dullness. Use three times a week for best results.
SKIN CARE TIP #3: SKIP THE TANNING SESSIONS
If you're thinking about sunbathing for days on end or hitting the tanning bed to get that glow you've always wanted for prom, think again. According to the National Center for Biotechnology Information (NCBI), studies have proven that there is a connection between the use of indoor tanning beds and an increased risk of skin cancer, especially among young women. Skip the ultraviolet radiation and try the L'Oréal Paris Sublime Bronze Self-Tanning Facial Drops Fragrance-Free and L'Oréal Paris Sublime Bronze Self-Tanning Water Mousse to get an even, streak-free tan with no UV damage in just hours.
SKIN CARE TIP #4: USE MOISTURIZER BEFORE APPLYING MAKEUP
Regardless of your skin type, it's a good idea to apply moisturizer after cleansing your complexion to ensure your face looks smooth and glowing at prom. The L'Oréal Paris Hydra Genius Daily Liquid Care for Normal/Oily Skin is formulated with hyaluronic acid and aloe vera water to help provide long-lasting hydration with a matte finish. That means you won't have to worry about your face looking shiny in all those timelines photos.
Editor's Tip: Have dry skin? Grab the L'Oréal Paris Hydra Genius Daily Liquid Care Extra Dry Skin for the same intense hydration with a lightweight feel.
SKIN CARE TIP #5: TAKE YOUR MAKEUP OFF BEFORE BED
Whether on the nights leading up to prom or the night of, taking off your makeup before bed is a must. That's because when you snooze in your makeup, it can mix with the dirt and oil on your face, leading to clogged pores—which can lead to breakouts. Keep things easy by storing a bottle of micellar water near your bed. The L'Oréal Paris Micellar Cleansing Water Complete Cleanser Waterproof – All Skin Types intensely purifies by acting as a magnet to lift dirt, oil, and makeup up and away from your skin. Since it's a no-rinse cleanser all you have to do is saturate a cotton pad with your micellar water and wipe the pad across your face.
Photo Credit: Chaunte Vaughn
Discover more tips & tricks
Keep your skin happy
See all articles
Shop Featured Skin Care products
Discover More