skin care essentials
7 Products To Help You Make The Most Of Your Beauty Sleep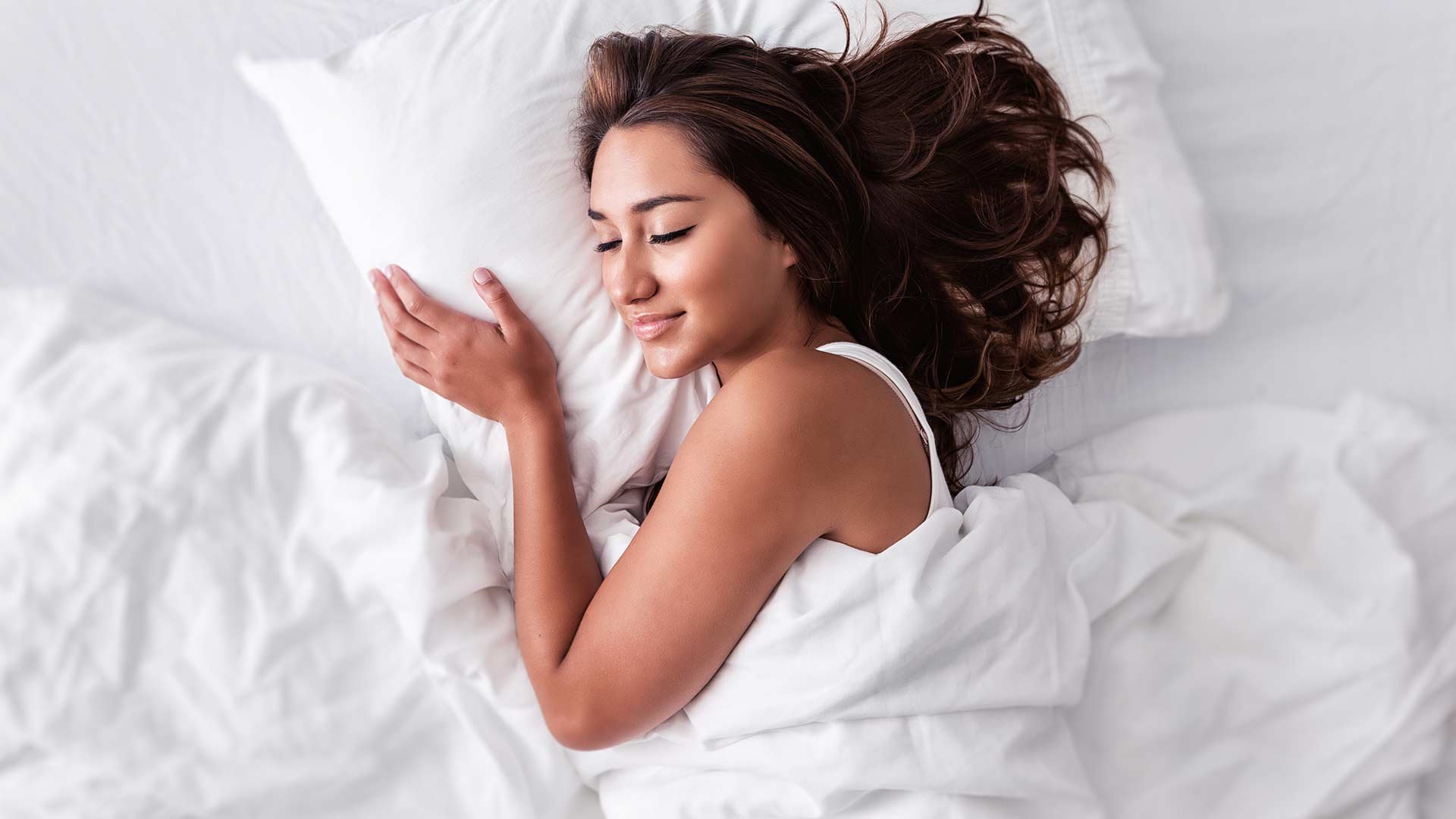 We might be joking when we say we need our beauty rest, but as it turns out beauty sleep is called beauty sleep for a reason. According to the Cleveland Clinic, while you're getting a good night's sleep, your skin cells work to repair damage. For this reason, it's important to make sure your skin care routine is up to par so that you can make the most of your hours of rest. Want to wake up looking well-rested, awake and radiant? We're sharing seven ways you can make the most of your beauty sleep with the right skin care products on your nightstand..
The Importance of Beauty Sleep
Beauty trends may come and go, but the importance of sleep will never fade—and there's plenty of science to back up sleep's importance when it comes to both your feelings and appearance. Beauty sleep isn't just a saying—it's as real as can be. A study from the University Hospitals Case Medical Center found that poor sleepers not only had increased signs of skin aging, but their skin was also less able to rebound from environmental stressors like UV rays. That's why beauty sleep is so important: it can help you achieve your skin goals and give you confidence in your appearance.
Ahead, find our best tips and products to help you level up your beauty sleep and nighttime skincare routine.
Beauty Sleep Essential #1: Makeup Wipes
No matter what happens during the day, it's really important that you take off your makeup before hopping into bed. Even if you're super-tired, taking a few seconds to wipe away your winged eyeliner and foundation before jumping under the covers is a great idea. When you sleep with your makeup on, it can mix with the dirt and oil on your face, leading to clogged pores (which can lead to breakouts).
Stash a package of makeup removing towelettes on your nightstand for easy access. Try the L'Oréal Paris Ideal Clean Makeup Removing Towelettes All Skin Types, which are alcohol-free and effectively remove all traces of eyeliner, mascara, and long-wear makeup. The best part? You don't have to rinse your face after using these makeup wipes—a lazy (or tired) girl's dream!
Beauty Sleep Essential #2: Micellar Water
Looking for a gentle cleanser that's still effective at getting rid of sweat, dirt, and oil that's built up on your skin throughout the day? Micellar water is the answer! This gentle cleanser is powered by tiny oil molecules suspended in water that lift dirt, oil, and makeup residue up and away from your skin. Grab a cotton pad and soak it with L'Oréal Paris Micellar Cleansing Water Complete Cleanser Waterproof - All Skin Types and gently wipe the pad all over your face until your skin is completely clean. If you are using micellar water to remove eye makeup, hold the pad over closed eyes for a few seconds and then gently wipe to remove. Yes, it's that easy!
Beauty Sleep Essential #3: Toner
It's possible that even after washing your face with a cleanser, you might be left with some dirt, grime, or makeup residue. That's where toner comes in. If you have sensitive or dry skin, choose a toner that has an alcohol-free formula, since alcohol can be drying. Try the L'Oréal Paris HydraFresh Toner, which is formulated with beta hydroxy acid and pro-vitamin B5 to helps gently cleanse away dull, tired skin while protecting against moisture loss. Take a cotton ball and pour a little toner on it, then smooth the cotton ball over your cleansed face and neck.
Beauty Sleep Essential #4: Overnight Face Mask
As you age, your skin loses its ability to repair visible signs of aging. And, as your skin loses firmness and elasticity, facial contours can become less defined, and wrinkles and fine lines can become more visible. Nighttime is the best time to re-tone, re-firm, and re-lift the skin. Try the hydrating, creamy L'Oréal Paris Revitalift Triple Power Anti-Aging Overnight Mask. Smooth it over your face, neck, and jawline before going to sleep and leave it on overnight. It's just about as easy as skin care can get.
Beauty Sleep Essential #5: Facial Serum
Serums are concentrated formulas that can help target specific skin concerns such as dry skin, wrinkles, or dullness—so they don't have to be reserved for just day time skin care. A serum can also help to improve the overall appearance of your complexion. Apply a serum after cleansing but before moisturizing at night. For this step, try the L'Oréal Paris 10% Pure Glycolic Acid Serum which is formulated to gently exfoliate the skin. Apply it to freshly-cleansed skin before you start catching Z's for smoother, replenished, visibly plumped skin.
Beauty Sleep Essential #6: Eye Cream
Dark circles can make you look tired and can be an instant giveaway that you didn't get enough sleep. Since the skin around your eyes is thin compared to the skin on the rest of your face, it's usually the first place you see early signs of aging, including crow's feet, sagging skin, and puffiness. That's why it's a good idea to add eye cream to your nighttime beauty routine. Try the L'Oréal Paris Age Perfect Eye Renewal Eye Cream, which helps defend against free radical damage and oxidative stress. It addresses five signs of aging around the eyes: dark circles, puffiness, under-eye bags, crow's feet, and crepiness. You can even apply it in the morning too.
If waking up with puffy eyes seems to be your daily routine, consider using the L'Oréal Paris Age Perfect Hydra Nutrition Manuka Honey Eye Gel. Formulated with nourishing manuka honey and packaged in a rollerball applicator, it can help diminish the look of puffiness while brightening dark circles.
Beauty Sleep Essential #7: Night Cream
On nights you don't wear your overnight face mask, reach for a night cream or balm instead. Similarly, night creams can help replenish your skin while you sleep. The L'Oréal Paris Age Perfect Rosy Tone Cooling Night Moisturizer is a luxurious night formula that will help leave your complexion feeling hydrated and firmed by morning. Don't forget to layer it on top of your facial serum for even more skin care benefits.
Photo Credit: iStock
Next: How to Fake a Full Night's Sleep with Your Beauty Routine
Discover more tips & tricks
Keep your skin happy
See all articles
Shop Featured Skin Care products
Discover More