skin care essentials
How to Take Care of Your Skin When You're Traveling by Airplane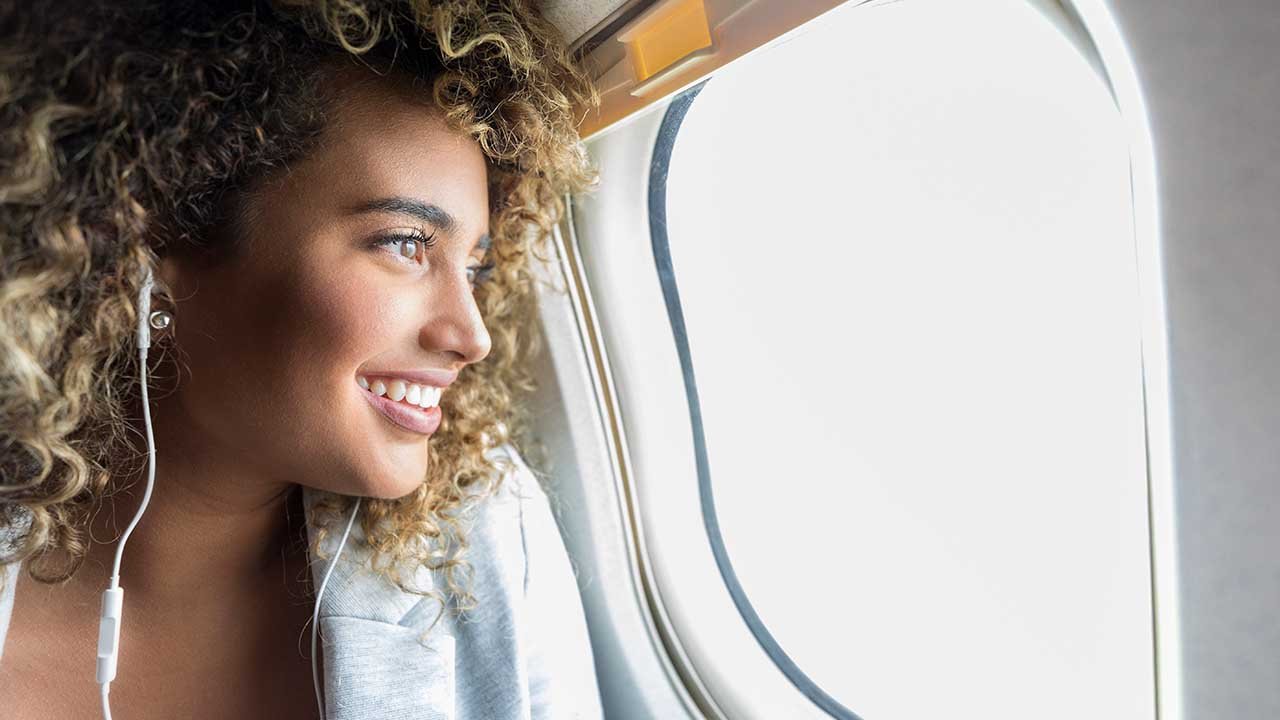 We all live for vacations—it's a time when we get to relax, unwind, and sip piña coladas by the pool. But if you're traveling to your destination by plane, you know that sitting in a dry, dirty cabin for hours on end is not exactly a recipe for the freshest-looking skin once you arrive. And chances are, you want to look your best in all the vacation selfies you'll surely be snapping and sharing throughout your trip. Thankfully, your complexion isn't a lost cause—you'll just need to put in a little work. In fact, traveling by air requires a skin care routine all its own, and unfortunately, facial moisturizer alone doesn't cut it (and taking care of your hair when you're on vacation is a whole other story, trust us). Follow the airplane skin care advice below to take care of your complexion before, during, and after a flight.
YOUR PRE-FLIGHT SKIN CARE ROUTINE
So, you made it through airport security and now have a couple of hours to kill before your plane boards? It's time to prep your skin! First things first: Use a makeup removing towelette, like the L'Oréal Paris Ideal Clean™ Makeup Removing Towelettes, to gently cleanse and help remove dirt, oil, and makeup. These alcohol-free wipes won't dry out your skin—and since there's no rinsing required, you don't have to step foot in the crowded airport bathroom to use them. Next, spritz on a hydrating facial mist and follow up with a moisturizer formulated with SPF. (Think about it: You're closer to the sun while flying!) The Skin Cancer Foundation recommends wearing a broad-spectrum SPF of 15 or higher every day. Try the L'Oréal Paris RevitaLift Bright Reveal Brightening Day Moisturizer SPF 30, which is formulated with glycolic acid, vitamin C, and Pro-Retinol. This moisturizer with SPF can help immediately make your skin look brighter and also help keep it hydrated.
YOUR IN-FLIGHT SKIN CARE ROUTINE
It's time to break out your headphones and pick a movie to watch for some in-flight entertainment. As it plays, if your skin starts to feel parched, feel free to spray on some more of your facial mist to help hydrate your face. Are you traveling somewhere far and know you won't be getting much sleep due to jet lag or time zone changes? Consider swiping on an eye cream, since eyes can typically give away how tired you are. Try the L'Oréal Paris Eye Defense, a light, non-greasy gel-cream formulated to defend against signs of premature aging around the eyes, including puffiness, fine lines, wrinkles, and dark circles. Another great option, especially for those with extra-sensitive skin around the eye area, is the L'Oréal Paris Age Perfect Hydra Nutrition Manuka Honey Eye Gel, which helps de-puff the look of under-eye bags with a rollerball wand (which also makes it super easy to apply while flying!).
YOUR POST-FLIGHT MAKEUP ROUTINE
Congratulations: You made it! If your complexion is looking a little lackluster after being cooped up in dry air, it's time to work some makeup magic.
Step 1: Cover up using a brightening concealer
Lightly dab and blend the L'Oréal Paris Infallible Pro-Glow Concealer onto your cheekbones and brow bone to look more awake. Bonus: This highlighting concealer is slim, so you can easily fit it in your carry-on.
Step 2: Apply a buildable foundation
The L'Oréal Paris True Matchä Super-Blendable Compact Makeup comes in a handy compact, making it perfect for on-the-go applications. To use, smooth makeup over skin using a sponge, like the L'Oréal Paris Infallible Blend Artist Foundation Blender, tapping it onto your skin and building up to your desired level of coverage.
Step 3: Dust on some blush
Perk up a dull complexion by brushing on a natural-looking blush, like the L'Oréal Paris True Match™ Blush, which is available in 12 shades. Another option that's super convenient for traveling is the L'Oréal Paris Infallible Longwear Blush Shaping Sticks. Whichever you choose, blend it onto the apples of your cheeks to give yourself a pretty flush.
Step 4: Line your eyes with a nude or white eyeliner
Using a nude of white liner on your waterline (a.k.a. just above your lower lash line) can help to make the whites of your eyes look even whiter. Try the L'Oréal Paris Infallible Pro-Last Waterproof Pencil Eyeliner for a nude option, or the L'Oréal Paris Infallible Never Fail Eyeliner for a bright, eye-popping white. Who says you didn't get any sleep while you were up in the air?
Step 5: Swipe on mascara
Nothing pulls a look together quite like a coat of volumizing mascara. Try the L'Oréal Paris Voluminous Original Mascara.
Step 6: Use lip balm
Is your pout feeling dry post-flight? Keep a nourishing lip balm stashed in your purse for easy access.
Next up: The Ultimate Easy Makeup Look for a Flawless Vacation Complexion
Discover more tips & tricks
Keep your skin happy
See all articles
Shop Featured Skin Care products
Discover More