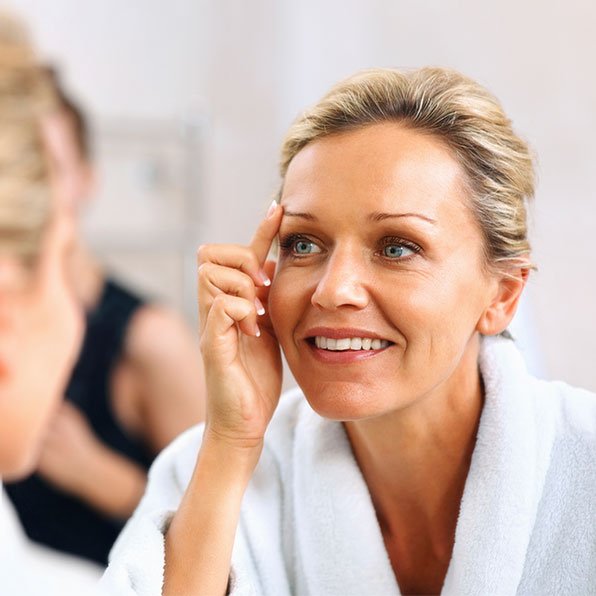 skin care concerns
The Best Skin Care Routine to Minimize the Look of Existing Wrinkles
Wrinkles, those lines that can appear across your forehead, in-between your brows, at the corners of your eyes, on your neck and chest and pretty much anywhere else you have skin, can be a common first sign of skin aging. They started as fine lines and will only deepen and become more noticeable over time. Still, you can help minimize the look of existing wrinkles. How so? Well, by finding the best skin care routine that will address wrinkles on a day-to-day basis and with the right anti-aging cleansers, serums and creams.
Wrinkle skin care routine step #1: Cleanse with a non-drying, anti-aging formula.
Some cleansers can be drying and when skin is dry wrinkles can appear more noticeable. Instead of cleansing your skin to strip it of oil, look for nourishing formulas like RevitaLift® Radiant Smoothing Cream Cleanser. This cleanser will gently exfoliate your skin's surface so wrinkles appear smoother and your skin looks brighter and more refined.
Wrinkle skin care routine step #2: Moisturize with a serum and face cream.
Layer your anti-aging efforts by first applying a serum formulated to address wrinkles and then apply a face cream to match. RevitaLift® Triple PowerTM Concentrated Serum is formulated with Pro-Xylane and hyaluronic acid. The formula helps smooth and firm your skin's surface so wrinkles become less noticeable. It's face cream counterpart, RevitaLift® Daily Volumizing Moisturizer, is also formulated with hyaluronic acid and helps boost skin's moisture retention so fine lines and wrinkles are visibly reduced. 
Wrinkle skin care routine step #3:
You can have the look of smooth, youthful skin if you take the time to address your existing wrinkles face on by protecting your skin from daily environmental stressors, like UV rays, that can accelerate the formation of new lines. So, consider wearing a daily moisturizer with SPF broad spectrum protection everyday – even if it looks a little cloudy.
Wrinkle skin care routine step #4: At night, remove makeup with a gentle method. Some makeup remover options can dry skin out and make wrinkles appear more noticeable. Instead, look for gentle, ways to remove makeup that also have anti-aging benefits like RevitaLift® Radiant Smoothing Wet Cleansing Towelettes. These facial wipes will remove makeup, but also nourish skin and gently exfoliate it, while boosting radiance.
Wrinkle skin care routine step #5: Apply a nighttime treatment to help improve firmness.
Your skin is best ready to regroup at night while its defenses are down. So address wrinkles with a concentrated effort while you sleep by applying a rich night cream. RevitaLift® Volume Filler Night Cream is formulated with hyaluronic acid to boost skin's moisture retention and help smooth out the look of fine lines and wrinkles.
Follow these steps to foster skin that looks smooth and appears to have less noticeable wrinkles.
Discover more tips & tricks
Keep your skin happy
See all articles
Shop Featured Skin Care products
Discover More