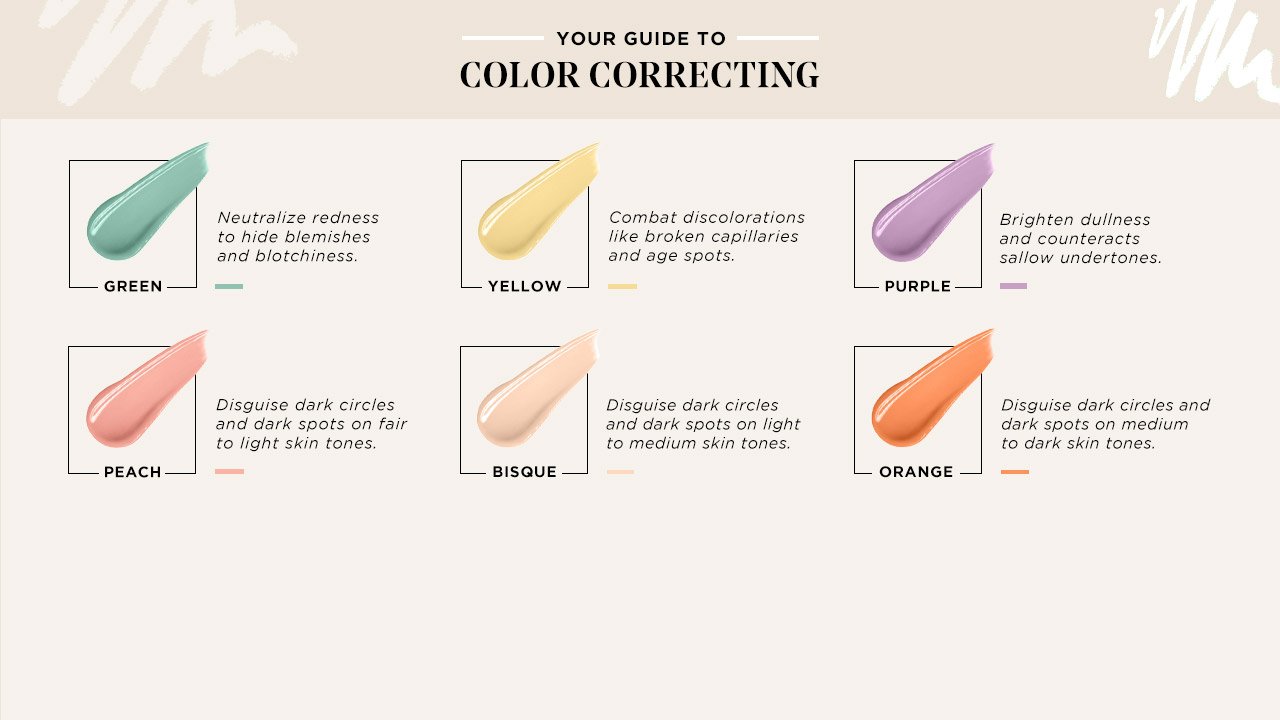 skin care concerns
Your Guide to Color Correcting
When it comes to covering imperfections, concealer is a total lifesaver. Still, it doesn't always cut it. If your complexion is marked with imperfections like dark circles or dark spots, which can be hard to conceal, you may need something more. That's where color correcting concealer comes into play. You may have noticed beauty junkies are going crazy over color correcting makeup—and for good reason. Those pastel-hued concealers and color correcting palettes are the secret to hiding imperfections that always seem to show through your other face makeup. While it may seem crazy to apply rainbow-colored concealers all over your face, we promise: There is a method behind the madness. Keep reading for our complete guide on how to color correct (with help from our color correcting chart). Plus, get the scoop on our best color correcting concealers.
WHAT IS COLOR CORRECTING?
Here's what you already know: Color correction is a must-know makeup technique that can be used to conceal your skin's imperfections via a whole slew of colorful hues. Now, here's how it works: Think back to when you learned about the color wheel in your middle school art class. You probably were taught that the colors opposite of one another cancel each other out—and that same principle applies when it comes to color-correcting with makeup. Think of the color of the imperfection you want to disguise, then imagine the color wheel and reach for a concealer in a shade that can cancel out that hue. Alternatively, simply pull up this article and look at our color correcting chart for guidance.
OUR BEST COLOR CORRECTING CONCEALERS
Before you can give color-correcting a try, you'll need to find the right concealer! The L'Oréal Paris True Match™ Color Correcting Crayons come in five shades that can help disguise the appearance of everything from dark circles to redness to discoloration. Our best pro-tip for making the most out of these color-correcting crayons? Use sparingly while applying to targeted areas, building as you go. Just make sure to blend well and follow up with your regular concealer or foundation (in case you were wondering if you should color correct before or after foundation) so that you don't walk out of your house looking like a polka-dotted pastel queen.
Prefer the ease of a color-correcting palette? The L'Oréal Paris Infallible Total Cover Color Correcting Kit has all the shades you need!
HOW TO COLOR CORRECT
Confused by the different shades of concealer you can color correct with? Allow us to break things down for you.
HOW TO COLOR CORRECT DARK CIRCLES
Instead of worrying about stepping out with dark circles for the world to see, just reach for a color-correcting concealer in the peach family. Since dark circles have a bluish hue, shades of peach and orange will be perfect for canceling them out. Use peach if you have a fair to light skin tone, bisque if you have a light to medium skin tone, or orange if you have a medium to dark skin tone. To really hide dark circles, apply your color-correcting concealer in an upside-down triangle shape over your dark circles, then blend out.
HOW TO COLOR CORRECT DISCOLORATIONS
If you have any purple or bluish discolorations, like dark spots, use a yellow color corrector. Yellow can help to counteract discolorations on your cheeks, forehead, chin, and just about any place you have spots to conceal. Remember—a little goes a long way, so use sparingly.
HOW TO COLOR CORRECT REDNESS
When you have skin redness, you might want to hide from the world and stay home all day—but that isn't necessary. You can help neutralize the appearance of redness, whether it's blemishes or blotchiness, with the help of a green color corrector. Green sits opposite of red on the color wheel, so a green concealer is able to help disguise the appearance of redness.
HOW TO COLOR CORRECT DULLNESS
Skin need a brightening boost? You can combat dullness or sallow skin with the help of a purple color corrector. Simply apply it wherever your skin could use a little extra radiance.
YOUR STEP-BY-STEP COLOR CORRECTION GUIDE
Now you officially know just how beneficial color-correcting can be, and you know which colors do what, so all that's left is learning how to pair it all together—including figuring out if you apply color corrector before or after foundation.
STEP #1: PRIME YOUR SKIN
If you want your neutralized look to last, your best bet will be to start your makeup routine with a primer. If your goal is to achieve the look of glowing skin, use the L'Oréal Paris Infallible Pro Glow Lock Makeup Primer; if you're more of a matte girl, try the L'Oréal Paris Infallible Pro Matte Lock Makeup Primer.
STEP #2: NEUTRALIZE THE APPEARANCE ANY DISCOLORATIONS
Once you've finished applying primer, color over your discolorations with your color-correcting concealer(s) of choice. For ultimate coverage, use a small concealer brush to blend.
STEP #3: APPLY FOUNDATION
Squeeze some of the L'Oréal Paris Infallible Pro Glow Foundation or L'Oréal Paris Infallible Pro-Matte Foundation onto the L'Oréal Paris Infallible Blend Artist Foundation Blender and stipple across your forehead, cheeks, nose, and chin to create an even-looking complexion.
STEP #4: APPLY CONCEALER
To help brighten the look of your complexion, draw upside-down triangles under your eyes using the L'Oréal Paris Infallible Full Wear Concealer Waterproof, Full Coverage. Use your makeup blender to gently blend out the concealer.
STEP #5: SET YOUR MAKEUP
Now that your skin looks positively flawless, set it with the L'Oréal Paris Infallible Pro-Sweep & Lock Loose Setting Face Powder. Dip a fluffy brush into the face powder and sweep it over your skin for a seamless finish.
Next up: Learn How to Find the Right Foundation for You.
Discover more tips & tricks
Keep your skin happy
See all articles