skin care concerns
The Unexpected Beauty Product That Made Me Feel Confident About My Keratosis Pilaris
October 15, 2020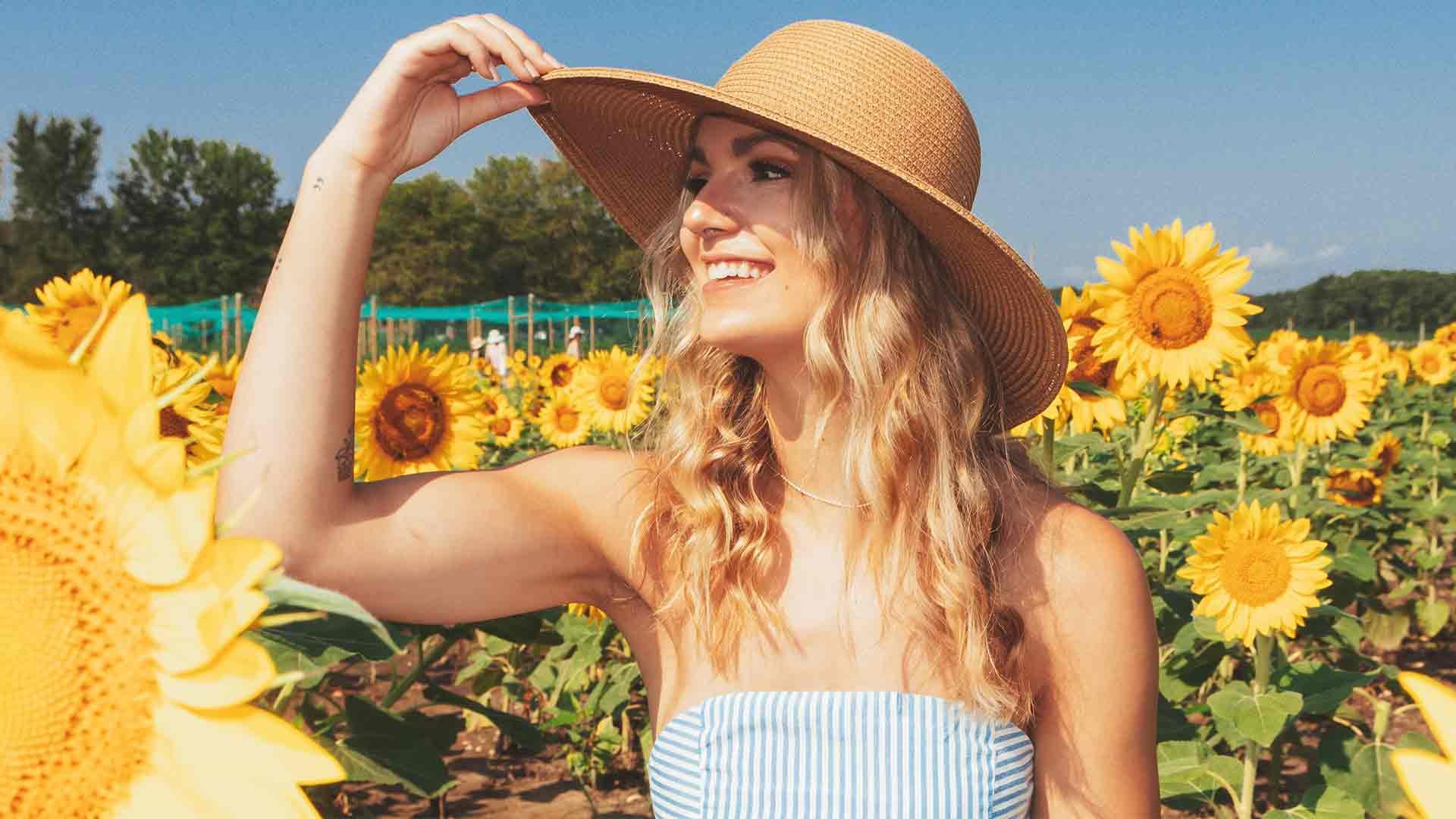 "I hate this chicken skin on the back of my arms," my mom said, making me first aware of the popular term for keratosis pilaris. She looked in the mirror at a patch of tiny red bumps. I ran my hand over the back of my own arms, feeling the slightly bumpy skin that matched hers.
I was only 11-years-old at the time, and that's when I became aware of my keratosis pilaris. As most fifth graders do, I worried about cliques and the daunting middle school transition; now, I had this textured skin to add to the list. Even as a wannabe beauty editor, until our conversation, I had missed the signs that the bumps were, indeed, keratosis pilaris. My mom, who seemingly always had the answer to everything, didn't offer a solution for our textured skin.
Thanks to my Italian heritage, I'm blessed with espresso-hued hair that just happens to appear as dark fuzz all over my body, too. (Don't let my current beach-blonde mane fool you; it's courtesy of my magic-maker hair colorist.) As a tween, I started shaving my legs and arms. For the majority of the year leading up to this unexpected mother-daughter moment, I simply assumed those small red bumps were caused by razor burn. Eventually, I discovered the truth.
From then on, I started to feel self-conscious about my skin. I accepted that I had this skin condition and avoided drawing attention to it whenever possible.
Three years later, on a drugstore shopping whim in preparation for my eighth-grade graduation, I purchased my first bottle of L'Oréal Paris Sublime Bronze Self-Tanning Lotion Medium Natural Tan. I went home and carefully blended the lotion onto my skin and waited the recommended four-hours for my golden glow to develop. Finally, I could let my breath out: my chicken skin was barely noticeable. The self-tanner magically masked my keratosis pilaris.
Self-tanner isn't a textbook keratosis pilaris treatment, and while it may not actually make textured skin disappear, it can help neutralize redness and minimize its appearance. Thanks to this beauty hack, I could finally rock short shorts and sleeveless tops with confidence. The following years I swore by sunless tanning lotions and mousses, and while I've become more comfortable in my skin as I've gotten older, self-tanner is still a staple in my routine. Ahead, get the details on why self-tanner may be the secret for embracing keratosis pilaris.
What Is Keratosis Pilaris?
Let's back up for a sec—what exactly is keratosis pilaris? According to the American Academy of Dermatology (AAD), it's actually pretty common in all races and genders, and more likely to occur if you have a close blood relative with keratosis pilaris. In fact, five of my closest friends, along with my mom, also have so-called chicken skin.
The bumps are formed due to a buildup of keratin, a protein in your skin, that blocks the hair follicle. The Mayo Clinic states that keratosis pilaris involves tiny red bumps on the skin. You can typically find it on the upper arms, thighs, buttocks, and even your cheeks.
Can You Treat Keratosis Pilaris?
As with most skin concerns, it's possible to treat keratosis pilaris, but getting rid of it completely isn't in the cards. That said, certain ingredients, including glycolic acid and retinol, may help reduce that bumpy appearance, per the AAD. Dry skin can actually make keratosis pilaris look worse, so make sure to moisturize regularly. As keratin builds up, it forms a scaly plug that, according to the Mayo Clinic, blocks the hair follicle. Typically, many plugs form, resulting in a patch of bumpy, red skin that's often confused with razor burn due to its similar appearance.
I was also happy to hear that while you can't get rid of keratosis pilaris through treatments, it isn't something you necessarily have to deal with forever. The Mayo Clinic reveals that most people will find that chicken skin disappears on its own after 30, though this isn't the case for everyone.
Why I Use Self-Tanner on My Keratosis Pilaris
If you noticed that self-tanner wasn't mentioned as a treatment for keratosis pilaris, you might be left wondering why I rely on it. Well, it really all comes down to addressing the appearance of the skin versus the skin condition itself.
Self-tanner is a great way to neutralize any red tones on your skin, including those from keratosis pilaris. It works similarly to a spray tan, helping your skin look airbrushed and minimizing imperfections like cellulite, veins, and chicken skin.
For that reason, self-tanner has become my body care sidekick. While I started with gradual self-tanners, I've come to experiment with just about every sunless tanner type there is—from mousses to sprays and even self-tanning drops. I'd coin myself something of a self-tanning expert. At the very least, it's safe to say I've mastered using this skin care product to feel more confident about my keratosis pilaris. Speaking of…
How To Use Self-Tanner For Keratosis Pilaris
If you've made it this far and you struggle with embracing your keratosis pilaris, I'm sharing the intimate details of the self-tanning routine that helped me become comfortable with mine. Here, I break down everything from formulas to maintenance, along with some facts on how to keep your faux glow properly hydrated and more.
Tip #1. Find Your Perfect Formula
As I mentioned, when I started using self-tanner for keratosis pilaris, I used gradual self-tanning formulas, like the L'Oréal Paris Sublime Bronze Hydrating Self-Tanning Milk Medium. It has a creamy, hydrating formula that gradually develops. Apply it to moisturized skin with your hands, rubbing it on just as you would a body lotion—but be sure to wash your palms when you're finished. While this works well for those who want a subtle glow, it requires a bit more upkeep.
A gradual self-tanner takes a few days to build, which doesn't always meet my need for a quick fix. Instead, my go-to has become a formula that will leave me with an instant tan, such as the L'Oréal Paris Sublime Bronze Self-Tanning Water Mousse. Mousse formulas are great for self-tanner newbies since they tend to be easier to blend into the skin evenly, avoiding a patchy or streaky tan.
Tip #2. Keep Your Skin Hydrated
Not only can your keratosis pilaris benefit from moisturized skin, but so can your fake tan. As part of your tan-maintenance routine, make sure to moisturize at least twice a day. Keeping your skin hydrated will prevent your sunless tan from fading prematurely and unevenly, especially on areas of your skin that are prone to dryness like your elbows and knees. Look for ultra-hydrating formulas, including body oils and buttery, thick creams.
Tip #3. Start From Scratch
You may not want to part ways with your self-tanner once you see how promising it is, but it's important to remove your faux tan every few days. Exfoliate it all off and start from scratch to keep your fake tan looking its best. Avoid applying more product over previous layers of self-tanner since this can again result in an uneven look. Instead, when you notice your tan starting to fade, remove it completely, and apply a fresh layer of sunless tanner.
Editor's note: For a step-by-step removal guide, here's How To Remove Self-Tanner.
While I can proudly say that I have come to love my skin—in all it's textured glory—and don't have to rely on self-tanner for a confidence boost, having a faux glow continues to be a staple in my routine. Hopefully, if you're struggling to feel confident with keratosis pilaris, self-tanner can become your partner-in-crime, too.
Next: How To Use Makeup To Cover Stretch Marks
Nicolette Pezza is a beauty editor who never underestimates the power of a swipe of mascara, a statement lip, and, of course, self-tanner.
{ "@context": "https://schema.org/", "@type": "WebPage", "speakable": { "@type": "SpeakableSpecification", "cssSelector": ["speakable-content"] }, "url": "https://www.lorealparisusa.com/beauty-magazine/skin-care/skin-care-concerns/self-tanner-and-keratosis-pilaris" }
Discover more tips & tricks
See all articles
Shop Featured Skin Care products
Discover More
{ "@context": "http://schema.org", "@type": "BreadcrumbList", "itemListElement": [ { "@type":"ListItem", "position": 1, "item": { "@id": "/", "name": "Home" } } , { "@type":"ListItem", "position": 2, "item": { "@id": "https://www.lorealparisusa.com/beauty-magazine", "name": "Beauty Magazine" } } , { "@type":"ListItem", "position": 3, "item": { "@id": "https://www.lorealparisusa.com/beauty-magazine/skin-care", "name": "Skin Care For Every Age" } } , { "@type":"ListItem", "position": 4, "item": { "@id": "https://www.lorealparisusa.com/beauty-magazine/skin-care/skin-care-concerns", "name": "Skin Care Concerns" } } , { "@type":"ListItem", "position": 5, "item": { "@id": "https://www.lorealparisusa.com/beauty-magazine/skin-care/skin-care-concerns/self-tanner-and-keratosis-pilaris", "name": "self-tanner-and-keratosis-pilaris" } } ] }