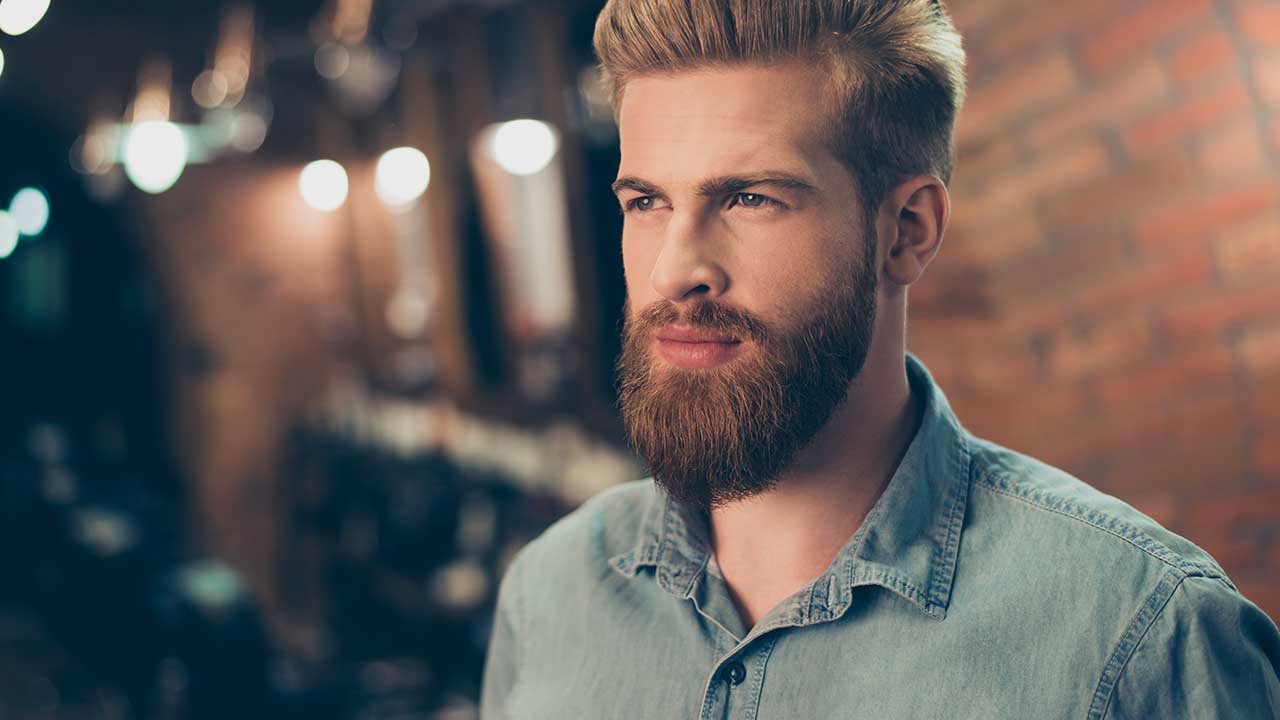 It's always a fantastic feeling to nail a grooming routine that suits your needs. Not to mention, being able to give back to a meaningful cause at the same time is a fabulous way to pay it forward. And that's what the No-Shave November initiative is all about. That said, it's not always easy to grow and maintain facial hair. If you only have a beard one month out of the year, you might not have beard maintenance mastered. But just like your skin care and hair-care routines are essential to looking and feeling your best, your facial hair needs a routine of its own! Ahead, we're sharing our best facial hair tips in advance of No-Shave November, plus diving into what this non-profit movement stands for.
WHAT IS NO-SHAVE NOVEMBER?
No-Shave November is a fun initiative created to raise awareness about a significant cause—cancer—with the idea being to fully embrace your hair. It shines a light on so many cancer patients that lose hair during treatment by not shaving for the entire month. The non-profit behind the month-long shaving strike is also committed to raising funds that support cancer prevention, research, and education.
NO-SHAVE NOVEMBER RULES
If you're game for participating in the cause, we're here to show you the way. With every challenge comes a set of guidelines, and No-Shave November is no exception. Read through the rules below to start your journey on the right note.
RULE #1: START WITH A CLEAN-SHAVEN FACE
The goal is to start the month of November with a clean, shaved face. So, a few days before the 1st, grab your grooming tools, and get to work.
RULE #2: NO SHAVING UNTIL THE 1ST OF DECEMBER
The purpose of no-shave November is to put your razors on ice and embrace your natural look. After all, it wouldn't be much of a challenge if you could shave as you see fit throughout the month. That said, you need to ditch your razor and avoid touch-ups for the full month.
RULE #3: TRIM IF YOU NEED TO
If you work in a strict corporate setting, no need to fret. You may not be able to show up to the office looking disheveled, but that doesn't mean you need to shave. Instead, you can keep your facial hair neatly trimmed.
RULE #4: DONATE TO THE CAUSE
Make a general donation or donate to your favorite team to show your support for cancer education, prevention, and research.
8 GROOMING TIPS FOR NO-SHAVE NOVEMBER
If you're looking to brush up on your grooming skills, you've come to the right place. Many people believe that facial hair doesn't require a daily routine. However, failing to care for your facial hair properly can harm your skin, and that's not what No-Shave November is about. Consider our eight tips below to learn about the best facial hair tips for healthy hair and skin.
TIP #1: CLEANSE TWICE A DAY AND ALSO POST-WORKING OUT
It's an absolute must to use a facial cleanser twice a day all year round (per guidelines from the American Academy of Dermatology) and also after you sweat. This is especially important to keep in mind when growing out your facial hair. When you don't cleanse often enough, dirt, sweat, and even bacteria can accumulate on your face. In turn, this can lead to clogged pores that cause blemishes to occur. Pick a cleanser formulated specifically for men, like the L'Oréal Paris Men Expert Hydra Energetic Extreme Cleanser Infused With Charcoal.
TIP #2: MOISTURIZE
Just like cleansing should be a part of your daily skin care routine, so should moisturizing. Use a daily anti-aging moisturizer that's formulated for men and provides UVA and UVB protection, like the L'Oréal Paris Men Expert Vita Lift SPF 15 Anti-Wrinkle & Firming Moisturizer. Even if wrinkles are not on your radar, moisturizing daily will help fortify your skin and protect against things like redness and irritation.
Editor's note: Moisturizing is an especially important step during the fall and winter months when the outside air is colder and inside air tends to be drier. For more on how your skin care routine should transition in time with the changing weather, read our article, 6 Fall Skin Care Tips For Men.
TIP #3: USE A BEARD MOISTURIZER TOO
This step is often overlooked, but it's super important. A beard moisturizer will not only help keep the skin underneath your facial hair smooth and hydrated, but it can also help soften and condition your facial hair. Pick a formula that does the job without leaving you feeling greasy, like the L'Oréal Paris Men Expert 3-Day Beard Moisturizer. Apply it to your cleansed skin and beard in the morning or evening, as needed.
TIP #4: TRIM REGULARLY
In the same way that trimming your hair regularly can help it grow stronger and longer, trimming your beard as needed is good practice. Even if you're trying to obtain more length, it's best to trim to help shape your facial hair. Nobody likes the look of a beard that's unruly and out of control.
TIP #5: WASH YOUR BEARD
You'll need to treat your beard like you do the hair on your head. Wash your beard in lukewarm water using a moisturizing shampoo made specifically for beards. Facial hair is still hair, after all, and it needs to be cleaned regularly.
TIP #6: DON'T SCRATCH, ITCH, OR TOUCH YOUR FACIAL HAIR TOO MUCH
Touching your beard or mustache too much can irritate your skin and trap dirt and debris from your hands. It can also result in breakouts. Besides, if your facial hair is feeling itchy, that's a tell-tale sign that you need to moisturize.
TIP #7: STYLE YOUR BEARD
Just as you style the strands atop your head, you can style your beard to keep it looking on point, even if it's a little overgrown for your taste. After cleansing, moisturizing, and the like, apply the L'Oréal Paris Studio Line Hair and Beard Cream. This lightweight taming beard balm offers light hold and shine.
BONUS TIP: PREPARE FOR DECEMBER
Come December, if you do finally decide to shave it all off, be sure to follow up with an after-shave balm to help soothe and protect your skin. Remember, your skin has been hiding underneath facial hair for several weeks and needs extra protection. So, this is a tip you don't want to skip. Reach for an after-shave balm that's formulated with hydrating vitamin E and without alcohol (which can irritate the skin), such as the L'Oréal Paris Men Expert Hydra Energetic After Shave Balm.
Next up: Now that you're well-versed on no-shave November, it wouldn't hurt to explore more facial hair tips. Check out our article, How To Shave Your Face and Take Care of Facial Hair, for some pointers.
{ "@context": "https://schema.org/", "@type": "WebPage", "speakable": { "@type": "SpeakableSpecification", "cssSelector": ["speakable-content"] }, "url": "https://www.lorealparisusa.com/beauty-magazine/skin-care/skin-care-concerns/no-shave-november" }
Discover more tips & tricks
Keep your skin happy
See all articles
Shop Featured Skin Care products
Discover More
{ "@context": "http://schema.org", "@type": "BreadcrumbList", "itemListElement": [ { "@type":"ListItem", "position": 1, "item": { "@id": "/", "name": "Home" } } , { "@type":"ListItem", "position": 2, "item": { "@id": "https://www.lorealparisusa.com/beauty-magazine", "name": "Beauty Magazine" } } , { "@type":"ListItem", "position": 3, "item": { "@id": "https://www.lorealparisusa.com/beauty-magazine/skin-care", "name": "Skin Care For Every Age" } } , { "@type":"ListItem", "position": 4, "item": { "@id": "https://www.lorealparisusa.com/beauty-magazine/skin-care/skin-care-concerns", "name": "Skin Care Concerns" } } , { "@type":"ListItem", "position": 5, "item": { "@id": "https://www.lorealparisusa.com/beauty-magazine/skin-care/skin-care-concerns/no-shave-november", "name": "no-shave-november" } } ] }