skin care concerns
Girl Talk: Your Guide to Removing Unwanted Facial Hair
January 24, 2020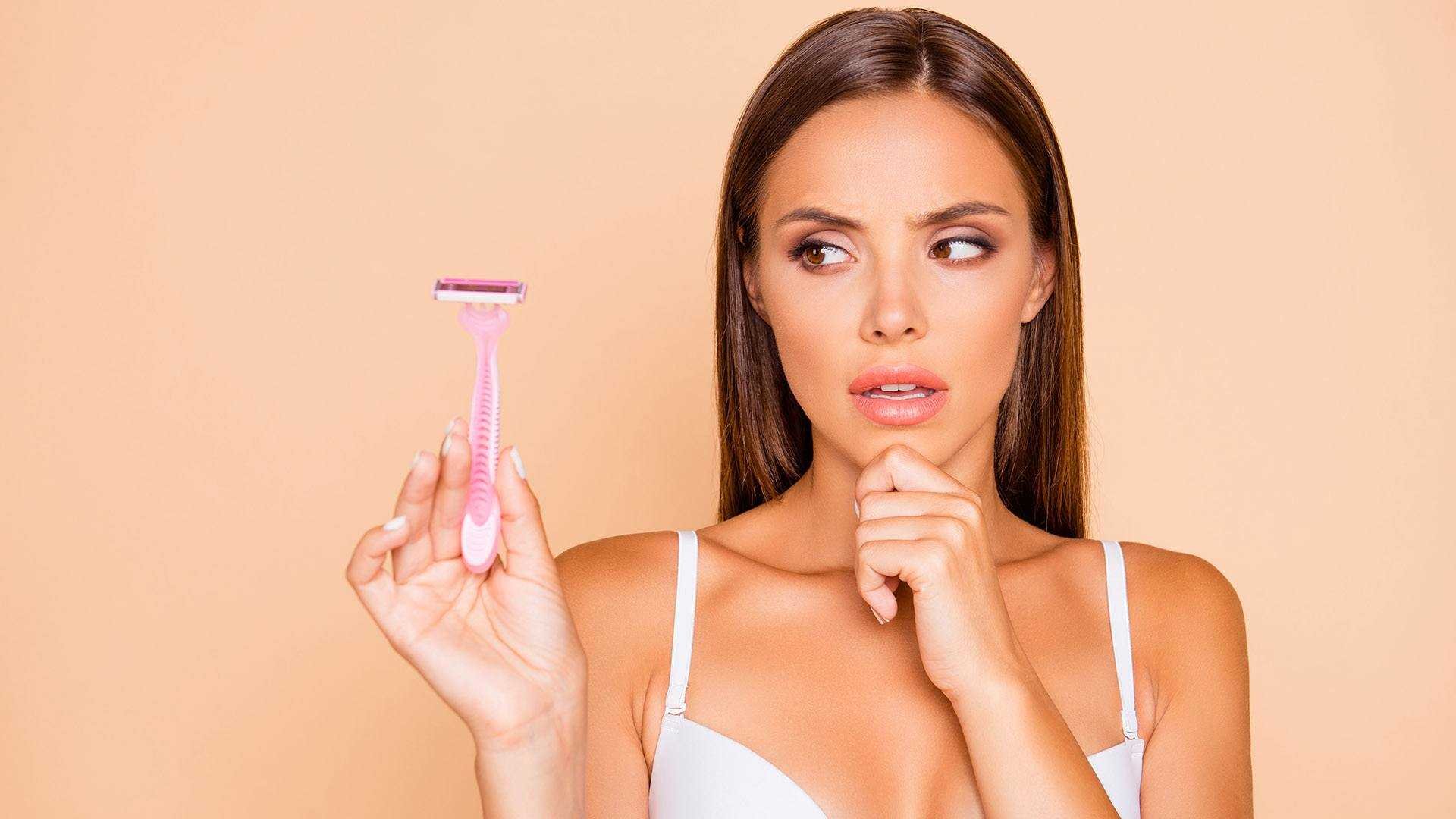 When boys hit puberty and finally start growing a little facial hair, learning to shave is typically a major milestone. For young women, however, the topic of facial hair removal is rarely mentioned. When you received your first lesson on need-to-know beauty tips—covering everything from how to use a facial cleanser to where to apply blush—chances are no one told you that as you grow older, you might end up with a slight 'stache or a few stray hairs on your chin.
All of this means that you were likely left to your own devices, forced to hypothesize how facial hair removal for women works—including whether you should remove the hair with the same razor you use to shave your legs. (That's a major no-no, by the way!) Thankfully, if you found your guesswork to be a bit faulty, it's never too late to learn how to tackle unwanted facial hair. Proving just that, we're providing the important girl talk conversation you may have never had and sharing eight options for facial hair removal options for women.
FACIAL HAIR REMOVAL OPTION #1: TWEEZING
Your vanity is probably already home to a pair of tweezers—whether you use them for plucking the odd eyebrow hair or holding false eyelashes—making them a clear contender for removing any unwanted facial hair. While they may not be the best pick if you have more than a few hairs to pluck or want to part with your peach fuzz, they're ideal for quickly getting rid of a couple of pesky chin hairs. Simply hold your skin taut and pull out the hairs in question, that's all there is to it.
FACIAL HAIR REMOVAL OPTION #2: EYEBROW RAZOR
Keep in mind, the razor you keep in your shower shouldn't be repurposed for your facial hair. Despite that, it doesn't mean shaving isn't a viable option for removing facial hair on women. While shaving your face is typically associated with guys, women can do it, too. To shave off unwanted facial hair, use small razors meant specifically for cleaning up your eyebrows and removing other hair on the face. Don't worry, they're a common beauty tool!
While the results of shaving won't be as long-lasting as tweezing, it's a quick and painless process—which has to count for something. You can even use an eyebrow razor to get rid of peach fuzz, an extra step that can actually help your foundation apply more evenly.
FACIAL HAIR REMOVAL OPTION #3: ELECTRIC FACIAL SHAVER
Similar to an eyebrow razor, electric facial shavers work wonders to remove unwanted hair. These razors are typically battery-operated, gentle on your skin, and small enough to remove hair only in the specific areas you choose. Don't worry—you won't accidentally shave off a brow. Just take your time! This is a great option for getting rid of that unwanted 'stache.
FACIAL HAIR REMOVAL OPTION #4: BLEACH
If you don't want to remove your facial hair, but want it to be less visible, bleaching is the option for you. Rather than deal with the potential pain of hair removal, you can bleach the hair along your upper lip to make it less obvious. Of course, this method won't work if you have a darker skin tone since the bleached hair will pop against your deep complexion.
Editor's note: Not all bleaching products are created equal! Resist the urge to pick up a box of bleach that's meant for your mane and choose one that's specifically formulated for facial hair. If you don't, you could be at risk for irritated skin.
FACIAL HAIR REMOVAL OPTION #5: WAXING
Having unwanted hairs ripped out of your skin with hot wax isn't exactly fun—there's no denying that—but waxing can be done quickly (especially with such a small area), and the results last quite a while. If you think it may be worth giving a shot, book an appointment with a professional—don't attempt to DIY it.
One last thing, waxing should be off the table if your skin care routine contains retinol! The American Academy of Dermatology (AAD) states that you should avoid using skin care products containing retinol two to five days prior to waxing your face. Since your skin could have a majorly bad reaction, play it safe and choose another hair removal option if you don't want to cut out your holy grail product.
FACIAL HAIR REMOVAL OPTION #6: THREADING
Anyone who keeps their finger on the pulse of the beauty industry and pays attention to beauty trends will have noticed that threading has rapidly increased in popularity when it comes to eyebrow shaping. The steady rise can be credited to the fact that this removal method allows you to be ultra-precise with which hairs you're removing and is safe even if you use a product formulated with retinol.
Keep in mind, this facial hair removal option for women isn't solely reserved for touching up brows. You can have upper lip hair, chin hairs, and pretty much any other hairs on your face threaded.
FACIAL HAIR REMOVAL OPTION #7: FACIAL EPILATOR
A facial epilator is an electric hair removal technique that, like tweezers, uses forceps to pull out facial hair. It magnifies this effect by removing a number of hairs at once. This is best for hair that's on your cheeks and upper lip as your eyebrow area tends to be more delicate.
Editor's note: Keep in mind, facial epilators aren't quite the same as an epilator you would use on your underarms or legs. If you already have one of those, we wouldn't recommend turning it into a multipurpose tool! Stick with facial hair removal methods that are specifically meant for your face.
FACIAL HAIR REMOVAL OPTION #8: LASER HAIR REMOVAL
Laser hair removal is a hair removal method that's becoming more and more popular. According to Mayo Clinic, laser hair removal is a medical procedure that uses a concentrated beam of light to remove unwanted hair. The process delays hair growth for long periods of time, making it a great option for those who want a more long-term facial hair removal method. On the face, the most popular places for laser hair removal are the upper lip and chin.
HOW TO TAKE CARE OF YOUR SKIN BEFORE AND AFTER FACIAL HAIR REMOVAL
Your work isn't done once the hair is gone. To see the best results with whichever women's facial hair removal option you choose, be sure to follow these simple steps.
1. CLEANSE BEFOREHAND
Your skin should be completely clean before tweezing, shaving, bleaching, waxing, or threading. That means no lingering face makeup on your skin. Saturate a cotton pad with micellar water, like the L'Oréal Paris Micellar Cleansing Water Complete Cleanser Waterproof – All Skin Types, and sweep it over your face to prep your skin for facial hair removal.
2. MOISTURIZE AFTERWARD
To soothe your skin after removing those unwanted hairs, apply a moisturizer formulated with aloe vera water. Try the L'Oréal Paris Hydra Genius Daily Liquid Care – Normal/Oily Skin, L'Oréal Paris Hydra Genius Daily Liquid Care – Normal/Dry Skin, or L'Oréal Paris Hydra Genius Daily Liquid Care – Extra Dry Skin.
Next: 8 Shaving Mistakes You Could Be Making—and What to Do Instead
Discover more tips & tricks
Keep your skin happy
See all articles
Shop Featured Skin Care products
Discover More