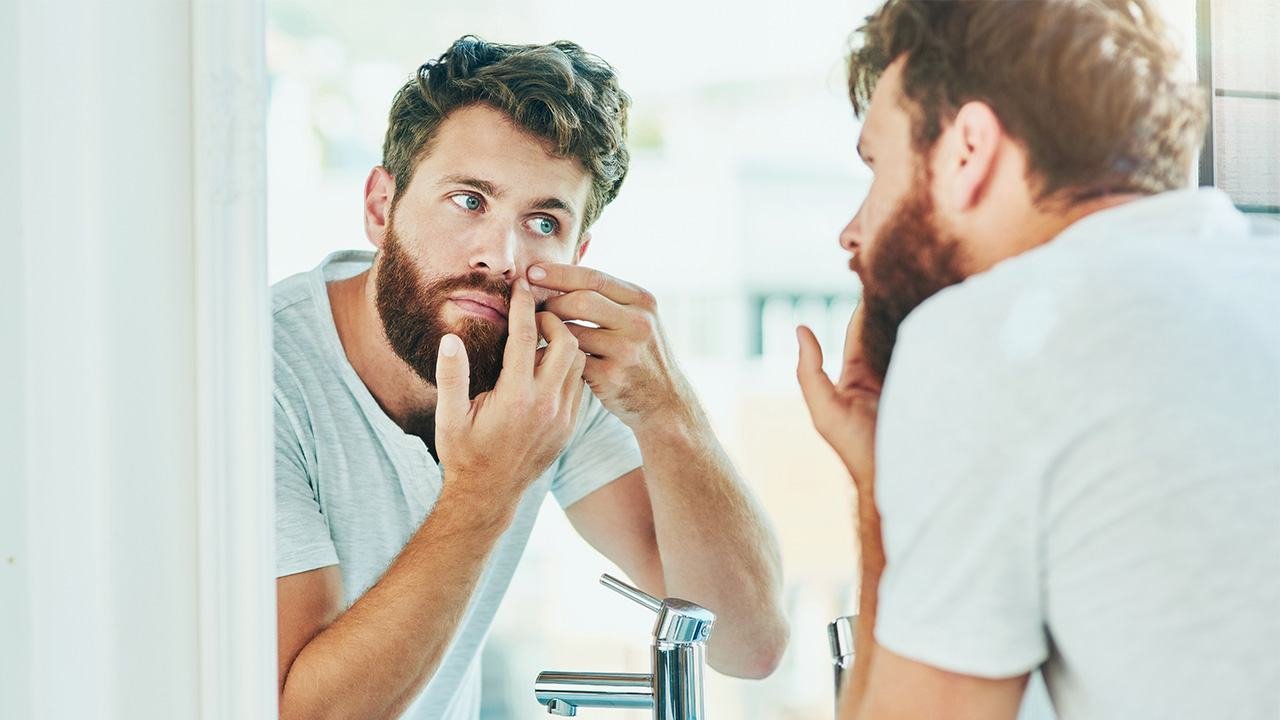 skin care concerns
What Causes Adult Acne and How Can You Treat It
Just when you thought that your acne struggles were behind you, adult acne rears its ugly head. From blemishes and painful bumps to redness, it's a real struggle. And when your go-to skin care products don't get the job done, it can be hard to figure out what works in terms of a routine that targets adult acne. However, breakouts don't have to be such a burden. By understanding what causes adult acne and learning how to manage it, you can help to reduce the appearance of your blemishes and work toward clearer-looking skin. Sound good? Keep reading to learn all about adult acne (including why you get cystic acne when you're no longer a teen).
WHAT CAUSES ADULT ACNE?
According to the American Academy of Dermatology (AAD), there is a myriad of adult acne causes, which include fluctuating hormone levels, stress, family history, hair, and skin care products, and even side effects from certain medications. In some cases, there can also be an underlying medical condition that causes the breakouts.
So, can you expect adult acne to appear for a set period of time? Maybe just during your 20s, since it's so close to your teenage years? Not quite. The ADD shares that some adults can get acne well into their 30s, 40s, and 50s, with women often dealing with adult acne more than men. Per the National Center for Biotechnology Information (NCBI), adult acne isn't necessarily linked to dealing with pimples when you're younger. You could breakout for the first time as an adult.
WHAT CAUSES ADULT CYSTIC ACNE?
Now, what about cystic pimples? According to the Mayo Clinic, cystic acne occurs when oil and dead skin cells build up deep within hair follicles. As a result, acne remains underneath the surface of skin instead of coming to a head like normal acne breakouts, which causes redness, swelling, and pain to occur. The NCBI reveals that cystic acne is primarily linked to the presence of testosterone, which is due to a hormonal imbalance. Certain medical conditions, as well as genetics and stress, can cause cystic acne to develop.
WHAT YOU SHOULD KNOW ABOUT ADULT ACNE TREATMENT
Now that you have the Cliff Notes version of possible causes of adult acne, it's time to take action! Keep reading for seven ways to help manage adult acne.
1. USE NON-COMEDOGENIC PRODUCTS
According to the AAD, one of the best ways to keep adult acne at bay is to use non-comedogenic products. Per the AAD, many makeup, skin care, and hair products contain oil and other ingredients that can cause acne breakouts to occur. To play it safe, use products that are labeled "non-comedogenic," which means they won't clog pores.
2. REACH FOR PRODUCTS WITH SALICYLIC ACID
Since acne occurs when your hair follicles get plugged with excess oils and dead skin cells, using products that will keep your pores from clogging up is key. Per the Mayo Clinic, products formulated with salicylic acid can work wonders to prevent plugged hair follicles, which in turn can help you manage your adult acne. (Head on over to our article, What Is Salicylic Acid, for more information.)
3. GIVE YOUR PRODUCTS TIME TO WORK
As much as you want to get rid of your adult acne as quickly as possible, the process doesn't work overnight. The key to managing adult acne is to stay consistent with a skin care routine and give your products time to work. The AAD shares that you'll want to give your products six to eight weeks to see whether there is any improvement in the appearance of your acne. Typically, complete clearing of acne can take three to four months. So, stay consistent, and you should be able to see results.
4. DO NOT POP OR SQUEEZE BREAKOUTS
As tempting as it can be to pop or squeeze breakouts, we'd advise against it. The AAD shares that when you pop or squeeze a pimple, you can push the bacteria deeper into your skin, which can make your acne much worse. Instead, let your acne products do the work for you.
5. SKIP SCRUBBING YOUR SKIN
Sure, scrubbing may feel good on your skin, but harsh scrubbing can wreak havoc. When exfoliating, use a facial scrub, like one from the L'Oréal Paris Pure-Sugar line, to help you gently remove dirt, oil, and impurities from the skin's surface. When applying the scrub and working it over your skin, also be sure to use a gentle touch.
6. REMOVE YOUR MAKEUP AT NIGHT
If you've been sleeping with makeup on, consider this your sign to stop. Sleeping in makeup can cause dirt and oils on the skin's surface to mix together and cause clogged pores to develop, which is the opposite of what you want. Be sure to remove your makeup at night and cleanse your skin to tackle adult acne the right way.
7. BOOK AN APPOINTMENT WITH YOUR DERMATOLOGIST
Acne can't always be managed on your own. If your breakouts are persistent, it may be time to visit your dermatologist. There, you'll be able to work with your doctor to determine an adult acne treatment plan to best address your concerns.
Next up: Now that you know all about adult acne, why not shift over to another acne-related topic? Click through to our article, Can You Get Rid of Acne Scars, to do just that.
Discover more tips & tricks
Keep your skin happy
See all articles
Improve your routine
Show your new look more love:
makeup