skin care concerns
8 Skin Care Routine Tips to Keep Breakouts at Bay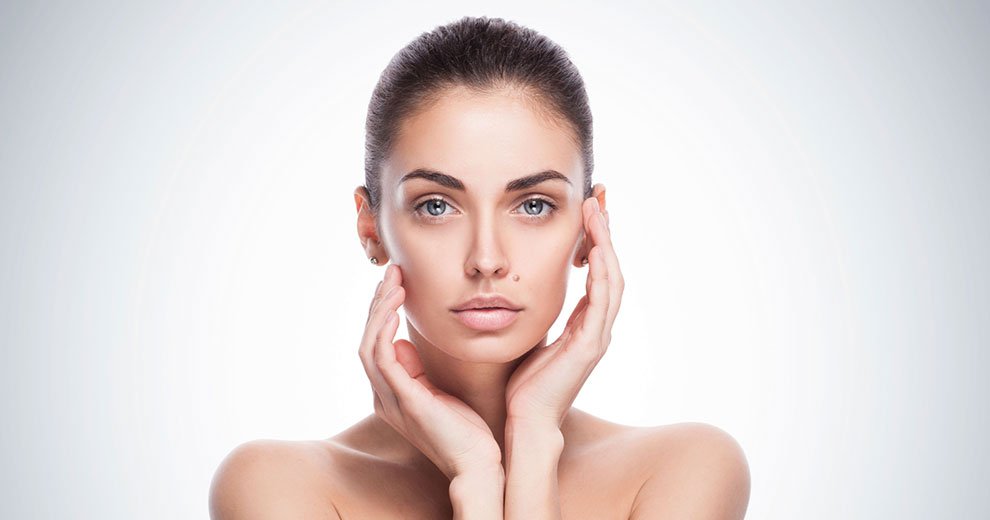 Breakouts can blemish the best days and nights – visibly on your skin, and figuratively tarnish your spirits. Anyone, at any age, can experience a breakout – and whether it's one poorly placed mark in the middle of your forehead or a collection of pimples on your chin or blackheads on your nose, a breakout of any kind can put on a damper on otherwise beautiful skin. While clogged pores are exceedingly common, that doesn't make them any less bothersome. The blockage—typically a mix of everyday dirt, excess oil, and dead skin cells—is essentially suffocating your skin, giving rise to a hard and rough texture, as well as a dull and uneven tone and breakouts explains Skincare.com. Help encourage clear skin and keep breakouts at bay by following these skin care routine tips, plus get a few skin care products that can also help.
Skin care routine breakout buster #1: Clean skin in the morning. Oil and sweat can build up on the surface of your skin while you sleep. So, simply cleansing your skin at night may not be enough to keep it clean – especially if you're dealing with breakouts on a regular basis. Consider washing your face with a foaming or gel-based cleanser formulated for acne-prone skin in the morning. This can ensure that your skin is fresh and clean from the start of your day. Use tepid, lukewarm water to wet and rinse your skin, hot water will be too harsh.
Skin care routine breakout buster #2: Exfoliate to remove dead skin cells. Dead skin cells can mix with surface oil and sweat, further congesting your pores. To help keep dead skin cells and oil from clogging your pores, it's important to exfoliate regularly. Choose between a chemical exfoliant like a glycolic acid, lactic acid, or salicylic acid peel pad or a physical exfoliant, like a salt or sugar scrub—to help reduce dullness, excess oil, and dead skin cells from piling up on skin's surface. Once this build up is sufficiently removed, brighter, more polished-looking skin is revealed. Consider exfoliating two to three time a week after cleansing, either in the morning or at night. The extra minute or two you spend on your skin may possibly make just the difference you were looking for.
Skin care routine breakout buster #3: Use lightweight moisturizers formulated with antioxidants. Don't be tempted to skip this skin care essential step, you should moisturize, even if you have oily, acne-prone skin. Just be mindful of the formulas you use so as to avoid clogging your pores. Look for lightweight formulas that contain antioxidants, like vitamin E. According to a study published in JAMA, free radicals in your daily environment can worsen some forms of breakouts and blemishes. The study found that a topically-applied antioxidant—in this case vitamin E—can help reduce the appearance of some blemishes over time. So, look for a day cream that can offer your skin lightweight moisture and antioxidant protection to help keep breakouts at bay.
Skin care routine breakout buster #4: Touch up and blot throughout the day. Oil can build up fast, even only a few hours after cleansing. So, consider getting in the habit of carrying blotting papers with you. Keep a pack in your purse or at your desk, so that you can soak up excess oil as the day goes on. Maintaining a clean surface throughout the day can help prevent sweat, oil and dead skin cells from mixing and clogging your pores as you go about your daily duties.
Skin care routine breakout buster #5: Remove makeup at the start of your nighttime regimen. Think of removing your makeup and washing your face as two separate steps for keeping skin clean. Day old makeup residue will only mix with oil and sweat that can build up on your skin while you sleep. Not only will your makeup smear and look less-than-desirable the next morning, but it can also congest your pores and spark otherwise easily avoided breakouts and blemishes.
Skin care routine breakout buster #6: Prep your skin with a toner and cleanse again. Now that your day makeup has been removed, help remove residual surface dirt and oil with a toner. If your skin is extra oily, consider applying a non-drying toner before washing your skin to prep it for the next step. Try a cleanser that is formulated with salicylic and glycolic acids in addition to moisturizing ingredients. This balance can better ensure that your skin is gently cleansed, washing away surface buildup without stripping your skin of all of its moisture. Over drying your skin will only temporarily remove oil, because you're actually tricking your skin into thinking it's dry. In response, your skin will only produce more oil to help make up for the dryness, so you'll end up with more pore-clogging oil than what you had in the first place.
Skin care routine breakout buster #7: Apply a purifying face mask. Help decongest your pores and mattify shine by applying a purifying face mask two to three times a week. Clay masks are ideal for drawing out impurities from clogged pores, when left alone, these impurities can collect and lead to breakouts and blemishes. Take ten to fifteen minutes to address excess oil and surface dirt head on, with the help of a clay mask. Wash it away with lukewarm, tepid water, avoiding hot temperatures, which can further aggravate your skin.
Skin care routine breakout buster #8: Replenish your skin with lightweight moisture. Again, just as you should replenish your skin with moisture after cleansing in the morning, you should do the same at night. Apply a lightweight serum or night cream while your skin is still damp. Lightweight formulas will be less likely to mix with oil and sweat that can build up on your skin's surface while you sleep. So, you can sleep soundly knowing your skin has the moisture it needs, but it won't contribute to the development of possible breakouts and blemishes.
Encourage clear skin that is also nourished and radiant by looking to ways to properly address breakouts. Avoid intentionally drying out your skin, popping pimples and stressing over occasional breakouts, doing so will only sabotage your clear skin efforts.
Discover more tips & tricks
Keep your skin happy
See all articles
Shop Featured Skin Care products
Discover More