makeup trends
3 Gorgeous Fall Makeup Trends to Try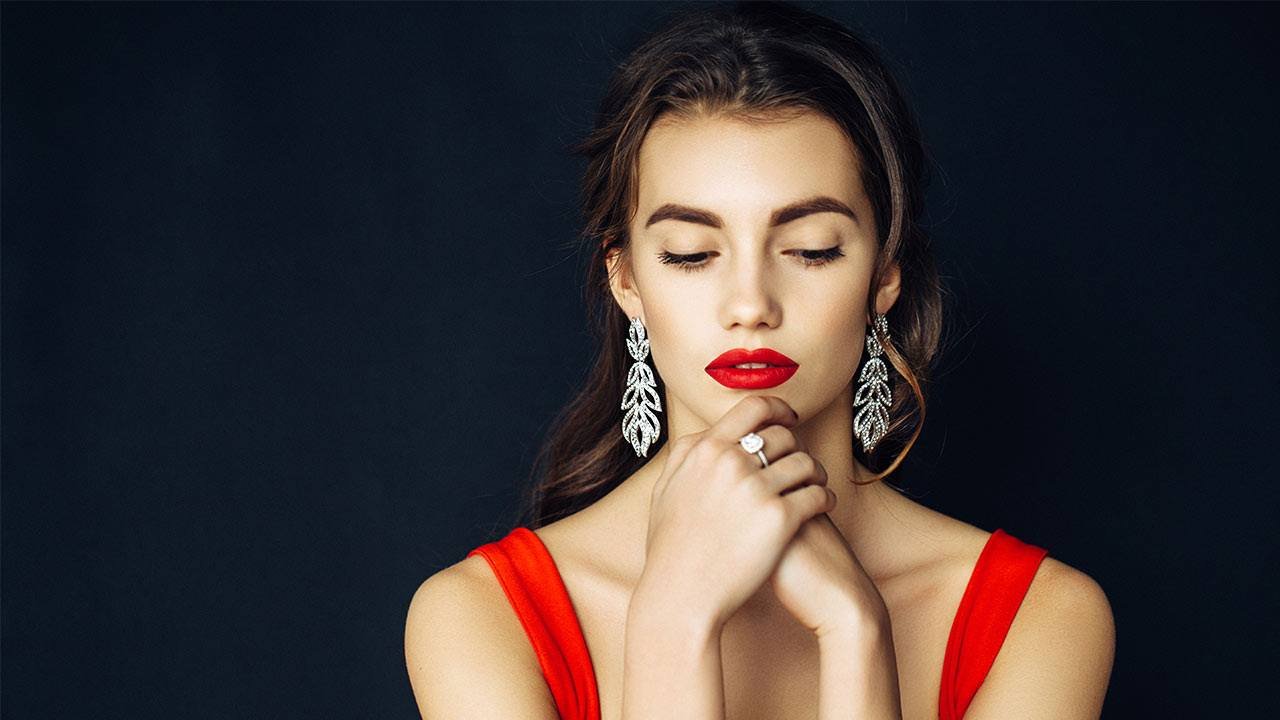 A shifting of the seasons is always a good excuse to try something new—and fall is no exception. Whether you're drawn to a vibrant new hair color, a revamped beauty routine, or a bold makeup look—it's a prime time to experiment. L'Oréal Paris celebrity makeup artist, Sir John, let us in on the fact that bold makeup is having a major beauty moment—which made it easy to narrow down exactly what types of trends to put to the test this fall. Sir John shared three makeup trends he's doing for his famous clientele this fall—and we're breaking down exactly how you can get the looks, too.
Fall Makeup Trend #1: Metallic Makeup
Ready to add a touch of rocker chic to your style? Then the answer is to make it metal. To pull off lips with serious shine, you have to know how to pair textures together. Sir John manages that feat by matching a metallic pout with matte foundation to balance brightness.
Step 1: Apply foundation. Choosing a foundation with a matte finish, like the L'Oréal Paris Infallible Pro-Matte Foundation, can help create contrast with a more high-impact lip (more on that, next). If you're in need of more coverage, you can swap in the L'Oréal Paris Infallible Total Cover Foundation. Apply your foundation pick with a makeup blender, like the L'Oréal Paris Infallible Blend Artist Foundation Blender, for flawless, even coverage.
Step 2: Paint lips. On to the main event. To make your lips look metallic, reach for the L'Oréal Paris Infallible Paints/Lips Metallic in whatever color suits your fancy. Start by outlining your lips using the tip of the applicator, then fill them in.
Step 3: Coat lashes. To keep the focus on your lips, eye makeup should be kept to a minimum. That means a single coat of mascara is all you need.
Step 4: Highlight. Top off your look with a bit more shine, in the form of a highlighter. Give yourself glow-y cheekbones with the L'Oréal Paris True Match™ Lumi Liquid Glow Illuminator. Dot the highlighter on the high points of your cheeks and blend out with your fingers.
Fall Makeup Trend #2: Color Blocked Cosmetics
In fashion, color blocking is the trend that can't stop, won't stop, and the same is proving to be true for makeup. Color blocked cosmetics involve unconventional colors paired together on the lips and eyes to infuse a look with (colorful) drama.
To create the look, Sir John suggests using an intense eyeliner, like the L'Oréal Paris Infallible Paints Eyeliner, and a lipstick with a velvety matte finish, like the L'Oréal Paris Colour Riche Matte Lipstick. Select the right shades based on your skin tone.
If you have fair skin…try a bright pink lip and cobalt eyeliner—or spice up your eyes with a swipe or two of blue mascara.
If you have medium to tan skin…wear orange lips with violet eyeliner for a striking combo.
If you have deep skin…pair purple lips and an ivy green eyeliner. Finish things off with a flick for added intensity.
Fall Makeup Trend #3: Lush Lashes
If there's any doubt about it, let's make one thing clear: Full, bold lashes are always in style—and with good reason. According to Sir John, "A bold lash is the only thing you need to create a bold and dramatic look." Wield a mascara wand and statement-making makeup is all yours.
Step 1: Prime lashes. Kick things off the right way with a coat of the L'Oréal Paris Voluminous Lash Primer, which can help boost the effects of your L'Oréal Paris mascara.
Step 2: Line eyes. Once the primer has dried down, it's time to start on eyeliner. With the L'Oréal Paris Voluminous Liner Noir, line along your entire lash line.
Step 3: Coat lashes. Sweep a coat of the L'Oréal Paris Voluminous Lash Paradise Mascara in Blackest Black onto lashes, then wait a few minutes for it to dry before adding a second coat for maximized volume and drama. If you're seeking more curl, use the waterproof version—the formula will curl lashes and give them a strong hold, just like hairspray.
Step 4: Add blush. Your look doesn't need much else. Dust on a soft rose gold blush, like the L'Oréal Paris Visible Lift Color Lift Blush in Rose Gold Lift, for a natural-looking flush.
Step 5: Apply lipstick. Almost done! Grab a MLBB (a.k.a "my lips but better") lipstick shade and apply.
As far as makeup goes, you're officially ready for fall. Now, you can pay attention to your tresses. Check out these 6 Hair Highlight Trends for Fall.
Discover more tips & tricks
Keep your skin happy
See all articles
Shop Featured Makeup products
Discover More