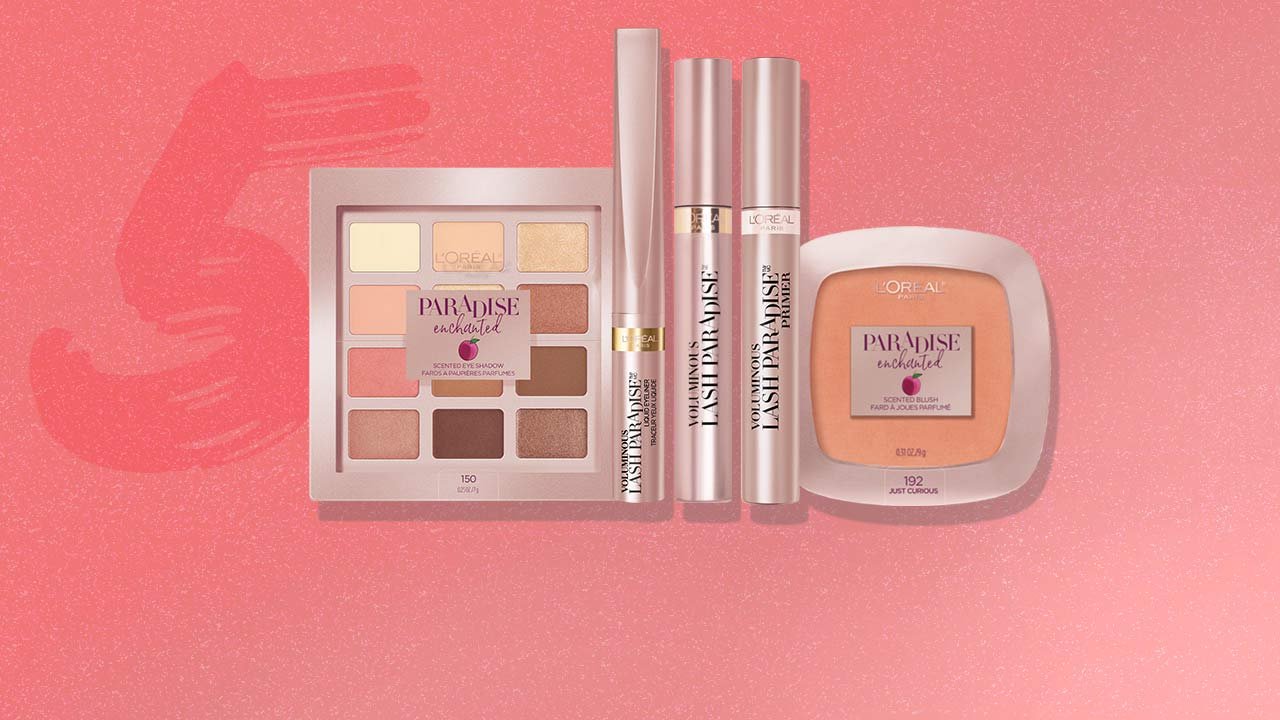 makeup trends
5 Makeup Products to Have on Your Radar for Summer 2018
It's official: Summer is here! That means it's time to break out the tank tops and shorts—and it's also time to update your makeup bag. Put away your full coverage foundation and opt for something that's matte and super-lightweight. But that's not the only change you should make to your makeup bag. Here, we're sharing five products you should definitely keep on hand (including a gorgeous eye shadow palette) to create summer-appropriate makeup looks. Keep reading for our five favorite makeup products to use this summer.
Summer Makeup Essential #1: Mascara
Winter, spring, summer, or fall, mascara is one makeup product we can't leave home without putting on. This summer, take your lashes to paradise—literally and figuratively—with the L'Oréal Paris Voluminous Lash Paradise Washable Mascara. This volumizing and lengthening mascara (yes, it does both!) has a soft wavy brush with more than 200 bristles to hold maximum formula for a dramatic volumizing charge to catch every lash. Speaking of the mascara formula, it provides silky volume in one coat, intense at the gaze, soft to touch. To apply, start at the base of your lashes and gently glide the brush up to the tip. You can remove the mascara easily with micellar water. All you have to do is pour some micellar water out onto a cotton round and hold the pad over closed eyes for a few seconds before wiping the mascara away.
Summer Makeup Essential #2: Lash Primer
You know how much we love mascara—well, it wouldn't be fair to tell you about our best mascara for summer without mentioning lash primer as well. You might not think that lash primer is a necessary step in your makeup routine, but hear us out. The L'Oréal Paris Voluminous Lash Paradise Primer/Base is a pink-tinted mascara primer that can help enhance mascara wear. It can help create the appearance of voluminous, thick eyelashes as well. The formula is conditioning and helps mascara adhere to lashes. Before applying mascara, glide the lash primer brush from the base of your lashes to the tip. Allow it to dry before reaching for mascara.
Summer Makeup Essential #3: Eye Shadow Palette
Why waste your time rummaging in your makeup bag for multiple eye shadows when you can easily find everything you're looking for in an eye shadow palette? During the summer, warm makeup shades reign supreme—and that's exactly what you'll find in the L'Oréal Paris Paradise Enchanted Scented Eyeshadow Palette. (Plus, have we mentioned that it's fruit-scented?!) This eye shadow palette contains 12 beautiful warm shades from creamy ivory to pops of coral in a variety of finishes from matte to shimmer. You can mix and match shades to create your own looks or find inspiration on the back of the packaging. Have fun with it this summer!
Summer Makeup Essential #4: Blush
A natural-looking rosy flush is key for skin that appears healthy. You can fake that flush with the right blush. Don't go running around in the heat to get a pop of color on your cheeks—stay cool and rely on blush instead. The L'Oréal Paris Paradise Enchanted Fruit-Scented Blush Makeup comes in four charming shades ranging from subtle peach to vibrant coral. The blush shades also come in a variety of finishes, including matte and shimmer. Plus, the fruit scent is so perfect for summer. Swirl a fluffy makeup brush into your blush shade of choice and apply the blush to the apples of your cheeks. Less is more when it comes to blush, so tap off any excess blush from the makeup brush before you apply it to your cheeks.
Summer Makeup Essential #5: Liquid Eyeliner
Last but not least, we have eyeliner. Our summer makeup bag wouldn't be complete without this product! When you want your eye makeup looks to really last, liquid eyeliner is a great option. The L'Oréal Paris Voluminous Lash Paradise Liquid Eyeliner comes in two shades: classic black and trendy rose gold. Yes, rose gold eyeliner—doesn't that sound pretty? This liquid eyeliner is a dip eyeliner, meaning you have to dip the brush into the liquid formula. Make sure to shake well before each use. Glide the tip along your outer lash line, pressing slightly for a thin line and increasing pressure for a thicker line. Try giving your everyday cat eye a fun twist this summer by doing it in rose gold—or combining black and rose gold in one makeup look. Summer is a great time to experiment with different colors, so go on and give a non-traditional eyeliner shade like rose gold a chance!
What to Do Before and After Applying Summer Makeup
Now you know which makeup products we're crushing on for summer, but we're not done sharing advice with you just yet. There are a few tips you can keep in mind to help ensure your summer makeup look appears fresh all day long. For starters, apply a primer before anything else—you can find ones for your face, eyes, lashes (which we talked about earlier), and lips. Primer can help whatever makeup you want to apply afterwards go on smoothly and wear evenly, a must in the summer months when you're likely worried about your makeup fading by midday. Finally, help lock your look in place after you're done applying makeup by using a makeup setting spray or loose setting face powder. You don't want all your hard work to go to waste, which is why setting your makeup should always be the final step in your summer makeup routine. Which setting product you choose is up to you—if you prefer a more matte finish, then opt for a face powder, whereas if you'd like more of a glow, reach for a makeup setting spray.
Want even more summer makeup advice? We've got you covered. Next up, head on over to our article, 15 Summer Makeup Hacks to Get You Ready for the Season, for ideas on updating your makeup routine now that it's hot outside.
Discover more tips & tricks
Keep your skin happy
See all articles
Shop Featured Makeup products
Discover More