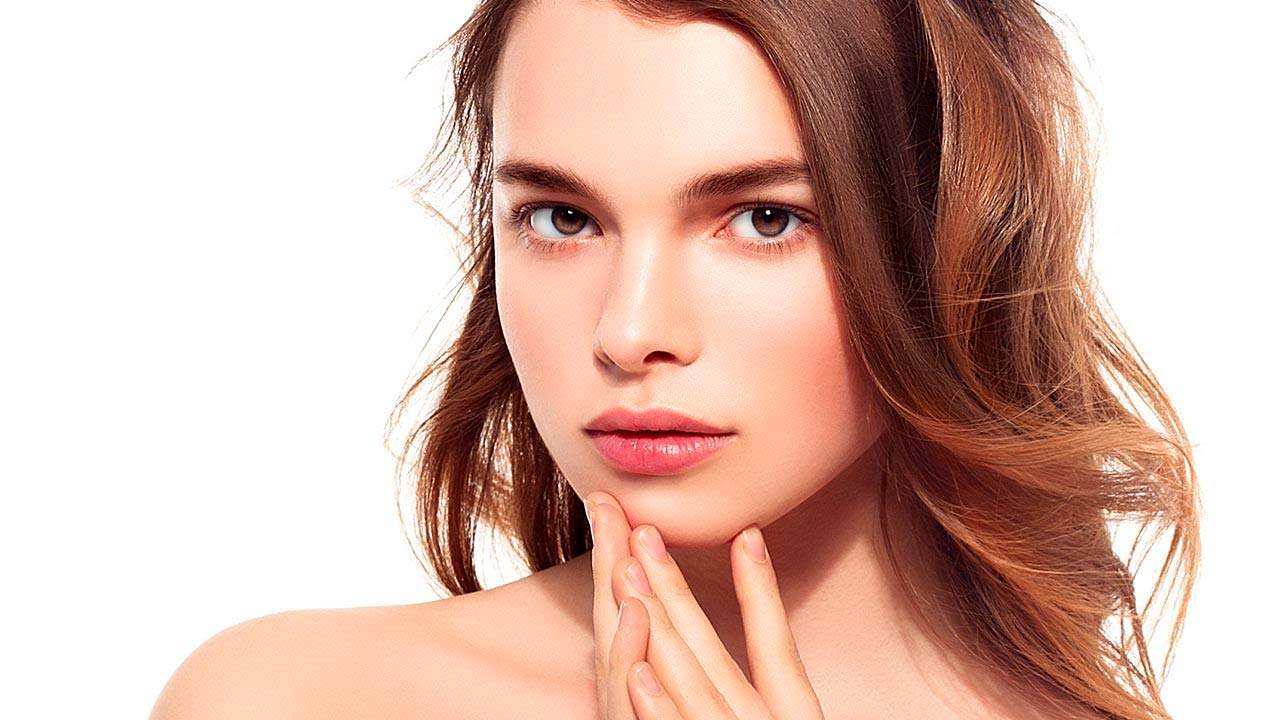 makeup trends
The Easy Way to Get the No Makeup Look
Managing to look like you aren't wearing makeup when you're really wearing a full face is no easy task. A no makeup look allows you to look like your style is effortless and natural, when in reality you've dedicated time and effort to perfecting your appearance. At its core, this contradictory-sounding style is all about making your skin look flawless, lengthening the look of your lashes, and grooming your eyebrows. With the right products, you can do all of that, without looking like you're wearing any makeup at all. So, put down your liquid eyeliner, heavy face powders, and bright liquid lipsticks, and follow the steps (below) needed to master the no makeup, makeup method.
STEP 1: EXFOLIATE WITH A FACE SCRUB
A large part of pulling off a no makeup look is skin care. Makeup becomes around 100x more obvious when it's slapped onto skin that hasn't been properly cared for. So, before you jump into applying foundation and the like, a few skin care-centric steps are necessary—the first of which is using a face scrub. Help your skin get a healthy-looking glow by using the L'Oréal Paris Pure-Sugar Smooth & Glow Face Scrub. Smooth a small amount of the sugar scrub onto clean, dry skin, avoiding the eye area. Then, wet your fingers use them to massage the face scrub over your face—including your lips. After you've exfoliated, rinse off and move right along.
STEP 2: USE AN ILLUMINATING SERUM
Don't stop getting your glow on just yet. An illuminating facial serum can help with that too. Illuminate your complexion and help diminish dark spots at the same time with the L'Oréal Paris Youth Code™ Dark Spot Correcting & Illuminating Serum Corrector. Smooth the facial serum over your skin—and if you're still damp from rinsing off your face scrub, don't bother getting dry first. You'll lock in more moisture by applying directly to damp skin!
STEP 3: MOISTURIZE, MOISTURIZE, MOISTURIZE
Moisture is absolutely key to achieving healthy-looking skin, whether you'll be wearing makeup or not. And not only that, but if you will be wearing makeup, it also helps face makeup apply more smoothly. To moisturize before applying makeup for a no makeup look, apply a thin layer of a moisturizer that suits your skin type, whether that's the L'Oréal Paris Hydra Genius Daily Liquid Care – Normal/Oily Skin,L'Oréal Paris Hydra Genius Daily Liquid Care – Normal/Dry Skin, or L'Oréal Paris Hydra Genius Daily Liquid Care – Extra Dry Skin. If your skin still needs more moisture afterwards, go ahead and apply another thin layer right on top. Once you're satisfied with how hydrated your skin is, give the moisturizer a minute or two to absorb before proceeding to the next step.
STEP 4: APPLY FOUNDATION WITH A RADIANT FINISH
There's nothing natural-looking about a face that's completely flat. Instead of making your skin look flawlessly matte, which can draw attention to dryness or lines, opt for a liquid foundation that can help give your complexion the appearance of a glow, like the L'Oréal Paris Infallible Pro Glow Foundation. Use a makeup blender, like the L'Oréal Paris Infallible Blend Artist Foundation Blender, to apply, placing the foundation onto your cheeks, forehead, and chin before blending outward.
STEP 5: CONCEAL IMPERFECTIONS
A no makeup look isn't meant to look entirely realistic, otherwise there would be no point to doing it at all. The idea is to find the balance between reality and perfection. Basically, you'll want to cover up any blemishes or discolorations without being too obvious. So, apply a lightweight concealer, like the L'Oréal Paris True Match™ Super-Blendable Multi-Use Concealer, to hide imperfections, dabbing it on top of any problem areas and blending with the L'Oréal Paris Infallible Blend Artist Concealer Blender.
STEP 6: BLEND CREAM BLUSH
Real skin isn't all one shade. Sweeping a sheer blush across your cheeks is an easy way to give your complexion a dose of youthful-looking color. Steer clear of powders, which can be far from subtle, and opt for a cream-formula instead. Reach for a duo-fiber brush to blend a soft peach or pink pigment onto the apples of your cheeks.
STEP 7: ADD BRONZER
Contouring doesn't quite suit a no makeup look—but bronzer does. Give your skin a healthy, sun-kissed look by warming up your face with bronzer. Dip a powder brush into the L'Oréal Paris True Match™ Lumi Bronze It Bronzer and apply it using the "3" method. Create "3" shapes by brushing the bronzer onto your skin along the sides of your face; hitting your temples, cheekbones, and jawline. Be sure to blend out any harsh lines don't forget to carry the product onto the sides of your neck, too. If you don't, you risk your face and neck not matching—a dead giveaway that you're wearing makeup.
STEP 8: GIVE YOUR SKIN A SUBTLE HIGHLIGHT
No matter how much you love a super-shimmery highlight, it won't suit a no makeup look. Everyone knows your cheekbones aren't naturally covered in glitter! Instead, opt for rocking a subtle sheen—courtesy of a highlighter that's glossy and not glittery—above your cheekbones, down the bridge of your nose, and around the inner corners of your eyes. Dab on with a clean finger, and you're good.
STEP 9: CREATE "INVISIBLE EYELINER"
Painting a bold color across your lash line or winging out your eyeliner won't serve you well in achieving a no makeup look—but that doesn't mean you'll have to lay off the eyeliner altogether. Go for an invisible eyeliner effect, using the tightlining technique. Take a super-smooth, waterproof eyeliner, like the L'Oréal Paris Infallible Pro-Last Waterproof Eyeliner Pencil in Black, and carefully draw just below your upper lashes, directly on your waterline. This simple step can help make lashes look fuller—but no one will be able to pinpoint exactly why your lashes are suddenly so lush-looking.
STEP 10: CURL YOUR LASHES
Curling your lashes is a simple step that can make a major difference in your look. And the best part is, no one can tell whether you've used a lash curler or are naturally blessed. To get that perfect crimp, place the curler at the base of your lashes, and squeeze. Then, slowly work it out towards the tips of your lashes, squeezing as you go to create a complete curl.
STEP 11: LIGHTLY COAT LASHES
Let's be real—what's a makeup look without a bit of mascara? Don't go overboard though—a single coat should be enough to pull your no makeup, makeup look together without veering too far into dramatic makeup territory. Instead of sticking with your standard stark black shade, try the L'Oréal Paris Voluminous Lash Paradise Washable Mascara in Black Brown for a subtler effect.
STEP 12: SHAPE AND SHADE EYEBROWS
Neat, groomed eyebrows are an absolute must when it comes to no makeup, makeup. Seriously, they totally make the face. Start by brushing out your eyebrows with a spoolie, then fill in any bare or sparse spots using the L'Oréal Paris Brow Stylist Shape & Fill Pencil. After you're happy with your shading skills, lock any stray hair in place by brushing the L'Oréal Paris Brow Stylist Boost & Set Brow Mascara in Clear through your eyebrows.
STEP 13: PAIR LIP LINER WITH LIP GLOSS
Don't stray too far from the natural hue of your lips. Pick a lip liner, like the L'Oréal Paris Colour Riche Lip Liner, that's just a shade brighter or deeper than your lips—also known as a "my lips but better" (MLBB) color—and carefully outline your lips with the tip of the pencil. Don't stop there. Fill in your lips the rest of the way for even color. Skip lipstick, and put the finishing touch on your pout with a coat of sheer lip gloss from the L'Oréal Paris Colour Riche Le Gloss collection.
STEP 14: SET WITH A SPRAY
No one wants their makeup to stray throughout the day, which means you'll need to set your look before it can truly be complete. Rather than using a setting powder, which can end up making your makeup appear cakey, a setting spray can help ensure your look lasts, without messing with the finish of your makeup. Close your eyes and spray the L'Oréal Paris Infallible Pro Spray & Set Makeup Extender Setting Spray 4-6 times in an "X" and "T" motion, then, you're all set!
Next, how about learning how to master a more dramatic makeup look? Here are 3 Mermaid-Inspired Makeup Looks to Try.
Discover more tips & tricks
Keep your skin happy
See all articles
Shop Featured Makeup products
Discover More